Wesleyan Makes Coaches: St. Jean '13, Sears '18 Start NBA Season in New Roles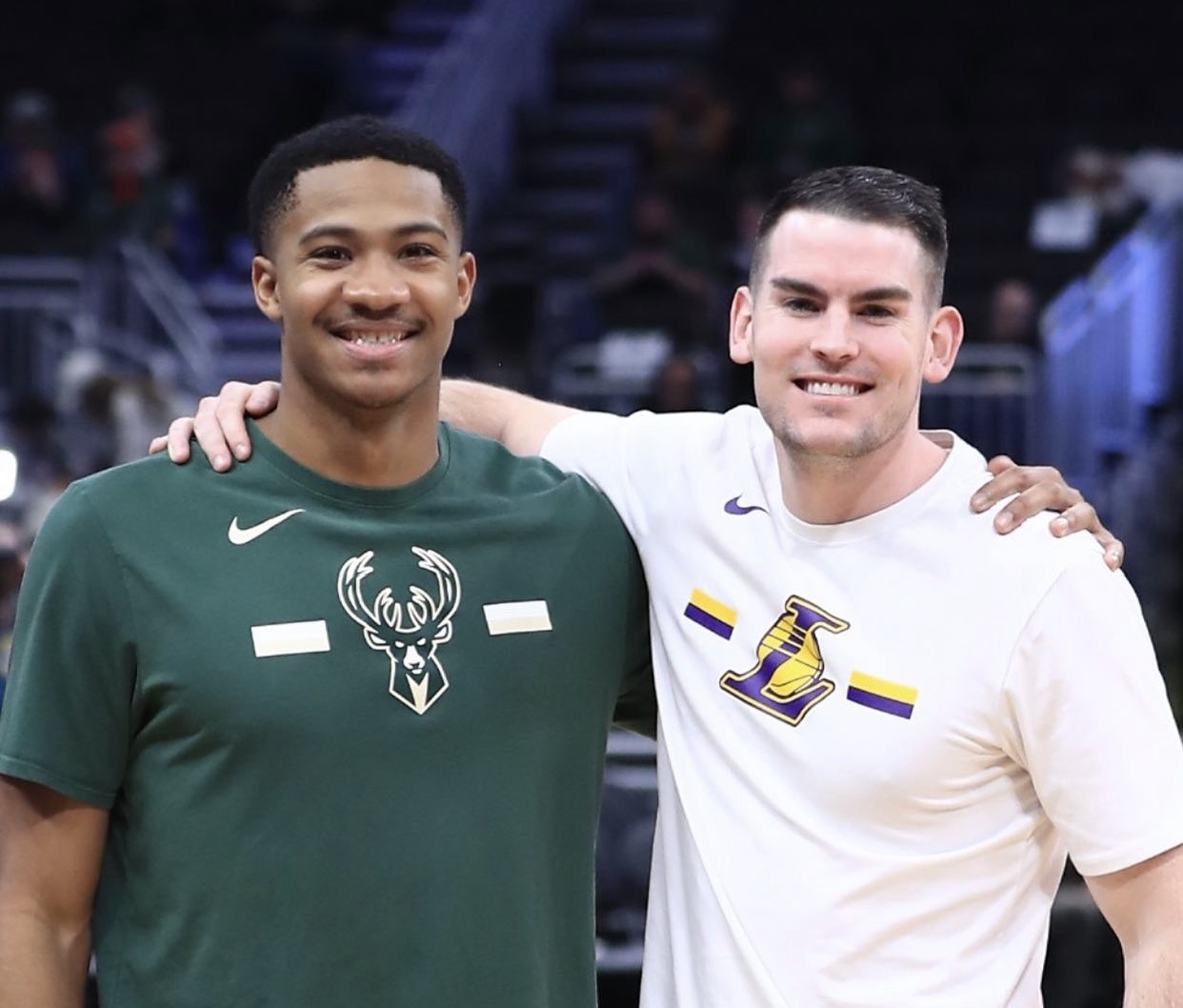 The National Basketball Association. The pinnacle of the profession. A level that millions of people of every age and walk of life dream of being a part of. Assuredly every basketball-wielding person has put themselves there—the seemingly hour-long seconds flickering away at the end of the fourth quarter of an NBA Finals game. Few have lived the finals dream, even fewer have left winners.
Both Jordan Sears '18 and Greg St. Jean '13 are among the few, each taking home a championship in the last few seasons. Sears won in 2021 as assistant video coordinator with the Milwaukee Bucks and St. Jean won in 2020 as an assistant coach with the Los Angeles Lakers.
Now as the 2023-24 NBA season kicks off on Oct. 18, both former Wesleyan men's basketball team captains are set to bring their championship pedigree to new organizations. After two seasons as an assistant coach with the Dallas Mavericks, St. Jean was named an assistant coach for the Phoenix Suns under Head Coach Frank Vogel, who he worked with in Los Angeles. Sears was tabbed to be head coach of the Texas Legends, the Mavericks G-League affiliate, for the upcoming season.
It's no accident that Sears and St. Jean have arrived in the NBA. They are high-level communicators, consensus-builders, and prime examples of Men's Basketball Head Coach Joe Reilly's court-to-career pipeline.
"Once your passions are identified, we can call our alumni network into action, and they can help guys work their way up and pursue their passion," Reilly said.
Since coming to Wesleyan in 2008, Reilly has established a network of alumni and in-career mentors to help lift his players and other Cardinals to success after Wes. It is not just limited to basketball. There are several other alumni in fields like investment banking, medicine, and music that reach back to help the younger generation of Wesleyan alumni.
"Having an alumni mentor network was really important to me," Reilly said. "Every player that I've coached here has taken advantage of the Wesleyan mentorship network."
St. Jean, who was named captain his second season in red, grew up in NBA locker rooms since his father Garry St. Jean was a head coach with the Sacramento Kings and a general manager of the Golden State Warriors. He grew up wanting to follow in his father's footsteps, "when he was an assistant coach, I wanted to be an assistant coach. When he was a head coach, I wanted to be a head coach. When he was a general manager, I wanted to be a general manager," St. Jean said.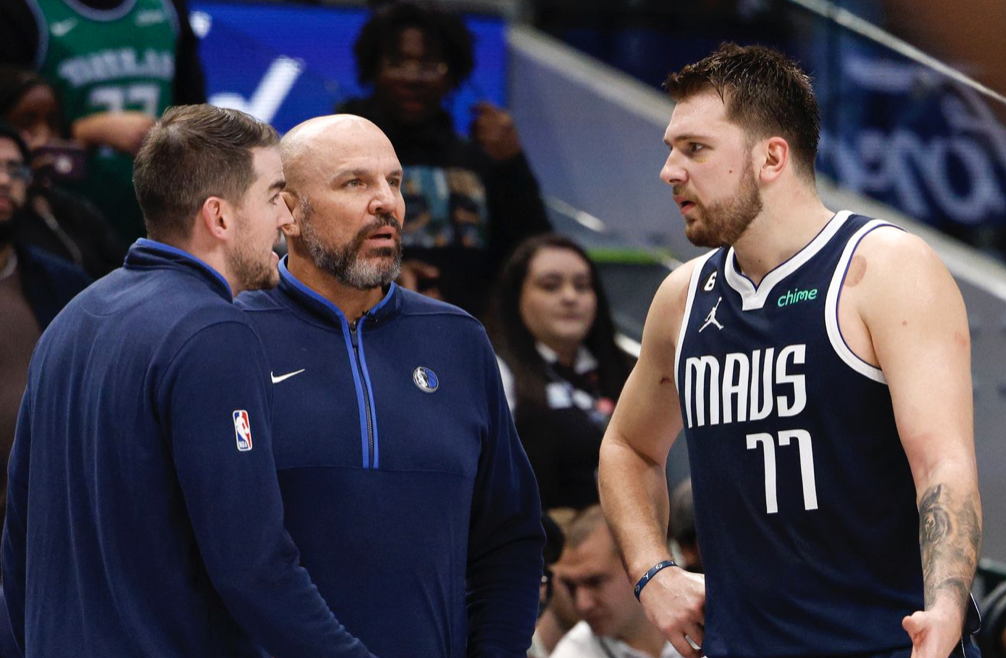 When he arrived at Wesleyan in 2009—one of nine first years in Reilly's pioneering recruiting class—he said that Reilly took the time to get to know each player's goals, dreams, and aspirations and then did everything in his power to prepare them to meet those heights. St. Jean struggled with injuries that limited his gametime after his first season. Since he eyed a job as a coach at the game's highest level in his future, Reilly met with him a few times a week to talk schemes and tactics—something he'd do with Sears later as well.
Now that he's in the NBA, he has taken it upon himself to be the arm to reach down to the next generation. When the pandemic hit and life and sports stood still, the NBA decided it would continue to operate in a quarantined environment at Walt Disney World in Florida—an experiment called "the bubble." St. Jean, among his many other efforts to lend a hand to NBA-job seekers, gave students a glimpse behind the film of the bubble by video calling Wesleyan's men's team and talking them through the structured NBA life. Then within days of winning the NBA Final while in the bubble, he did it again.
Sears had the privilege of coming to Wesleyan in the middle of Reilly's tenure, after the foundation St. Jean and several other high-character players and captains—like B.J. Davis '16 and Harry Rafferty '17—helped to set. Sears then took on a leadership role and captaincy his senior season, the same year he won NESCAC (New England Small College Athletic Conference) Defensive Player of the Year, Reilly said.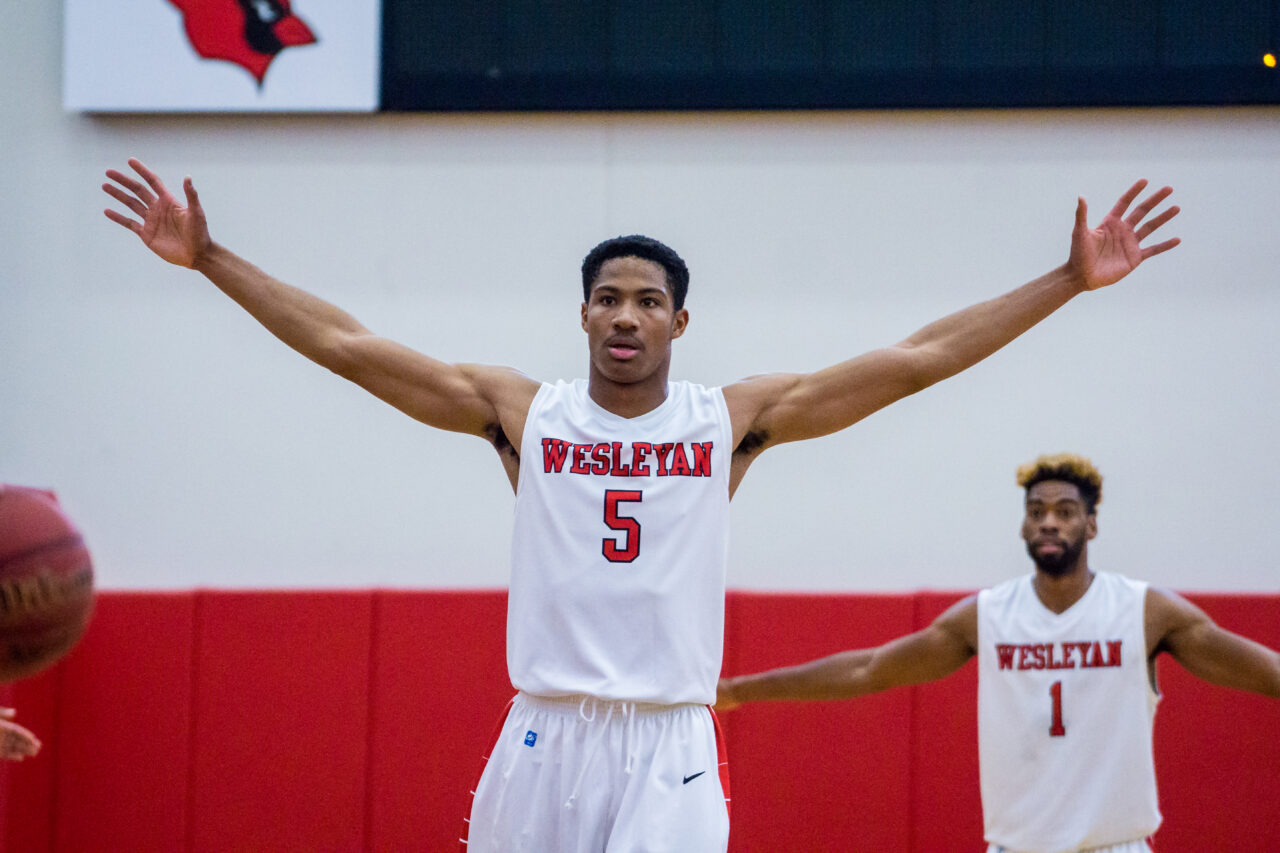 When Sears was in his final year at Wesleyan, he went to Reilly to seek out his advice. Sears wanted to further his education and explore coaching, so Reilly contacted St. Jean about a possible graduate assistant opening at St. John's University. Sears secured the job, setting him up on a path upward to the NBA. "Coach Reilly has always stayed in constant contact with me," Sears said. "He has also connected me with other players looking for to learn about our path, or any opportunities to interview."
Like those before him, Sears extended a hand to the next generation of potential coaches. This fall he hired former Wesleyan men's basketball student assistant coach Leo Clibanoff '23 as a basketball operations associate with the Texas Legends. "Coach Reilly went to great lengths to support me, connecting me with both Greg St. Jean and Jordan Sears. Since then, I've had the privilege of developing meaningful relationships with them," Clibanoff said. "Their guidance and mentorship have not only helped me become a better coach but also proven indispensable in navigating the journey of breaking into the highly competitive sports industry."
Pre-tryout speech from Coach Sears @j_sears12 🗣️
2023 Open Tryouts Mic'd Up presented by @TheColonyERhttps://t.co/8Y0OUv9cwm pic.twitter.com/Sk5De5ynS7

— Texas Legends (@TexasLegends) October 4, 2023
Part of Sears' success is his ability to communicate and cater to players' needs. He said he spends time learning how a player best absorbs information so that he can then synthesize it in a way they can internalize and put into place. "Every case with a player is so different from the others, and it's truly about building a relationship with them," he said.
He pointed to Wesleyan, where the diverse social atmosphere helped to open him to different ways people think and feel, as a place where he helped foster those abilities. "But the credit goes to him. His diligence, his work ethic, his discipline. He is somebody that is a sponge and loves to learn, ask questions, and grow daily. He's a future star in our business," St. Jean said about Sears.
St. Jean said those similar qualities are what he looks for in a peer—people who are flexible, intellectually agile, and curious. He said they also happen to be qualities present throughout Wesleyan's student body and alumni group.
"I believe there are specific qualities that every member of the Wesleyan community possess," St. Jean said. "It is not only an inclusive, diverse group of people, but also represented by humans with an incredible bandwidth for learning and passion to think differently. I think anybody who represents the school takes pride in that."
They're also qualities he cultivated here that he thinks has helped him take the next step in his career, giving him the ability to connect with and bring together multiple types of people—a key function of coaching. "Wesleyan is a very special place that draws out your passion," Reilly said.