Roth Speaks to High School Students at RJ Julia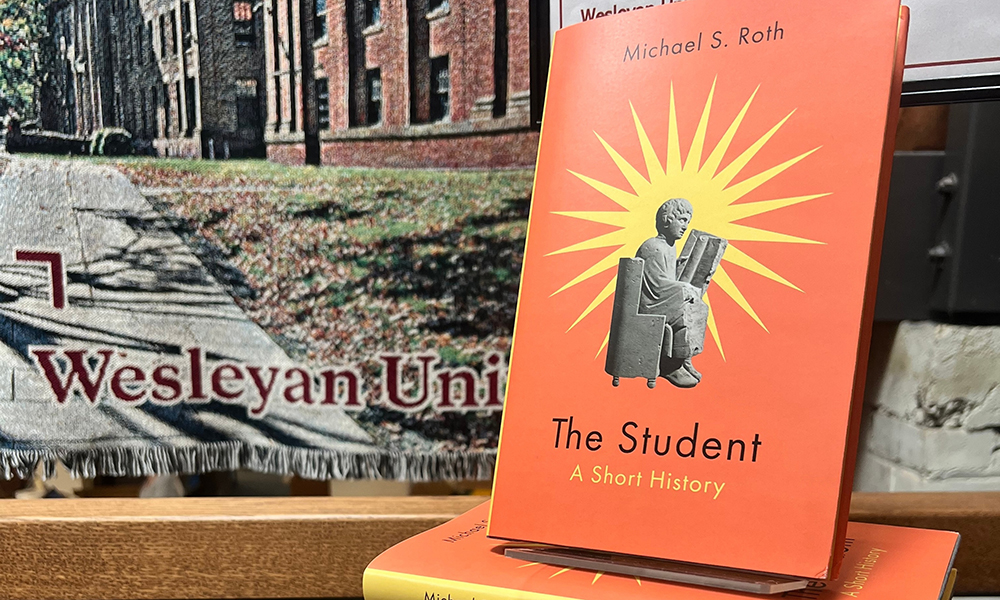 President Michael S. Roth '78 joined Middletown High School students in a discussion of his new book "The Student: A Short History" on Thursday, Oct. 5 at RJ Julia Bookstore.
In addition to Roth's talk, MeshEd  led a writing and tutoring workshop entitled the "Art of the Personal Essay." MeshEd, an organization that provides project-based learning curriculum and professional development for teachers, also offers afterschool programs at Middletown High School through its Aspiring Young Learners Initiative.
Roth discerned a common theme through examining the relationships of Confucius, Socrates, and Jesus with their students, and diving into what it has meant to be a student over time. "When a student is successful, they are practicing freedom," Roth said.
With the help of questions from students and teachers, Roth explored his writing process, how students become more independent through hard work, and critical thinking, among many subjects.
"I am very skeptical about the affection for critical theory. I think our students learn, and Wesleyan is really guilty of this, they learn how to criticize everything, which is an overrated skill in my opinion. They learn to take nothing for granted, and that's fine, but then they learn that nothing is worthy of their admiration and love, which is sad, pathetic, and untrue," Roth said.
Roth prefers the idea of "critical feeling," encouraging students to be thoughtful in their approach to a text or a work of art.He hopes to help students open up their feelings in relation to their thinking.
"We want students not just to be able to take things apart and look at different points of view. I want my students to fall in love with the book, with the music, with the piece of art and then take a perspective on it. But so many of our students, what they learn from people from professors is to be guarded, to not ever show what they care about, because you are going to get criticized," Roth said.
Roth offered some advice to the students, many of whom were amid their college searches. "Take a breath. It is going to be fine," Roth said. "It works out for almost everybody." He urged the students to avoid putting pressure on themselves, and to be authentic when faced with college admissions counselors. "There are a lot of ways to make yourself visible. Don't put on someone else's costume," Roth said.
Parents want to be supportive of their children during what can be a complicated moment in their lives, but Roth believes it's important to give them the space to find their own way when it comes to their education. Rather than fear an unconventional approach to learning, by setting their own agendas, students can do remarkable things. "So many paths turn interesting," Roth said.