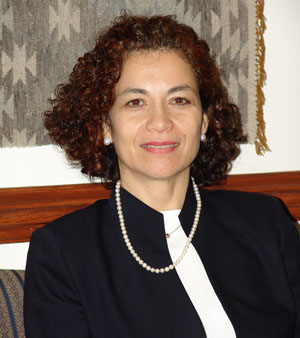 Maria Cruz-Saco will become dean of the college.
Posted 03/31/05
Maria A. Cruz-Saco, interim dean of the college at Connecticut College, will become dean of the college at Wesleyan University on July 18.
Wesleyan's dean of the college is responsible for the programs and services that support student learning and development. The office of the dean encompasses the class deans, the Office of Residential Life, student and behavioral health services, the Office of Student Activities, the Office of Community Service, the chaplains, and the new Usdan University Center. The dean serves as a member of the university's senior staff.
"This is a moment of unusual opportunity," says President Doug Bennet. "We are thinking afresh about how we link students' academic experiences with their lives in the community and about how we can take full advantage of the diversity of student experience as a resource for learning. Wesleyan is also strengthening our residential life and student programming  in concert with the addition of new housing and the Usdan University Center. Maria Cruz-Saco will provide strong leadership in all these areas, and we welcome her to Wesleyan."
Cruz-Saco is an economist and expert in social protection and the reform of social security systems with a regional emphasis in Latin America and the Caribbean. She has authored three books, co-edited one, and contributed many articles and chapters to professional journals and books. She earned her B.A. at the Universidad del Pacífico in Lima, Peru, in 1979 and her Ph.D. in economics at the University of Pittsburgh in 1983.
She is a full professor of economics at Connecticut College.
Cruz-Saco has served as interim dean at Connecticut College since July 2003. She joined the college in 1990 and held leadership positions including chair of the economics department, chair of the Priorities, Planning and Budget Committee, member of the Grievances Committee, and member of the faculty steering committee of the Holleran Center for Community Action and Public Policy. In 2002-03, she chaired the Presidential Commission on a Pluralistic Community charged with delineating the college's vision for a multicultural experience and inclusive excellence. 
As interim dean, Cruz-Saco led an internal self-study of her division in comparative perspective, redrafted its vision, mission and goals and designed an action plan for 2004-2006. Under her leadership, the Dean of the College division produced a student quality of life report, concluded and implemented the results of a self-assessment of the Multicultural Center, secured an increase in the operational budget for pluralistic initiatives and supported the creation of a peer-mentoring pilot.
"Professor Maria Cruz-Saco has been a leader in strengthening the entire educational program at Connecticut College," says Connecticut College President Norman Fainstein. "In 2002-03 she chaired a presidential commission on creating a genuinely pluralistic community. As interim dean of the college, she has continued to support efforts to improve equity and diversity, to further student achievement, and to better integrate the curricular and co-curricular sides of the college. She has worked closely with students, faculty and staff to establish a collegial climate and institutional structure where students can truly put the liberal arts into action as citizens in a global society. Her enthusiasm, energy, and intellect will be sorely missed."
"I look forward to joining the Wesleyan community and to being a part of this vibrant and engaged campus," says Cruz-Saco. "Wesleyan offers an extraordinary liberal arts education, and I feel fortunate that I will contribute to the continued excellence of student life and development."
Billy Weitzer, senior associate provost and dean of continuing studies at Wesleyan, will continue in his role as acting dean of student academic services during Cruz-Saco's transition. The role of dean of student academic services was established as part of a reorganization of the dean of the college office led by Wesleyan's interim dean, Peter Patton.
By Justin Harmon, director of University Communications