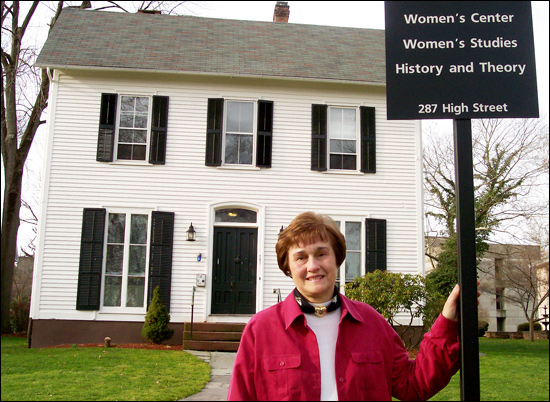 Noreen Baris, administrative assistant for the Women's Studies Program, stands outside her office on High Street. Baris serves as a liaison between the program's chair, faculty and students.
Posted 01/31/05
Q: When did you become the administrative assistant in the Women's Studies Program? Were you working at Wesleyan before then? 
A: Yes. I first came to Wesleyan in November 1986 and worked in the Romance Languages and Literatures Department until 1992. I've been at Women's Studies since then.
Q: How would you describe a typical day? Are you mostly working at your desk, talking on the phone or meeting with people?
A: This position is rather diversified and I do all the above mentioned duties on a daily basis. I work closely with the chair of Women's Studies and I serve as a liaison between the Women's Studies chair and the faculty and majors.  I also coordinate the scheduling of  Women's Studies meetings, luncheons and events, manage the budget, update the Web page, do other computer related duties and monitor Women's Studies course offerings.
Q: What do you like most about your job and working in the Women's Studies program in particular?
A: I have found the Women's Studies faculty to be exceptional in many ways and I enjoy working with them. I also like the diversity of the position. In addition to my other duties, the Women's Studies Program has two major events per year: The Women's Studies Symposium in the fall semester, and the Diane Weiss Memorial '80 Memorial Lecture during spring semester. I enjoy coordinating the many details required for both events.
Q: Do you, yourself, have any interest in women's issues?
A: Yes, I am interested in women's issues such as better medical research and health care of women, equal pay for men and women doing the same job, and better benefits for working mothers.
Q: What do you do after work? Do you have any hobbies?
A: My hobbies are knitting, quilting, and gardening, and I enjoy doing them in my spare time. I also enjoy and have been serving as a mentor for children for the past eight years. Originally I started mentoring teenage girls and being a "buddy" at the Cromwell Children's Home.  I am now affiliated with The Children's Center Youth Mentoring Partnership and have been mentoring the same young girl for the past four years, at least five hours per week. I'm very much involved with her life, her problems and her accomplishments.
Q: Tell me about your family.  
A: I have been married to my husband John for 35 years and we live in Durham.  I have two daughters, Laney, who is 30, and Carrie, who is 26. Laney is a veterinarian practicing in New Jersey and Carrie is a high school English teacher in California. I am very proud of them both.
Q: I understand you have the summers off. Do you travel much?
A: We have traveled extensively in the U.S. Up North, down South, out West. We've especially enjoyed Yosemite, Yellowstone and Zion national parks, and we've also gone to Hawaii. We've been to Canada — Montreal, Quebec and cities in-between — several times. Also traveled to Aruba and Europe. Last summer,  we traveled to Switzerland and Austria. We visited Italy, France and England in May 2002.
By Olivia Drake, The Wesleyan Connection editor