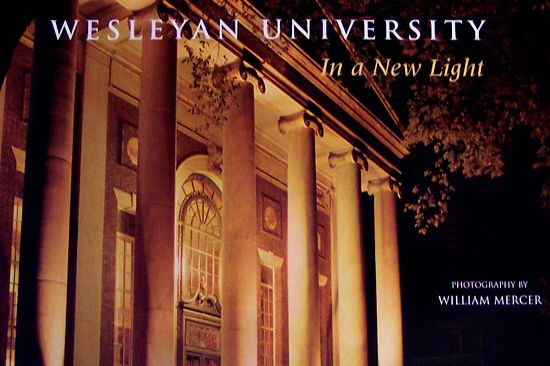 "Wesleyan University: In a New Light" is photographed by William Mercer, a 1964 alumnus. The book is for sale at Broad Street Books.
Posted 02/23/05
Wesleyan as it appears every day, Wesleyan as you remember it, and Wesleyan as you've never seen it before.

Those are the images and words that fill "Wesleyan University: In a New Light," a new book produced by University Relations and the Office of Communications.

Rich with the colors, activities, and faces that populate the campus, the book features 150 high quality images taken during the 2003-2004 academic year by photographer William Mercer '64. Mercer specializes in "on location photography" and images for specialty books. His images in this volume provide a fresh perspective to Wesleyan's grand and familiar landmarks, as well as views on the smaller more intimate events that occur throughout the campus community during an academic year.


  President Douglas Bennet '59 wrote the book's introductory essay while Joseph F. Siry, professor of art, contributed a piece on Wesleyan's distinctive architecture. Alumni, faculty from the present and past, and current students also provided short, insightful, personal impressions and recollections about the campus and its people.
David Low, '76, associate director of publications, was the book's editor; Anne Bergen, director of development communications and stewardship was the project manager; Suzy Taraba '77, the university archivist and head of special collections at Olin Library, served as archival consultant.

Copies of "Wesleyan University: In a New Light," are available for $39.95 through Broad Street Books at 860-685-7323 or at www.wes.bkstr.com. Faculty and staff receive a 10 percent discount; departments receive 20 percent off.