The timing of the release of The Rumi Prescription: How an Ancient Mystic Poet Changed My Modern Manic Life (Penguin Random House, 2020) was far from ideal. Officially out March 3, the new book by Melody Moezzi '01 was barely in readers' hands before social distancing restrictions were imposed due to the coronavirus pandemic. Moezzi was able to participate in a handful of events near her home in Wilmington, N.C. . . . and then the remainder were canceled or rescheduled in virtual form.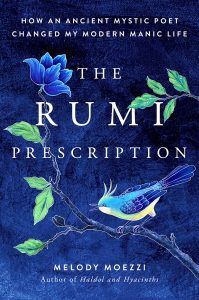 However, The Rumi Prescription is the sort of book that people with extra free time on their hands—and the inclination to obtain meaning from difficult experiences—might value. Moezzi's third book, The Rumi Prescription details how she came to interpret and apply the lessons of the 13th-century mystic poet Rumi to her modern-day world, a process that was ultimately life-changing.
An Iranian-American Muslim author, attorney, activist, and visiting professor of creative nonfiction at the University of North Carolina Wilmington, Moezzi has also written about mental health in her 2014 memoir Haldol and Hyacinths: A Bipolar Life. On May 18, she will participate in a live Zoom conversation about The Rumi Prescription with fellow mental wellness activist and illustrator Ellen Forney '89, as part of a series offered by Literati bookstore in Ann Arbor, Michigan. Click here to join the event on May 18.
Moezzi recently answered questions about The Rumi Prescription, how Rumi's words can apply to today's world, and her advice for taking care of your mental health during a pandemic.
First of all, how's The Rumi Prescription doing? What a time to launch a new book.
Melody Moezzi: It's not the best time to be releasing a book, but it turns out that the topic of this book is actually something that is helpful for people right now, so I'm glad for that. At least people seem to be finding comfort in it.