Mark '71 Produces 2009 Oscar Telecast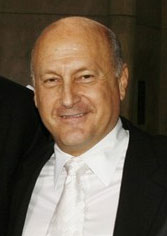 The New York Times' Michael Cieply recently interviewed Laurence Mark '71, the producer, and Bill Condon, the executive producer, of the upcoming Academy Awards ceremony, scheduled to be telecast on ABC on Feb. 22, 2009.
Mark said he hoped to bring back "a little bit of the party flavor" of past ceremonies and also would welcome "a few shocks and shivers, intended or otherwise." Both producers expect to make the ceremony more popular with viewers by featuring 2008 films that moved audiences, including films that did not receive nominations.
Mark is currently preparing for the release later this year of a film he produced, Julie & Julia, written and directed by Nora Ephron and starring Meryl Streep and Amy Adams. The film deals with a young woman's obsession with cooking star Julia Child.