Honor Society Phi Beta Kappa Inducts 87 Students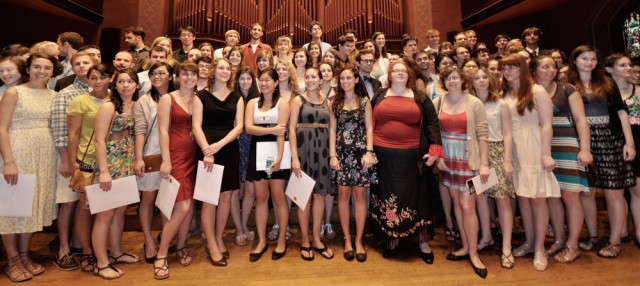 The Society of Phi Beta Kappa, the nation's oldest academic honor society, welcomed 87 members to the Gamma of Connecticut Chapter May 21.
Election to the society is based on fulfillment of eligibility requirements, including a grade point average of 90 or above and the satisfactory completion of general education requirements prior to commencement. Phi Beta Kappa was founded in 1776, during the American Revolution. The organization's Greek initials signify the motto, "Love of learning is the guide of life."
The students join the ninth oldest Phi Beta Kappa chapter in the United States—founded in 1845.
During the ceremony, Wesleyan president Michael Roth made welcoming remarks and Alberto Ibargüen '66, HON '11 CEO of The John S. and James L. Knight Foundation, delivered the keynote address. Chapter President Gary Yohe, the Huffington Foundation Professor of Economics and Environmental Studies, initiated the members.
Sally Bachner, assistant professor of English, is the chapter's vice president and Anna Shusterman, assistant professor of psychology, is the chapter treasurer.
Fifteen seniors from the Class of 2011 were elected to Phi Beta Kappa during the 2010 fall semester. These students and their majors are:
Arion Blas – economics
Wei Dai – physics, mathematics
Elizabeth Dalton – art and art history
Laura Geronimo – university major
Allison House – classical studies, music
Della Keyser – history
Daniel Kieval – biology
Julia Leonard – neuroscience and behavior
Joseph Rabison – psychology
Hannah Robinson – molecular biology and biochemistry
James Schultheis – philosophy
Joanna Seirup – psychology, religion
Emma Sherr-Ziarko – theater
Joel Specter – mathematics
Wan Yang – economics, physics
Seventy-two seniors from the Class of 2011 were elected during the 2011 spring semester. These students and their majors are:
Solomon Adler – history
Charles Alderman – English
Angela Allan – English
Alaina Aristide – Italian studies
Jae Aron – American studies
Camara Rich – biology, English
Ellen Bartolini – psychology
Alison Burstein – philosophy
Michael Yu-Pu Chou – mathematics
Nora Christiani – Latin American studies
Alison Cies – government
Hayley Corson-Rikert – earth and environmental sciences
Ian Coss – music
Katie DiBona – feminist, gender and sexuality studies, psychology
Christopher Doucette – molecular biology and biochemistry, science in society
John Durst – American studies, French studies
Lauren Feld – psychology
Rebecca Friendly – government
Brenna Galvin – film studies
Elizabeth Goldgar – classical Studies, French studies
Aaron Greenberg – biology, science in society
Ashley Greenham – English
Chalmers Hamill – anthropology
Laura Heath – archaeology
Devon Hopkins – psychology, dance
James Hounsell – economics
Emily Iversen – college of social studies
Nicholas Jackson – physics
Zoe Jick – religion
Marshall Johnson – astronomy, physics
Jonathan Katz – College of Letters, Iberian studies
Matthew Katz – economics, government
Davis Knittle – African American studies, English
Emily Kossow – psychology, French studies
William Krieger – German Studies, art and art history
Yannick LeJacq – history
Emilia Levitas – American studies
Qianqian Lin – math, computer science
Daria Ruth Lombroso – art and art history, anthropology
Rosa McElheny – art and art history
Gabriel Medrash – sociology
David Mingolla – English, Italian studies
Jonas Mishara-Blomberger – math, physics
Kelly Morgan – music, French studies
Juliet Nebolon – sociology, American studies
Olivia Parkes – art and art history, art studio
Janine Petito – biology, science in society
Jessica Plager – neuroscience and behavior
Harrison Polans – government, history
Charles Puelz – mathematics, physics
David Puelz – mathematics, physics
Nathaniel Rook – mathematics, computer science
Sophia Sadinsky – French Studies, science in society
Leah Shesler – neuroscience and behavior, psychology
Katherine Scahill – music
Julian Sonnenfeld – biology, science in society
Yupawadee Srisukvattananan – math-economics
Alessandra Stachowski – Latin American studies
Catherine Goodrich Steidl – archaeology, German studies
Meredith Steinman – psychology
Shirin Sulaiman – College of Letters
Chelsea Swete – economics
Rachel Tecott – government
Nomi Teutsch – philosophy
David Thompson – government
Kelsey Townsend – African American Studies, government
Kelsey Tyssowski – molecular biology and biochemistry, neuroscience and behavior
Carlo Urmy – art and art history
Fanny Valentin – government, philosophy
Emily Weiss – music, psychology
Carl West – science in society, mathematics, physics
Robert Wohl – history, sociology