Americas Forum to Focus on Artist, Poet Aimé Césaire April 5-6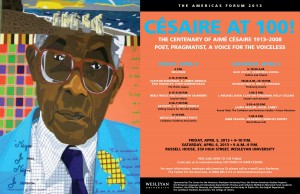 For its 2013 Americas Forum, Wesleyan's Center for the Americas is commemorating the centenary of Aimé Césaire, éminence grise of the Francophone Caribbean. Taking place on April 5-6 at Russell House, the annual symposium brings scholars and artists from "north" and "south" into dialogue about Césaire, who was not only a regional figure but also a global presence as an intellectual, poet, artist and politician.
Celebrating his influential life, spanning from the movements of Surrealism and Negritude to his ideas on decolonization and spiritual and cultural pan-Africanism, the Americas Forum is also an intellectual consideration of Césaire's contributions to our understanding of the Americas, Marxism, imperialism, independence, race and the role of art.
This year's event, which is free and open to the public, is organized by Indira Karamcheti, director of the Center for the Americas and associate professor of American studies; Typhaine Leservot, associate professor of romance languages and literatures and the College of Letters; and Suzanna Tamminen, director of the Wesleyan University Press. Scholars will represent the fields of Caribbean studies, French literature and poetics, Césaire studies, American studies, and African diaspora studies, with musicians, poets, and performers presenting both their own and Césaire's work.
All talks take place in the Russell House.
After a welcome at 4 p.m. on Friday, April 5, Clayton Eshleman, professor emeritus of poetry and literature at Eastern Michigan University; A. James Arnold, professor emeritus of French at the University of Virginia; Evie Shockley, associate professor of English at Rutgers University; and Yusef Komunyakaa, the Global Distinguished Professor of English at New York University, will talk on "The Poetic Legacy" at 4:15 p.m.
At 6:15 p.m., Neely Bruce, John Spencer Camp professor of Music at Wesleyan, and guest Elizabeth Saunders will present "Césaire's Music." The keynote address, presented by A. James Arnold at 6:30 p.m., is on "Editing Césaire for the 21st Century." To conclude the first day, Wesleyan student poets from the Caribbean Students Association will perform at 9 p.m.
On Saturday, April 6, Alex Dupuy, John E. Andrus Professor of Sociology at Wesleyan, and Demetrius Eudell, professor of history and African American Studies at Wesleyan, will talk on "Politics and Césaire" at 9 a.m. At 10:40 a.m., Richard Watts, chair and associate professor of French at the University of Washington, and Emily Sahakian, assistant professor of French at the University of Georgia, will present on "Producing Césaire."
From 1:30-3 p.m., Norman Shapiro, professor romance languages and literature at Wesleyan; J. Michael Dash, professor of French, social and cultural analysis at New York University; Holly Collins, assistant professor of French at Baylor University; and Clayton Eshleman will present on "Césaire and Literature."
A round table discussion from 3:10-4:30 p.m. on "The Caribbean and American Studies—Future Directions" will be led by Laura Wexler, professor of American studies and women's gender and sexuality studies at Yale University; and Hazel Carby, the Charles C. and Dorothea S. Dilley professor of African American Studies and professor of American Studies at Yale University.
To end the symposium, "Aimé Césaire—Readings From His Poetry" will be presented at the World Music Hall at 7:30 p.m.
For more information visit the Center for the Americas website, or call 860-685-3112.