Rudensky Discusses Her Latest Project with Jewish Daily Forward, Rubin '13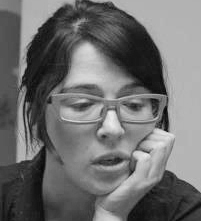 The Jewish Daily Forward has published an in-depth interview with Assistant Professor of Art Sasha Rudensky '01. The conversation ranges from her immigration to the U.S. from Moscow at age 9 to her start as an artist to her latest photography project, Eastern Eve.
Hannah Rubin '13, a former student of Rudensky, wrote the story as part of a larger series she's working on that spotlights Jewish female artists.
Rubin describes Rudensky's work: "She uses her photography as a means of personally investigating the contradictions and continuities of contemporary Russian culture. Though her work defies being labeled as 'feminine,' it culls from a sensibility that is distinctly gentle and yet perverse, that seeks to make photographs that are repellent and attractive. They trade in generalities, but their details establish her voice — a statue of Stalin in a hallway, a wall of faded shampoo advertisements, the surprisingly limber legs of an eleven-year old rhythmic gymnast. Each picture becomes a question, a statement, a kind of rhythmic curiosity of light, color, and form that points to a history and a future that both feel unknown."
Asked about her latest project, Eastern Eve, Rudensky said:
I've been working on it this series of portraits for the past five years or so, kind of as a side project. The youngest model in the group is twelve and her name is Sasha and I think maybe it was when I photographed her that the idea gelled and came together. There is a kind of fetishistic fascination of Eastern European women: a very specific kind of prototype is conjured up. And in many ways, it isn't completely mistaken. But in the reality, of course, it is so much more diverse. So I wanted to play with both of these ideas, and make pictures of women that are very confrontational, and contradictory to the stereotype, but not always. The title Eastern Eve plays on the generic woman notion: something that denotes a kind of every day, or a kind of Jane version of the Russian woman. But then that generality gets broken down by the specificity in each image. The specific skin, specific body type, specific haircut.

On a more personal level, this series is, in many ways, a projection of myself onto these women — looking at these women, at these lives that perhaps I was meant to lead. There is always this idea for me of what would have happened if I had stayed in Russia and grown up there. So, ultimately, it feels like a self-portraiture project.
Photographs from Eastern Eve can be seen here.