Taylor's Papers Published in Molecular Biosciences, Biochemistry Journals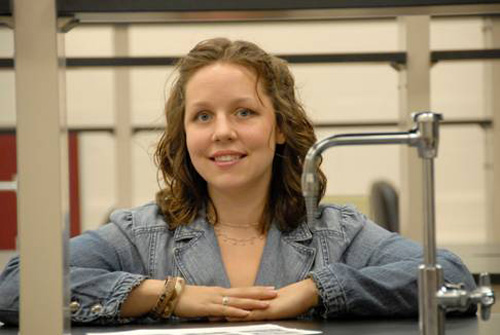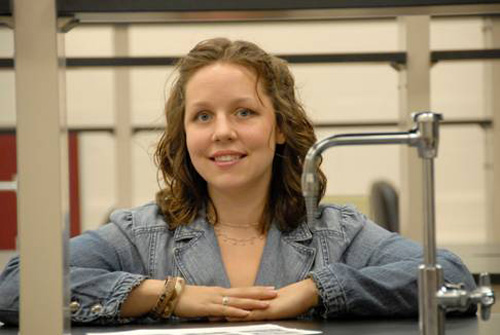 Erika Taylor, assistant professor of chemistry, assistant professor of environmental studies, has co-authored a paper published in FEBS Letters, an international journal established for the rapid publication of final short reports in the fields of molecular biosciences.
The paper, which is an expansion of her lab's work on the enzyme Heptosyltransferase I, is titled "Cloning and Characterization of the Escherichia coli Heptosyltransferase III: Exploring Substrate Specificity in Lipopolysaccharide Core Biosynthesis," The paper is co-authored by her former graduate student Jagadesh Mudapaka. FEBS Letters is published by Elsevier on behalf of the Federation of European Biochemical Societies.
Taylor also is the co-author of "Improving Alternate Lignin Catabolite Utilization of LigAB from Sphingobium sp. strain SYK-6 through Site Directed Mutagenesis," published in Process Biochemistry, June 2015. The work in this paper describes molecular engineering of the enzyme LigAB to be better able to metabolize compounds derived from Lignin. Co-authors include Kevin Barry, PhD '15; Erin Cohn '15 and Abraham Ngu '13.
Taylor presented her research "Thoughts about Adenosine: Efforts in Drug Discovery of Nucleoside Utilizing Enzymes" at the Gordon Research Conference: Nucleosides, Nucleotides and Oligonucleotides in July. Her talk described the work she is performing to help in drug discovery for two enzymes from E. coli, Heptosyltransferase I and the TrmD tRNA methyltransferase, and one human enzyme, p300 histone acetyl transferase.
"Our work in these systems involves computational modeling of interactions between small molecules and the enzymes, to help design new compounds with medical applications," Taylor explained.