MLK Commemoration on Environmental Justice to be Held Jan. 29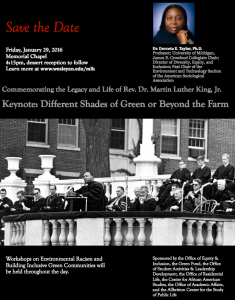 All members of the Wesleyan community are invited to attend the annual commemoration of Rev. Dr. Martin Luther King Jr.'s legacy. Dorceta E. Taylor, a leading voice in the environmental justice movement, will deliver the keynote address, titled "Different Shades of Green or Beyond the Farm" at 4:15 p.m. on Jan. 29 in Memorial Chapel. A desert reception will follow.
Taylor is professor, James E. Crowfood Collegiate Chair, and director of diversity, equity and inclusion at the University of Michigan. She is past chair of the environment and technology section of the American Sociological Association.
In addition to the Wesleyan community, Middletown High School students and members of the Middletown community will be in attendance.
The keynote is a ticketed event; tickets are free and available in limited quantities at the University Box Office beginning Jan. 19. Community tickets are available here.
Prior to the keynote, student leaders from the Green Fund, Students of Color community and Eco Facilitators will be holding multiple workshops designed to bring the Green and SOC communities together in sustained dialogue over matters of environmental and social justice, and how change starts here in our surrounding Middletown community. A student-led screening and discussion of the documentary Trouble the Water will be held 7:30–9:30 p.m. on Jan. 27 in PAC 001.