Guiney '77 Wins Freedom Through Literacy Award
Sue Rappaport Guiney '77 and her organization, Writing Through, received one of six prestigious international Freedom Through Literacy award. Hosted by Judith's Reading Room, an organization that provides literature to those who do not have access to it, the competition will donate $1,000 to the work of Writing Through. Guiney and the five other recipients will be honored at a dinner co-sponsored by the Colonial Association of Reading Educators (C.A.R.E.) in May.
A novelist, poet and educator, Guiney founded Writing Through as a way to develop English fluency, conceptual thinking, and self-esteem through the creative writing process. She began on a volunteer trip to Cambodia, teaching workshops to children from an educational shelter.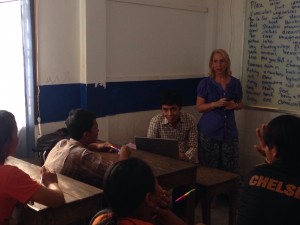 From that trip, she found inspiration for  the first in her collection of novels set in modern day Cambodia, A Clash of Innocents. The second in the collection, Out of the Ruins, was published in 2014. Determined to give back to the people who inspired her, Guiney expanded those initial workshops into an organization that targets at-risk and underserved populations. It offers both students and adults, in schools and NGOs throughout Cambodia, the opportunity to learn to express themselves in written English.
She has garnered international attention for this work. From 2011-2013, she was Writer-in-Residence in the SE Asia Department of The University of London's School of Oriental and African Studies (SOAS), the world's leading institution for the study of Asia, Africa and the Middle East. And the organization continues to grow: Later this year, Guiney will expand the Writing Through program into Singapore—and she has been receiving requests for the program from sites in Vietnam, Laos, and Indonesia.
Guiney explained her commitment in a "Letter Home" article published in the Wesleyan Magazine (2013, issue 2): "Through writing, I am helping the children of Cambodia find their places in the future, find a future for their country, find their own self-esteem and exercise their otherwise untapped abilities in conceptual thinking."