Faculty, Students, Alumni Attend Political Science Conference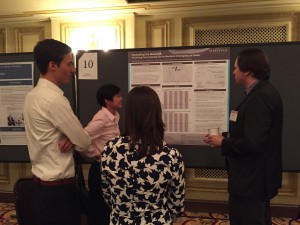 The 74th annual Midwest Political Science Association (MPSA) conference in Chicago April 7-10 was attended by several Wesleyan faculty members, students and recent alumni. The conference, held every April, is one of the largest political science conferences with more than 5,000 presenters from throughout the United States and around the world. It is traditionally held in Chicago's historic Palmer House Hilton.
Assistant Professor of Government Erika Franklin Fowler, Assistant Professor of Government Logan Dancey, and Assistant Professor of Government Yamil Velez all presented research at the conference. They were accompanied by Joli Holmes '17, John Murchison '16, Grace Wong '18, Anh Tuan Nguyen Viet '16, and Eki Ramadhan '16, students who contributed to and presented research.
Also in attendance were recent alumni Leonid "Leo" Liu '14, who presented research with Fowler, and Matt Motta '13, now a graduate student at the University of Minnesota.