Master Drummer Adzenyah Celebrated at Ceremony, Hall Dedication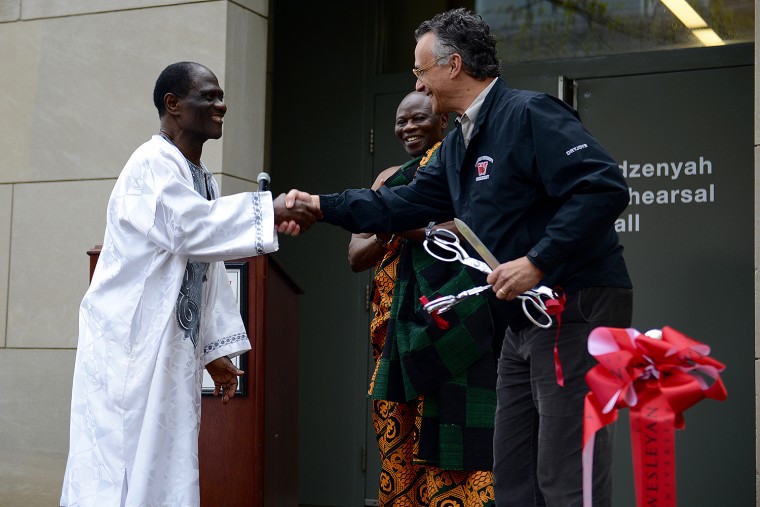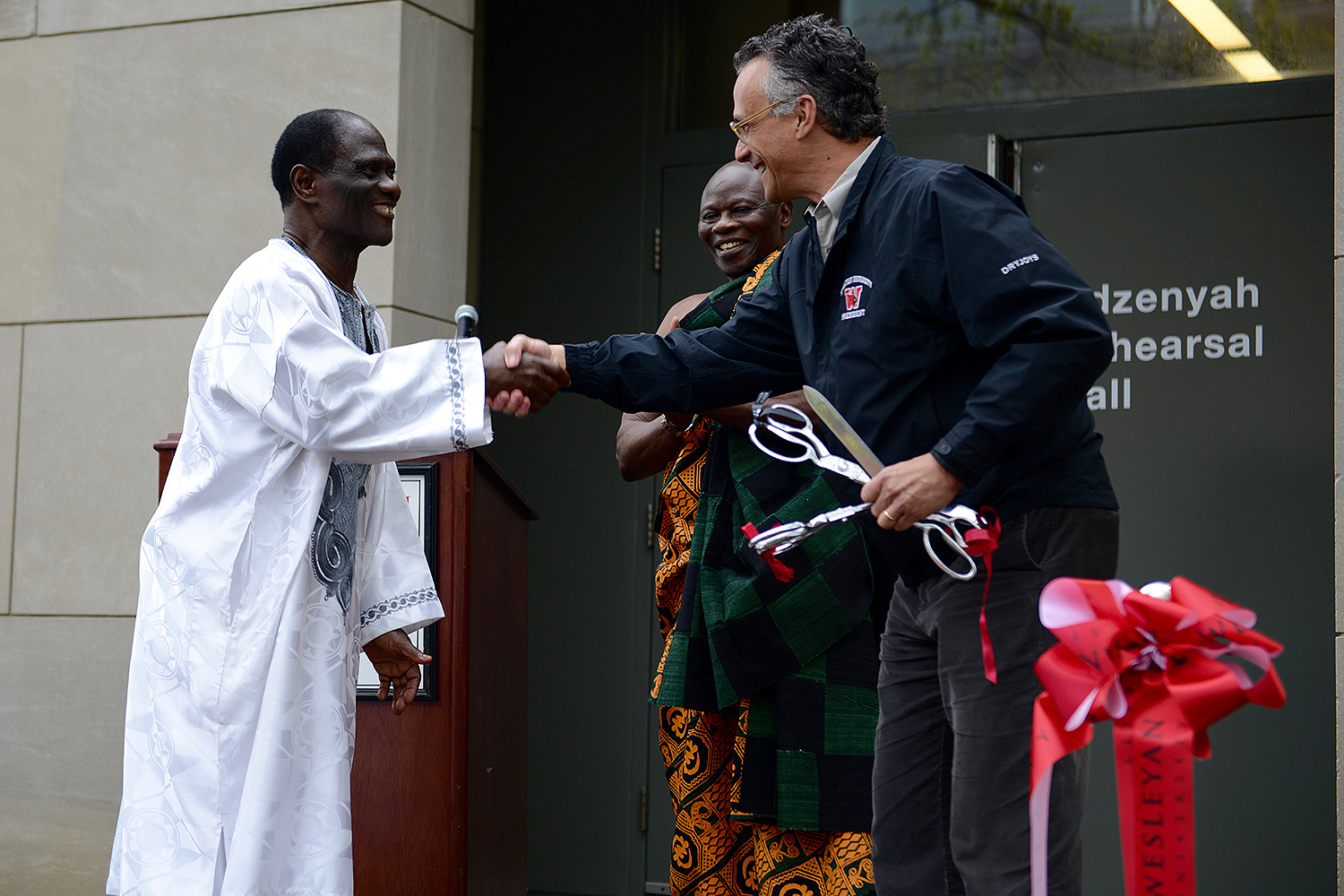 On May 7, Master drummer Abraham Adzenyah, adjunct professor of music, emeritus, was honored with a ceremony, farewell concerts, and reunion featuring past and present students (View photo set here). Adzenyah taught West African music, dance and culture at Wesleyan for 46 years and retired in May.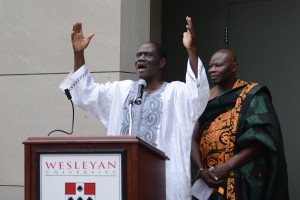 During the event, Adzenyah was honored with the naming of the Abraham Adzenyah Rehearsal Hall (formerly the Center for the Arts Rehearsal Hall). This is the first time that a leading U.S. university has named a building after a traditional African musician. In addition, grateful students, alumni and friends have raised more than $225,000 to establish the Abraham Adzenyah Endowed Wesleyan Scholarship.
"West African drumming has been one of the most important parts of our Music Department since the beginning of our World Music Program in the 1960s," said Professor of Music Eric Charry. "Abraham Adzenyah has been the pillar of the World Music Program, being here for so many decades and training so many of our students. He has been such a valued colleague within our Music Department. He has such breadth and depth of experience, and it's just a pleasure to have had him around and for him to have offered the kinds of expertise that he does."
Early in his career, Abraham Adzenyah studied, performed, and taught drumming in his native Ghana, including five years of formal study in music, dance, and drama at the Institute of African Studies at the University of Ghana. He was one of the first artists to be named Master Drummer in the Ghana National Dance Ensemble. On arriving at Wesleyan in 1969, he began to offer courses in West African music, dance, and culture. He received a BA in liberal arts from Goddard College in 1976, and an MA in music from Wesleyan in 1979.
Throughout his years at Wesleyan, Adzenyah was a visiting artist and teacher at dozens of workshops, colleges and conservatories, and has performed all over the world, alone and with eminent musicians such as the late Wesleyan Artist in Residence Ed Blackwell, Wesleyan's John Spencer Camp Professor of Music Emeritus Anthony Braxton, Hugh Masekela, Steve Gadd, Dizzy Gillespie, Tito Puente, Mongo Santamaria, Ornette Coleman and Rufus Reid. He has also influenced and inspired students and professional musicians through his recordings. While at Wesleyan, Adzenyah received the Afro-Caribbean World Music Symposium Achievement Award and the Percussive Arts Society Award.
Adzenyah was featured in the May 7 Hartford Courant in an article titled "A Unique Honor for Retiring Master Drummer at Wesleyan."
The celebration was co-sponsored by the Center for the Arts, the Music Department, the Office of the Dean of Arts and Humanities, and University Relations.