Wesleyan Welcomes 55 New Faculty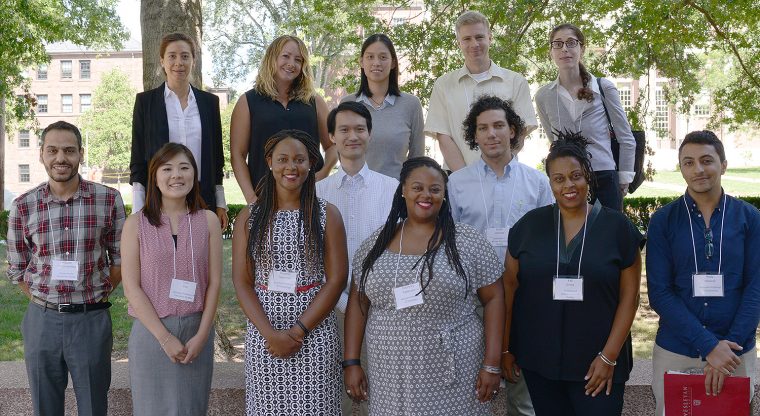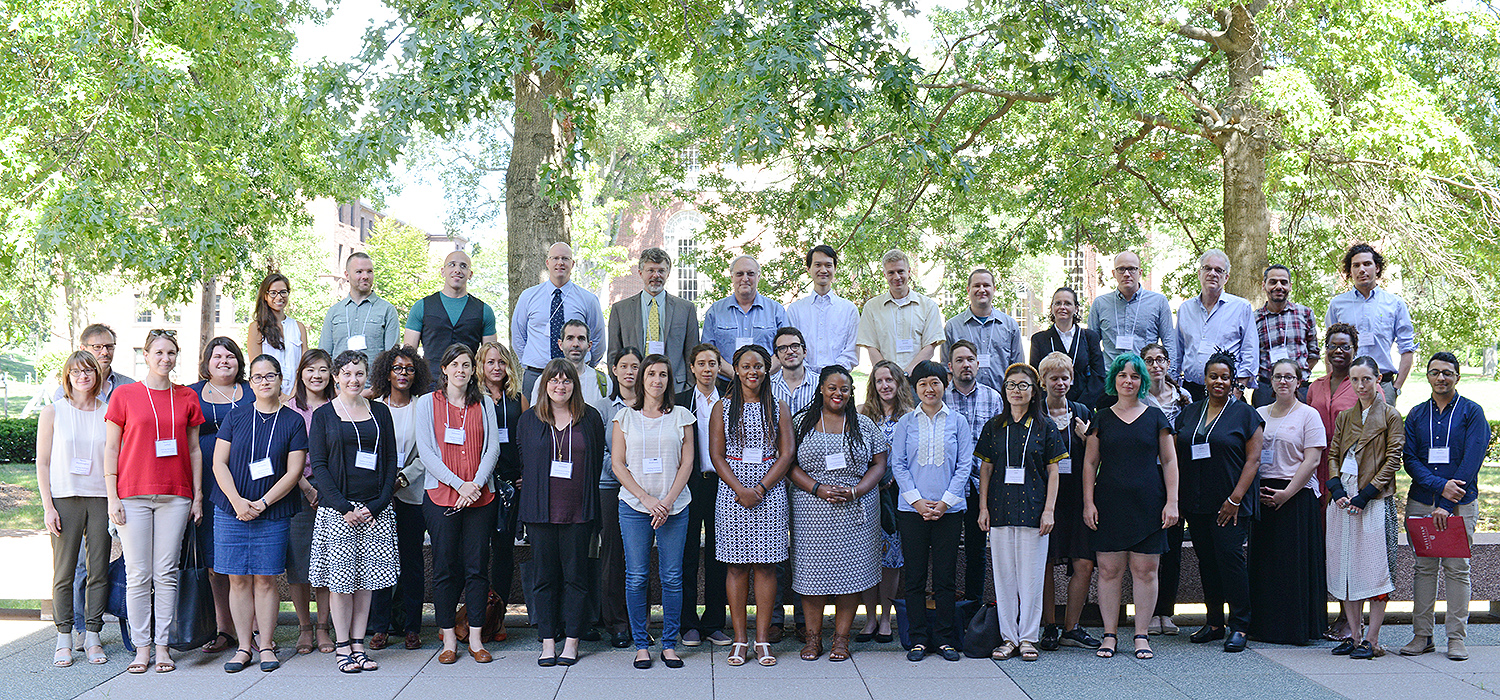 This fall, Wesleyan welcomes 55 new faculty including 15 new tenured and tenure-track faculty, 33 visiting faculty and seven fellows. They come from top PhD programs throughout the country with expertise ranging from private protocols for computer networks to sleep and psychosocial adjustments to intersectionality of body size, race and gender. Three tenure-track faculty also are Wesleyan alumni.
The 2016-17 group represents the most diverse class of new faculty to date.
"We are proud of our progress in the past two years towards diversifying the Wesleyan faculty along multiple dimensions," said Joyce Jacobsen, provost and vice president for academic affairs. "A diverse faculty, among many other positive features, is one that can model different ways of experiencing scholarly life for our students."
Antonio Farias, vice president for equity and inclusion/ Title IX officer, says his office and the provost work together to coordinate the hiring and retention process from beginning through promotion and tenure, with clear leadership from President Roth and the Board of Trustees.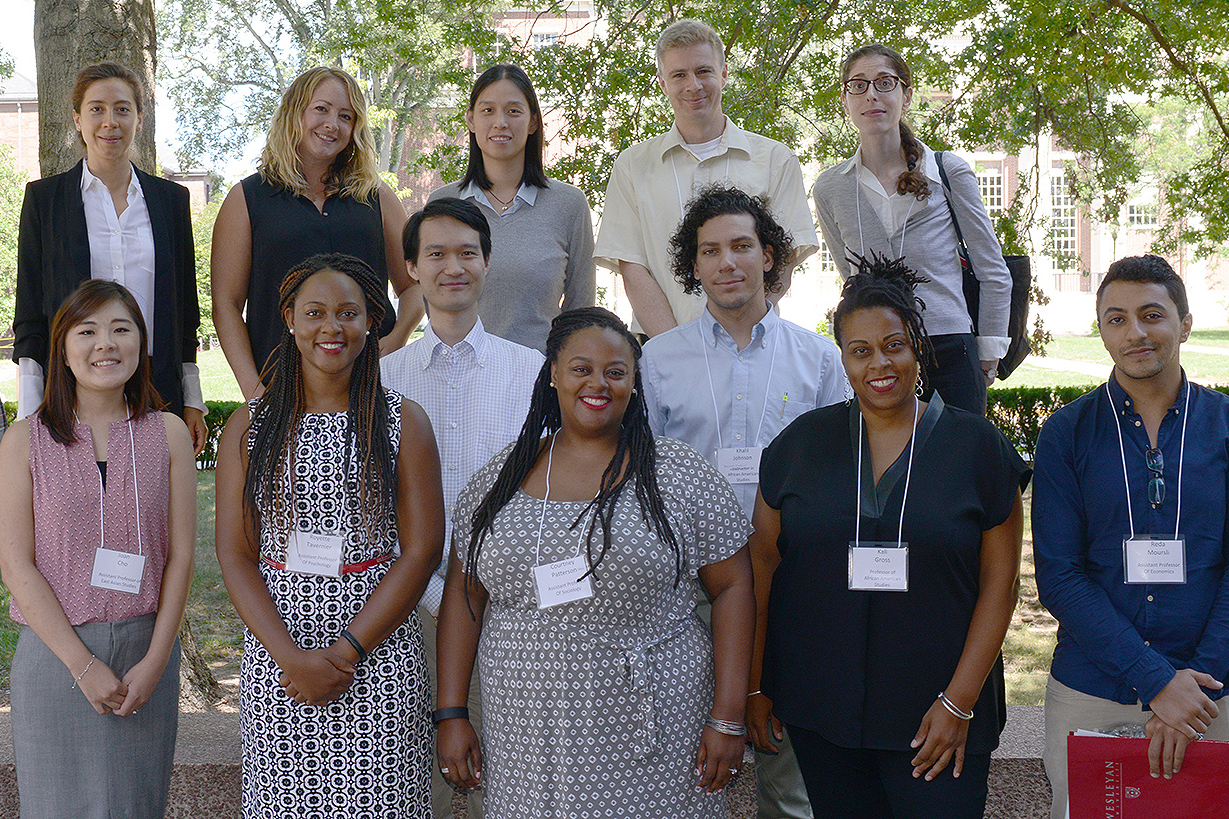 Wesleyan's new tenured and tenure-track faculty include Gabrielle Ponce-Hegenauer, assistant professor of letters; Abigail Boggs '02, assistant professor of sociology; Meng-Ju (Renee) Sher '07, assistant professor of physics; Michael Slowik '03, assistant professor of film studies; Victoria Manfredi, assistant professor of computer science; Joan  Cho, assistant professor of East Asian studies; Royette Tavernier, assistant professor of psychology; Takeshi Watanabe, assistant professor of East Asian studies; Courtney Patterson-Faye, assistant professor of sociology; Khalil Johnson, assistant professor of African American studies; Kali Gross, professor of African American studies; and Reda Moursli, assistant professor of economics; Michael Meere, assistant professor of French; Hirsh Sawhney, assistant professor of English; and Tiphanie Yanique, associate professor of English.
Their bios appear below:
Abigail Boggs has a BA from Wesleyan and a PhD from the University of California – Davis. Her dissertation is titled "Prospective Students, Potential Threats: The Figure of the International Student in US Higher Education." Bogg's work crosses the boundaries of feminist studies, critical ethnic studies, queer studies and transnational studies. Her first book manuscript, American Futures: International Students and the Global U.S. University is currently under contract with Fordham University Press.
Joan Cho received her PhD in political science from the Government Department at Harvard University in 2016. Her dissertation, "The Dictator's Modernity Dilemma: Theory and Evidence from South Korea" examines the conditions under which political institutions are more or less effective at neutralizing opposition forces in authoritarian regimes. Her current work examines the legacies of authoritarianism, and she will be teaching courses on social movements in East Asia and Korean politics and society.
Kali Gross earned her PhD in history and a certificate in Women's Studies at the University of Pennsylvania. She is the author of the award-winning book, Colored Amazons: Crime, Violence and Black Women in the City of Brotherly Love, 1880-1910 (Duke UP, 2006) and the newly released, Hannah Mary Tabbs and the Disembodied Torso: A Tale of Race, Sex, and Violence in America (Oxford UP, 2016). Gross is recognized for her pioneering scholarship on black women and crime and her writing frequently explores how historical legacies of race, gender, and justice shape mass incarceration today. She has held numerous fellowships and been scholar-in-residence at institutions such as the Schomburg Center for Research in Black Culture and the Library Company of Philadelphia and was a Ford Foundation Postdoctoral Fellow at Princeton University.
Khalil Anthony Johnson, Jr., received his BA. in English literature from the University of Georgia and will receive his PhD in African American Studies and American Studies from Yale University in December 2016. His research specializes in the intertwined histories of the African diaspora and Indigenous people in North America, with emphases on U.S. settler colonialism, education and counter-hegemonic social movements. While teaching elementary school on the Navajo Nation, he unwittingly joined a historic cohort of African Americans who taught in reservation boarding schools as employees of the Bureau of Indian Affairs during the civil rights era. His current manuscript project, Schooled: The Education of Black and Indigenous People in the United States and Abroad, 1730-1980, historicizes the Post-War migration of hundreds of African American educators to Indian Country and has unearthed a colonial genealogy of four generations of social reformers, missionaries, philanthropists, activists, and teachers who, since the 18th century, have used schooling to reconcile the founding cataclysms of the United States––the ongoing presence of Indigenous nations, free black people, and non-white immigrants. The result is a dramatic and transnational reinterpretation of American education and its consequences for colonized peoples across the globe.
Victoria Manfredi received her BA in computer science and neuroscience from Smith College and her PhD from the University of Massachusetts Amherst. Manfredi is interested in how to design more robust and private protocols for computer networks. Her work focuses on characterizing networks using analysis and data mining, using the derived insights to develop more robust and private communication protocols.
Michael Meere specializes in early modern French studies with a focus on theater and performance. He has edited French Renaissance and Baroque Drama: Text, Performance, Theory (Delaware, 2015), has published on authors ranging from Rabelais to Voltaire, and he has completed a book manuscript on representations of violence in the 16th century French tragedy. Meere has a PhD from the University of Virginia, a BA from Northwestern, a Master 2 from the Sorbonne and a Maîtrise from Lyon 2. Alongside his scholarship on drama, he also directs French-language theater productions at Wesleyan. During the 2016-17 academic year, Meere coordinates the Renaissance Seminar, co-convenes the Queer Studies Research Collective, and is chair of the board of the Friends of Wesleyan Library.
Reda Moursli obtained a Bachelor in Business Administration from Al Akhawayn University in Ifrane, Morocco in 2006. In 2007, he moved to Sweden to pursue his graduate studies at the University of Gothenburg, where he received his MS in finance in 2009. In 2016, he earned a PhD in economics from the University of Gothenburg. His current research looks at the effects of social networks on the supply of effort by directors in U.S. firms, and how these networks influence the success of directors in the market for directorships. He also studies the impact of social networks on the market for corporate control in the U.S. Moursli's teaching interests include corporate finance, corporate governance, statistics, financial econometrics and econometrics.
Courtney Patterson-Faye earned her BA from the University of Pennsylvania and her PhD in April from Northwestern. Her dissertation was titled, "Fat Chance, Slim Chance: Identity, Culture, and a Politic of Fatness." She also served as a teaching fellow in Critical Identity Studies at Beloit College. Patterson-Faye is interested in the intersectionality of body size, race and gender.
Gabrielle Piedad Ponce-Hegenauer earned her PhD in the Department of German & Romance Languages and Literatures at the Johns Hopkins University, where she previously completed her MFA in the Writing Seminars Department. She has been the recipient of the Sankey Award for Poetry, the Charles Singleton Center Fall Travel Grant in Spain, and the Millicent Mercer Johnsen Pre-Doctoral Rome Prize at the American Academy in Rome. Her research and teaching is focused on a comparative and tropological approach to the study of imaginative and philosophical forms of writing as they developed in European vernaculars over the course of the early modern period.
Hirsh Sawhney's debut novel, South Haven, is a Barnes and Noble Discover Great New Writers pick. He has written for The New York Times, The Guardian, and the Times Literary Supplement, and is the editor of Delhi Noir, a critically-acclaimed anthology of fiction. Hirsh has directed an adult education program serving undocumented workers in Brooklyn and taught English to asylum seekers in London. He is an advisory editor at Wasafiri, a journal of international literature based out of the Open University.
Renee Sher '07 has a PhD from Harvard and a BA in physics from Wesleyan. Her research uses ultrafast spectroscopy to study energy conversion processes in renewable energy materials. Sher will begin teaching in the spring of 2017.
Michael Slowik '03 has a PhD from the University of Iowa, a MA in humanities from the University of Chicago and a BA in film from Wesleyan. His 2014 book After the Silents: Hollywood Film Music in the Early Sound Era: 1926-1934, based on his dissertation, has been shortlisted for the Kraza-Krausz Foundation Moving Image Book Award. He also has published articles on different topics in film, including one about how modern films have dealt with the rise of terrorism.
Royette Tavernier holds a BS from Trent University and a PhD from Brock University in Ontario. She specializes in sleep research, particularly among adolescents and emerging adults and is the director of the Sleep and Psychosocial Adjustment Lab at Wesleyan. Tavernier's research program examines the link between sleep and psychosocial adjustment. She uses both subjective (e.g., self-report) and objective (e.g., actigraphy) assessments to measure a number of sleep characteristics, such as sleep duration, sleep latency, sleep efficiency, and sleep quality. Her interest in psychosocial adjustment spans a wide range of indices, including academic performance, emotional wellbeing, quality of interpersonal relationships, and technology use. Some of the statistical tools used in her research include: auto-regressive cross-lagged analysis, growth curve modeling, latent class analysis, and hierarchical linear modeling. Her interest in sleep and psychosocial adjustment extends to both short term (i.e., day-to-day) as well as long term (over years) associations, with a particular emphasis on the developmental age periods of adolescence and emerging adulthood.
Takeshi Watanabe received his PhD from Yale in 2005 and was a visitor at Wesleyan in 2012-2014. His prize-winning doctoral dissertation reconsidered the significance of a literary work called the Eiga Monogatari, or The Tale of Flowering Fortunes, that examines the historical events of the 11th century. His current research examines history of food and eating customs as reflected in pre-modern Japanese literature, and he is teaching a course this semester called From Tea to Connecticut Rolls: Defining Japanese Culture through Food.
Tiphanie Yanique is the author of Wife, a collection of poems published in November 2015. Wife won the Bocas Prize in Caribbean poetry and is currently a finalist for the Forward Prize for a First Collection. Yanique also the author of the novel Land of Love and Drowning, which won the 2014 Flaherty-Dunnan First Novel Award from the Center for Fiction, the Phillis Wheatley Award for Pan-African Literature, and the American Academy of Arts and Letters Rosenthal Family Foundation Award, and was listed by NPR as one of the Best Book of 2014. She also is the author of a collection of stories, How to Escape from a Leper Colony, which won her a listing as one of the National Book Foundation's 5Under35. Her writing has won the 2011 Bocas Award for Caribbean Fiction, Boston Review Prize in Fiction, a Rona Jaffe Foundation Writers Award, a Pushcart Prize, a Fulbright Scholarship and an Academy of American Poet's Prize.