Richardson '60 Publishes Bio of Urban Development Pioneer Shepherd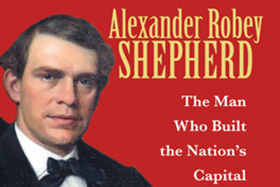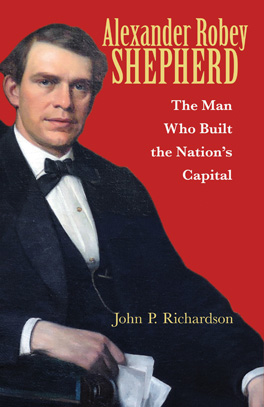 Alexander Robey Shepherd: The Man Who Built the Nation's Capital, by John P. Richardson '60 (Ohio University Press, 2016), tells the story of urban development pioneer and public works leader Alexander Robey Shepherd, who was instrumental in building the infrastructure of the nation's capital when it was knee-deep in mud and disrepair after the Civil War. In fact it was Shepherd's leadership, says Richardson, that made it possible for the city to finally realize the vision of French architect Pierre Charles L'Enfant, some 80-plus years after George Washington appointed L'Enfant to plan what was then known as the new "Federal City."
"Shepherd did not build the buildings, but he built the infrastructure that made it possible to develop the city we see," says Richardson, a retired intelligence officer and Middle East specialist who spent more than 30 years researching Shepherd before writing his book. "Much of Shepherd's work is below the ground but critical to a modern city."
Alexander Robey Shepherd was born in Washington in 1835. After his father's early death, Shepherd left school at the age of 13 and worked his way up from apprentice to owner of a plumbing company. After serving in the Union Army during the Civil War, he started a second career—in politics.
At 27, Shepherd became president of Washington's lower house of delegates. In 1871, he helped create the territorial government in Washington, D.C., and was appointed to the Board of Public Works by President Grant. He served as governor of the District of Columbia from 1873 to 1874. During the three years he was in power, Shepherd achieved his goal of making D.C. a workable city, but at a personal and professional cost. His over-spending on improvements—including paving and grading streets, planting tens of thousands of trees, covering the cesspool known as the Washington City Canal, and installing gaslights—bankrupted the city and gained him an unshakable but unproven reputation as a corrupt politician. He spent his final 22 years in voluntary exile, developing silver mines in Mexico.
Richardson decided to focus on his subject more than 30 years ago. "I had just published a book and wanted to do another," he says. "I knew that Shepherd had made a major contribution to the development of the city and assumed that at least one other biography was in play. Imagine my surprise to learn that—as of 1985, when I began my research—there was no such item."  Richardson's biggest surprise during years of research: the lack of documents—diaries or personal correspondence—that might reveal Shepherd's thought process. "In many respects, Shepherd 'was what he did,'" says Richardson. "He was not an introspective man."
Richardson hopes that by painting a full picture of Shepherd in his book, including a fascinating look at the 20-plus years Shepherd and his family spent in Mexico, readers will be able to weigh Shepherd's merits and demerits more accurately. "Ignoring his harshest critics, whose judgments I could not corroborate, I came to see Shepherd as much less than the radical progressive he was made out to be by his admirers," says Richardson. "I also concluded after extensive research that he was not personally corrupt, although people all around him made money."
For more information about Richardson and his subject, visit alexandershepherd.net.