Driscolls Honored with 2017 Baldwin Medal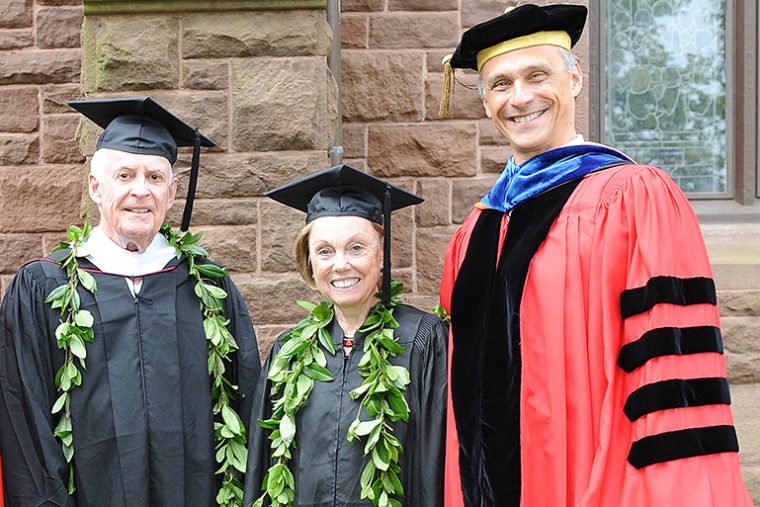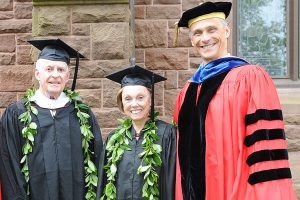 During the 185th commencement ceremony on May 28, John '62 and Gina Driscoll were honored with the Raymond E. Baldwin Medal, the highest award of the Alumni Association. John and Gina have each provided exemplary service to Wesleyan for more than three decades, during which they have been truly remarkable ambassadors of goodwill. Among Freeman Asian Scholars, their names are synonymous with devoted friendship and unstinting support. For many years the Driscolls traveled extensively throughout Asia with the late Houghton "Buck" '43 and Doreen Hon. '03 Freeman P'77 to interview prospective Freeman scholars. The Freeman Driscoll Endowed International Scholarship was named in their honor.
John joined the Wesleyan staff in 1982 as alumni director, having previously served with the U.S. Office of Education and the Civil Aeronautics Board, among other positions. An engaging speaker and storyteller, he has emceed or spoken at countless events. He maintained close friendships with many distinguished alumni, including John Woodhouse '53, P'79, Hon. '97, and Herb Kelleher '53, Hon. '90.
A faithful and ever-enthusiastic fan of the Cardinal football team, John led a revival of the Wesleyan "Fight Song," teaching it to generations of Wesleyan first-year students. He became the first Wesleyan administrator to receive "emeritus" status, served under five Wesleyan presidents, received an Appreciation Award from the Black Alumni Council for his service, and was an active leader in Class of 1962 reunions. Off campus, he is a member of the Kiwanis and Conversational clubs.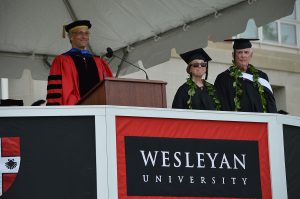 Gina joined the Wesleyan staff in 1985 as the coordinator of events in the president's house. In 1998 she moved to University Relations, where she is currently associate director of Alumni and Parent Relations. She is a recipient of the Cardinal Achievement Award, which recognizes outstanding staff contributions, and she has been a mainstay of the United Way campaign at Wesleyan, chairing it in 1990. She served on two inaugural committees for Wesleyan presidents and coordinated the 21st Hugo Black Lecture delivered by the late Justice Antonin Scalia.
Off campus, Gina has been an active volunteer in the Middletown school system – serving as PTO president at the middle and high schools and as parent liaison for the $11-million referendum on the renovation of Middletown High. She also helped found the Neighborhood Preschool, which provides preschool services to the Wesleyan and Middletown communities.