Kadets, Kwon, Williams, Reyes Deliver Senior Voices, Hatch Gives Faculty Reflection
Lili Kadets '17, Haneah Kwon '17, Arnelle Williams '17, and Mika Reyes '17 delivered "Senior Voices" addresses on May 27 in Memorial Chapel. Anthony Hatch, assistant professor of science in society, assistant professor of sociology, assistant professor of African American studies, delivered the faculty reflection. Below are the text of their speeches: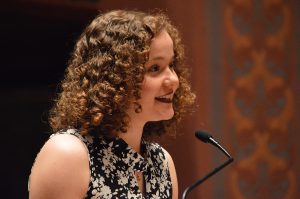 Lili Kadets '17
"If anybody was to write the history of my life, they should start with my feet." The speaker here is Jesse B. Semple, also known as "Simple": an iconic character, born from the pen of Langston Hughes.
Isn't it true? "Simple" is right: our feet have traveled. My feet have traveled.
These feet tracked snow down the halls of Clark, ran up the pavement hill from Lo-Rise, traveled across Europe, felt sore after working out in Freeman, wrote a research paper about Emily Dickinson, tap danced in the CFA, walked up and down Main Street, tripped up the stairs in Olin, learned French, wrote a thesis, shivered in the New England rain, sled down Foss, ran barefoot in the Fountain backyards, stood in line at Usdan, and wore socks with lions on them. For courage.
I want to tell you stories about shoes. I remember when Kaileen tried on warm boots for the first time because she is from Arizona and had never experienced a snow day. I remember when Ben fixed the strap of my formal heels with a paperclip because stability is necessary for dancing. I remember when Sonya sported colorful, new sneakers for springtime. I remember understanding when a visitor was visiting our house on Home Avenue by the addition of foreign shoes in the front hall; I remember kicking off dirt from the bottom of my cleats after messing around with a soccer ball at the base of Foss. I want to keep my shoes forever—even the ones with holes—so I can keep retelling these stories. Our shoes illustrate the lovely dirt of our experiences.
"If I just had four feet, I could have stood in more places longer." Simple said that too. It sounds like Simple could potentially understand what it is like to be a Wesleyan student in 2017 because I could ask myself this: where might I have stood if I had the time? The energy? The shoes? You stood next to me, you stood in front of me, you stood behind me, and I cheered you on but there were so many things I wish I could have done. This is not sad regret, but unending enthusiasm for an inspiring place. Four years pass quickly, don't they?
Think about where our feet have carried us. But more importantly, think about the moments when our feet rested and our minds took over, bursting with ideas for activism, social change, creativity, funny memes, fascinating theatre productions, recipes, parodies of popular songs, poetry, inspirational quotations, weirdness, coolness, and coolness again. If anybody was to write the history of our life, they should start with our feet.
Wesleyan, you've worn down my shoes. You've inspired my feet to travel in directions I never knew existed, and on paths previously untouched. But you've also reminded me that I walk the streets of giants—giants who now run marathons, climb mountains, share wisdom, and inspire change. So I walk, hoping one day, to fill their shoes.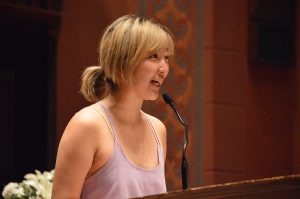 Haenah Kwon '17
I look back at my time here and ask: what happened? One thing I know for sure is that I changed. So what did this place do to me? And what did I do to this place?
In the midst of these questions, one word pops up: "break". I learned how to break here. Last time I checked the dictionary, "break" is a verb, sometimes a noun, that means many different things. I chose four kinds of "break" to describe what I learned during my four years here.
break
/brāk
The first definition of "break" is "to shatter." And this is really about vulnerability. From the start, Wesleyan put me in a vulnerable place. Home was 7,000 miles away for me–still is—except when I'm dreaming. English gets less difficult, but never easy. The communities I was from were extremely homogenous compared to those here. Freshmen year, I remember being constantly challenged in my "dorm" 200 Church, the house of "social justice"—a concept that I had never encountered before. My very developed beliefs or paradigms I had absorbed from my family and environment were starting to shatter by the dialogues I had inside my dorm and, later, outside it with people of shockingly diverse worldviews. It is a painful process to let yourself be challenged, broken, and changed, but I was lucky to be around openhearted, caring, and patient friends. Shout out to the people from 200 Church.
Secondly, to "break" means to "break the truth." This definition is about honesty and integrity, while also relating to vulnerability. Sophomore year, seeking truth meant taking an all-nighter a week during my CSS struggle while suffering from studio art headaches. But, really, "truth" often lay beyond classrooms and studios. "Truths" were felt rather than read or heard, in gooey forms too tricky to articulate or reproduce. But it still felt important to "break" the truth or my truth to others, even when "truth" was uncomfortable, unpopular, or ugly.
The third kind of "breaking" involves communities, which I became especially active in during junior year. It means "to break boundaries" – to reach out and break bread with others. Freshmen year, Ari, Jilz, and Yael from Middletown Potluck sparked my journey of engaging in "peoplehood" beyond Wesleyan, using dinner tables as platforms – shoutout to Al, Althea, Carolina, Courtney; Starting the Subway Ride magazine with Shoko, Siri, and Caren opened a page in my life to celebrate the creative expressions of my neighbors; Talking with Jeter, J.Davis, Dre, Shawn, Clyde, and so many others in Cheshire through CPE moved me to break prejudices while reminding me how the deepest of the friendships can grow beyond prison bars; Dat, Tai, Shin, Bryan, Kevin, Joseph, Max, and others from Wesbreakers literally taught me how to "break," or "breakdance"; they tell me "breaking" is about engaging with others inside a different body but on the same floor – and aren't we all dancing in different bodies on the same dance floor called Earth?
And lastly, I want to discuss the toughest type of breaking. It requires patience. It's the kind where you have to breathe or blink, slow down, give up, let go, stop, and wait. And waiting is hard.
Senior year, I learned how to take a break, from things I was firmly holding onto. Over winter break, I was deciding on whether to come back to school or not – for many reasons, often related to family and my health, but also related to my ego. I was largely embarrassed that, because of whatever external circumstances, I had less time and energy to do everything I was doing. Thusly I cut down social life, dropped my art major and art thesis in addition to most of my extracurriculars and jobs I was attached to, just in order to survive my last semester. And giving up such commitments felt like I was giving up pieces of myself. I felt ashamed, I felt smaller. I questioned, "what's left?" But there was always something left, no matter how much I let go. Actually, letting go gave me more clarity on who I am at the core.
This year, I focused on peeling what's on my periphery to get to my core – my integrity. I want to express my special gratitude to Frank, Professor Tan, Professor Miller, May, and my housemates – Mika, Gaby, Mia, Mario, Caren – for helping me peel myself. I thought learning and growing would be about accumulating but it was more about eliminating and committing to fewer and fewer things. I still have so far to go, because I still have so much to give or give up, but at least I'm starting.
So, there it is, my processes of breaking. I'm sure you had your own share. Maybe we have met before, maybe we haven't yet, but I wanted to say: thank you. It was an honor to break together with you all.
Mika Reyes '17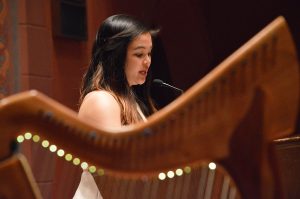 Ask me what I'll remember most about Wesleyan and I'll answer "my rooms." The places where I started and ended my days; where I surprisingly spent 90% of my study time in; where there are bits of my ultimate college snacks (Honey Oat Granola and Smart Foods White Cheddar popcorn) in the little nooks on my floor; where you can find wine stains on my plain white sheets from that one night my friends came over; where my housemates enter and find the bed to plop themselves onto without a need for verbal permission; where I cried; where I laughed, where I laughed until I cried; where I danced and sang to myself in the mirror; where I wore my many hats.
Freshman year, my room was blue. My roommate owned a handful of blue ornaments and bed sheets that reflected off our dreary white walls. I remember leaning my back on one of those walls in an afternoon in October. I was on a call with my dad, tears streaming down my face, hands covering my mouth. I sank lower and lower against that wall, as my knees got weaker and weaker. Never did I feel such an extreme longing for home. Never did I feel so alone.
Ask me if four years ago, when I received my acceptance letter as the Freeman Scholar of the Philippines, whether I cried, I will say yes. Ask me if they were tears of joy? Far from. They were tears of pain; tears that never seemed to end as they kept me up for days, weeks, months. Tears that stained my pillowcases as I feared leaving the comforts of home for a lonely journey in a strange new country.
Ask me where I made my fondest memories, and I will again say in my rooms. In the middle of my Butts C double was a large, light blue fuzzy rug that accumulated more dust than it provided comfort. Except that one night in the Spring when Haenah, Gaby, and I lay on it. We made a Tumblr blog and named ourselves the "jetlagged souls." We expressed our feeling lost at Wes and hinted at not yet finding that right group of friends, secretly wishing that that night would change things. We shared our favorite things about our homes, of course starting with our favorite food. We talked about boys. That night, the blueness that reflected the walls of my room seemed to slightly fade.
On my slightly larger bed in our now senior house, Haenah, Gaby and I scroll through our revived Tumblr blog and wonder how crazy it was we ended up living with each other four years later along with three other crazy kids. This new home is where we use unripened avocados and emptied out bottles as decoration; where we created a spoken language composed of high-pitched syllables and a written language composed majorly of emoticons; where Caren once made her famous café latte then accidentally triggered the fire alarm; where Mia perpetually has her floor covered in a sea of laundry; where the loud thumping upstairs is signal that Haenah's home practicing her breakdance moves; where Mario is reliably chilling in the living room, playing tunes that reverberate through the walls; where you'll likely hear the Friends theme song every night as Gaby re-watches the series for the 23rd time. This red-walled living area, always in a constant tug-of-war between messy and clean, is where we welcomed new friends and grew closer to old ones. That popular WesCeleb with his own theme song. The cool girl next door we've always wanted to befriend. The sweet members of the student groups we've grown to love. 231A Pine is the place we all know to come home to when in times of need – where we remind each other that the one rejection is only going to open many more doors, your health is more important than writing two theses, you deserve better than that petty boy could ever provide; and we don't have any more tissue paper; it's your turn to get some at Weshop.
At Wesleyan, I earned degrees, taught two classes, studied for difficult exams, wrote lengthy papers, led student groups. But more importantly, at Wesleyan, I changed through the relationships I fostered, whether from the communities I am proud to be a part of, or in the ones formed in those small but powerful moments in the confines of my living spaces.
Ask dear prefrosh Mika if she ever dreamed that she would find a home anywhere beyond the Philippines, she would probably say no. Ask me now if I ever did, I will say, loud and proud: absolutely.
Arnelle Williams '17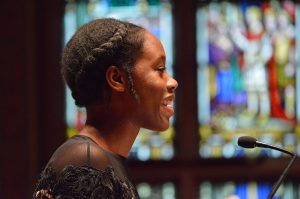 Welcome parents, guests, alumni and the Class of 2017! I am honored to be speaking before you at such a special occasion. In the little time we have together, I would like to share with you some of the lessons that I have learned during my four years at Wesleyan. But first, allow me to paint a picture:
Classes are in session. It is a Monday night in Ebony Singers, a student choir class that performs traditional black gospel music, and Professor Monts or rather Pastor Monts had just asked us to grab the hands of the person sitting next to us. We listened. He then began to share his faith with us by praying words of hope and encouragement over our young lives. He asked that God would help us to learn to "love ourselves" and "reach our destiny."
"Amen" we all said in unison.
After the prayer, Pastor Monts then told us to hug the person next to us and tell them that we love them. I watched as everyone did the task, at first in an awkward way; no professor has ever told us to love someone whom we did not know. At the release of each hug, we all tried to make sense of how this encounter with our neighbor was normal. Most often than not, we did not know the person sitting next to us to say such a personal and intimate phrase, yet every Monday night we ended the class with those words of affirmation to our peers. Before he dismissed us, each face revealed feelings of gratitude and happiness that reminded us that can we are loved, that we are loved by others.
Professor Monts' class had become a community of diverse students ranging in age, class, gender, race, and faith backgrounds. In that space, we felt like we mattered, that we had a purpose-driven life to do well and succeed at our own pace. We felt like we were not being judged, discriminated against, nor competing we each other. Pastor Monts did not ask us to compromise on who we were, but to simply "show up and sing," "show up and sing."
I tell this story about my experience taking Ebony Singers because in many ways it was indicative of understanding what community is, what it can be, and how to cherish it. In the face of difficult times, Ebony Singers was a reminder that we each have supporters to reaffirm our existence in this thing called life. This class was an example of learning how to be intentional and unapologetic, to lean in to discomfort, and to be open to new things. Not everyone knew the gospel songs we sang such as, I'm walking in Authority" by Donnie McClurkin or "The Best Thing" by Fred Hammond, but we had to be willing to show up to class, to learn the lyrics, and to understand why people sang songs about faith, love, and perseverance. The messages we received from these songs as well as from Pastor Monts taught us to fall in love with our talents, to dream, and perhaps most importantly, to not be silent. Instead to "sing"—that is, use your voice for issues you are passionate about.
Attending Wesleyan, a predominately white, liberal arts institution as a young, black American woman, and a triplet to Guyanese parents from Brooklyn, New York, has been a transformative experience. It has been a developing story about learning how to face obstacles such as racism, classism, and other levels of oppression within imperfect institutions that probably did not have you in their original design. It has been about recognizing that what you cultivate in the classroom should be practiced outside of it.
My time here at Wesleyan has been about learning what to do, how to fight back, and how to realize that your own capabilities are enough. It has also been about being mature, not just in learning how to exercise better time management and remembering deadlines, but learning how to hold oneself accountable for one's actions. And it has been about knowing which interventions we each can make to celebrate our differences and build each up unapologetically, rather than use our differences to harm each up other.
For example, one way that I have made an intervention on this campus was by using my Christian faith and love for dance. I give credit to Opraha Miles and Kwaku Akoi, class of 2014 for recruiting me to join the Wesleyan Praise Dance team my freshmen year. Praise dancing on Wesleyan's campus has been incredible. It has allowed me to go deeper in my faith and it has given me the confidence to love myself, my talents, and to share them with others.
Lastly, my transformative experience at Wesleyan has been about building connections with many different people. It has been about understanding what it means to be an "us," "we," agents of change in solidarity with each other. In my college essay to Wesleyan, I wrote that I wanted to use my voice. Little did I know at the time what I really meant by voice. Now, I know it is the everyday act of speaking to things you believe in that allows you to understand things from another's point of view. It is not only "do you hear me?" but also, "do I hear you?"
No matter what age group you are in, be excited about your future and be proud of yourselves. This is our season, our time, now let's shake the world with our noise. I would like to end as if we are in Ebony Singers. Hug the person the next to you and tell them: "I love you."
Thank you.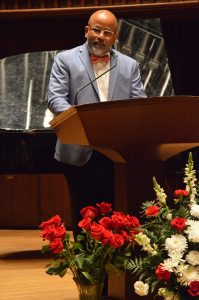 Anthony Ryan Hatch, associate professor of sociology, associate professor of science in society, associate professor of African American Studies
I've been here for two years yet this already feels like home. We are here changing each other, you and I. Thank you for making me a better version of myself. Speaking on behalf of my colleagues, I hope that we have helped produce better and gently aged versions of you.
Ok. If you've been paying attention to the world, we got issues. There are so many things that my reflection, my mirror between the world and me could be about, let me tell you what my reflection is NOT going to be about:
Let's start with Trump. LeBron, treason, drone strikes, Benedict Arnold, conversations, the nosological status of Pluto, Netflix and chill, alternative facts, THIS IS WHY, the PIC, POC, AT&T, BP, goatees, alt-right, new left, avocados, decentering, the Obamas!, driverless cars, bombshell news, intersectional identities, emails, Agent Orange, peak oil, peak whiteness, peak blackness, Sabra, Shea Moisture and the real efficacy of boycotts, both the whip and the nay nay, hand sanitizer, The Oscars, Steve Harvey's career, the Dakota Access Pipeline, Coachella, dear Rachel Dolezal, poor Cecil and Harambee, concussions, 21,000 pound bombs, hipsters, bombogenesis, fishbowls, e-books, Uber, Gungam Style, CRISPER gene editing technology, 5-hour energy, free-trade, organic, chia seeds, seed banks, unjust wars, Ebola, zombies, Snapchat, American Idol, hamster wheels, artisanal maker blogs, fleeces, Nascar, karaoke, Kardashians and Kanye w/a side of Taylor Swift, the ecological impacts of Keurig coffee pods, fracking, chemtrails, biocides…us.
Ok. Phew. I do want to talk about failure.
Mountain of Failure
I learned more from my many spectacular failures than I ever did from my successes. I'm coming to appreciate that in order for me to succeed, I must be willing to fail. Failure is the steep price of admission. Like those islands in the South China Sea that China is drudging up or the Palm Frond Island for the global super-elite in Dubai, you have to erect an underwater mountain of failure in order to live on a small island of success. I keep my feet firmly planted on the soft ground of that tiny island today.
I stand before you perched on a great mountain of well documented failure. In the spring of 1995, my freshman spring term at Dartmouth, I have to tell you, I was kind of a mess. I basically became a juvenile delinquent. I wisely enrolled in Education 20, "Contemporary Issues in American Education" taught by the esteemed educator Robert Binswanger. I thought that I might want to be a teacher and this course represented the most obvious path toward that goal. Well, that plan didn't work out as I had hoped.
I ended up failing Education 20 that term, failing Introductory Economics the following spring, and failing Education 20, yes, a second time, in Spring 1998. I failed that thing two times, and the second time it was by a scant 2 points. TWO POINTS! But, Professor Binswanger was right to fail me. I didn't do enough of the work well enough to pass. He didn't let me skate at all. I was so bitter for that loss.
And yet, I also earned a D and a handful of Cs (7 to be exact and honest). Enough As and Bs to keep it respectable. I graduated with a 2.62 GPA.
If you think you're amazed to see me standing here, a brand spankin' new tenured associate professor, just imagine what my own parents are thinking. There they are right there with us tonight! Hi, sweet parents. Thank you for letting me sort things out in due time.
My body doesn't remember the great successes in the same way it has taken on those massive failures. Oh, and there were more failures. More losses. I took many "Ls" as we used to say back in the day. So many great failures. But… I needed each and every one of those losses. I try to keep my toes spread out in the dirt.
This is why I try to practice graceful living today. I need grace. I would not have survived if not for the grace that accompanies other peoples' presence in my life. Thank you, Robert Binswanger, for failing me. I needed to fail.
G-R-A-C-E
Near my old house in East Point, Georgia, the community in Southwest Atlanta that I lived in before I moved here, there was a Christian-owned grocery store called Wayfield Foods. It was a B-grade supermarket for poor and working-class patrons. The kind of place that sells packaged animal innards like chicken backs at the butcher's counter and no-name juice drinks and off-brand candy.
One day, I went there to grab a something quick and proceeded down the isles, 6, 5, 4… You know those overhead placards that list the categories of items in the isle, like "Bread" "Mexican/Asian" "Sodas"? Isle 4's placard had the word "GRACE" on it. G-R-A-C-E. I looked again, thinking I got the letters mixed up. Nope, it said GRACE. I was having a rough and hurried day, so I thought "Awe, that's nice. GRACE." Stunned, but not entirely surprised given the whole Christian-owned thing, which I thought, at that point, was a not-so-subtle suggestion to the poor and working class patrons to keep their heads up amidst crushing and systematic oppression, I went to check out.
I asked the sister at the counter if she knew that she could find GRACE on Isle 4. She thought I was messin' with her. I was, but I wasn't at the same time. We found the manager and walked over to look at the sign. GRACE, it read. We walked down the Isle only to find a warm divine area of the isle that contained… condiments and foods with the brand name GRACE. We laughed.
For context, GraceKennedy Foods has been making and distributing foods out of the beautiful island of Jamaica since its incorporation in 1922. Bear in mind that Jamaica did not achieve political independence from Britain until August 6, 1962, forty years later. Obviously, this is one of those colonial-type outfits.
Anyway, that same semester, spring 2013, I told my Sociological Theory students about my experience at Wayfield with GRACE. I told them that I loved them and that I would work tirelessly to see them do well in our class. I would offer them grace at every turn. You missed class? No problem. You are late on your assignments?  Cool. Your life is falling apart? I can and will offer my help and support. So many people have done and will do this for you.
But, there would come a moment in the semester that my love and empathy for them would slowly turn into bitterness and resentment. My grace, boundless during the semester, would eventually run out. And, at that point, I would have to send them… down to the Wayfield Foods at Headland and Delowe where they could buy their own GRACE for about $2.49 instead.
At the end of that semester, Ms. Lashonda Edwards, a bright student with Jamaican parents, brought me my own bottle of GRACE hot sauce. She said that her family used it since she was a kid. It turned out that Lashonda needed grace that semester. This very bottle she gave me is still unopened, although there's always a chance that I might have to bust it out on some of my Wesleyan students. It sits in plain sight on my desk towards the end of the semester as not-so-subtle open threat. Give too much grace and people might think you can be taken for a fool.
Thank goodness no one had to open their reserve bottle of Grace Hot Sauce on me. I could not have arrived at this moment without the kindness and grace-filled presence of other people in my life. You could not have arrived at this moment without similar practices of grace touching you when you hurt, when you failed, when you fell short, when you doubted. I think we need A LOT more grace in this world of ours, where every day is a stroll down Isle 4. Every day is an invitation for you to extend grace out into the world, to other people, to our fellow life forms, to Mother Earth herself.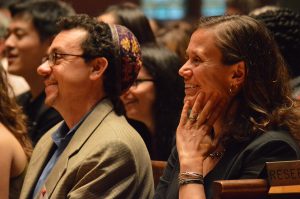 Be Humble
Even before you got to Wesleyan, you were masters of achievement. Prolific experts at feather gathering, your caps were already brimming with bright and fancy plumage. Internships, externships, fellowships, scholarships. Awards, trophies, medals, ribbons. Achievements of the highest order!
And tomorrow, you're going to get one more feather. I know that feels good. So good.
Perhaps you are already chomping at the bit to tackle the next intellectual and occupational challenges. You might take a few weeks off, live at home for a while, maybe travel a bit, and then, you'll bounce to do consulting in New York, or a PhD program in Chicago, or a non-profit in Charleston. Ready to grind it out again, like you always have, reliably and efficiently, collecting light-weight and empty paper that makes flying possible. Paper chasing.
If you look at US currency, the dollar bill, it reminds you that it is a promissory note. It means that the US government promises its possessor that this paper is worth what they say its worth. It's a promise, really. But, I don't need to tell you that promises can be broken.
Broken, I felt like a walking promissory note for years. I promise you that I'm worth what I say I'm worth! Now, I'm not hating on feather collecting. There can be nobility and integrity in chasing paper.
And yet, perhaps you've already started to realize that the meaning of your accumulation of achievements at Wesleyan has already started to shift in your consciousness a bit. Deer-like, you stand in the middle of the road, wholly uncertain about what all of this means. For you, your people, our shared future. If not actual money, we are chasing other forms of capital—human, cultural, intellectual—that we hope we can exchange for a life of meaningful service to other beings in some strange "justice marketplace".
I'm here to tell you that this is okay, too. Like the tag line in The Hitchhiker's Guide to the Galaxy: Don't Panic. Please, don't freak out. Like I've told some of you in my classes: don't freak out, reach out!
We need you at your best self when the crisis comes. Take heed. Our people have been here before. This moment is not new. Don't believe the hype. Don't believe your own hype. Keep you feet firmly stretched out in the cool grass.
What I ask you to re-consider today is the relationship between your identity and your achievements. I urge you to sever the tie between who you are becoming and what you have and will achieve in this world. You and your achievements are only linked through the coming together of grace and social structure.
I'm still learning that through much pain, that we are whole and beautiful when we are successful and we are whole and beautiful when we fail. Don't fear failure—chase it. I, for one, am waiting for my next failure, and trying not to develop expectations about the successes that await me around the bend.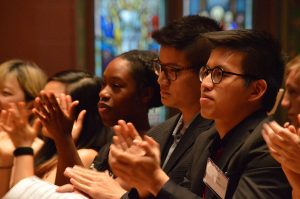 So, I'm trying to hear what Kendrick Lamar says: Sit down. Be humble.
For this paper you're about to receive tomorrow signifies grace, not worth. It marks your happenstance station, not your value as a child of the universe. This achievement is not yours to possess like a sack of marbles or an inherited set of fine China. It does not belong to you and does not define you. Don't get it twisted. This is a moment of grace right here in front of us. I hope that you can see that.
Just think of all those selfless people who toiled on your behalf—the great litany of family, friends, cooks, bus drivers, custodians, coaches, teachers, and servants who gave their very bodies in order for you to be in this moment, all fancied up, with your feathers and failures sticking out of your cap.
You see, we are embroidered into rich tapestries of loving grace and mutual sacrifice. I am just beginning to frame all of this in my own heart. This interdependence is written on my body as it exists in relation to yours and to the Earth and to our ancestors and each others' children.
I think this moment offers us an ordinary chance to respond to an invitation to offer grace to the world. Let me say this again differently. This time is NOT just about you honoring all of the people who extended you grace. This is about you realizing that you have grace to give, but not the kind that comes out of a bottle of Hot Sauce. I'm talking about empathy, kindness, peace, love, tolerance, and understanding. Fighting for other peoples' second chances, not always your own. So, with that, maybe I'll see you on Isle 4.
Peace to you, dear friends, and thank you for inviting me to offer my reflections this evening.