Graduates, their families, and other members of the Wesleyan community gathered for the 185th Commencement ceremony on May 28.
This year, Wesleyan conferred 763 bachelor of arts degrees; 38 master of arts degrees; 19 master of arts in liberal studies degrees; 1 master of philosophy in liberal arts; and 10 doctor of philosophy degrees.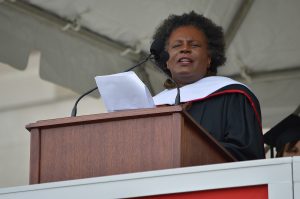 The distinguished writer Claudia Rankine delivered the commencement address and also received an honorary degree. A poet, essayist and playwright, Rankine is the recipient of numerous awards for work described as fearless in its pursuit of new directions in American poetry.
Rankine began by congratulating the graduates on their many accomplishments.
"It matters to me that you know all you have achieved, because unless you understand that, you won't be willing to attempt the impossible, you won't be willing to work toward a goal knowing you might fail," she said.
"What I personally love about this kind of uncertainty is that it allows for the creation of a habit of being that is willing to risk the self in service of the formation of some unknown. And the exciting part is that alongside failure lives possibility," she went on.