Jiménez Moreta Makes Remarks at Commencement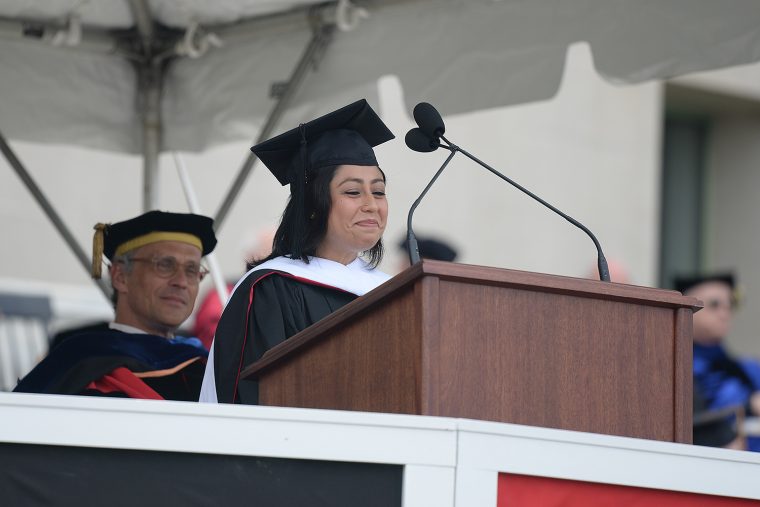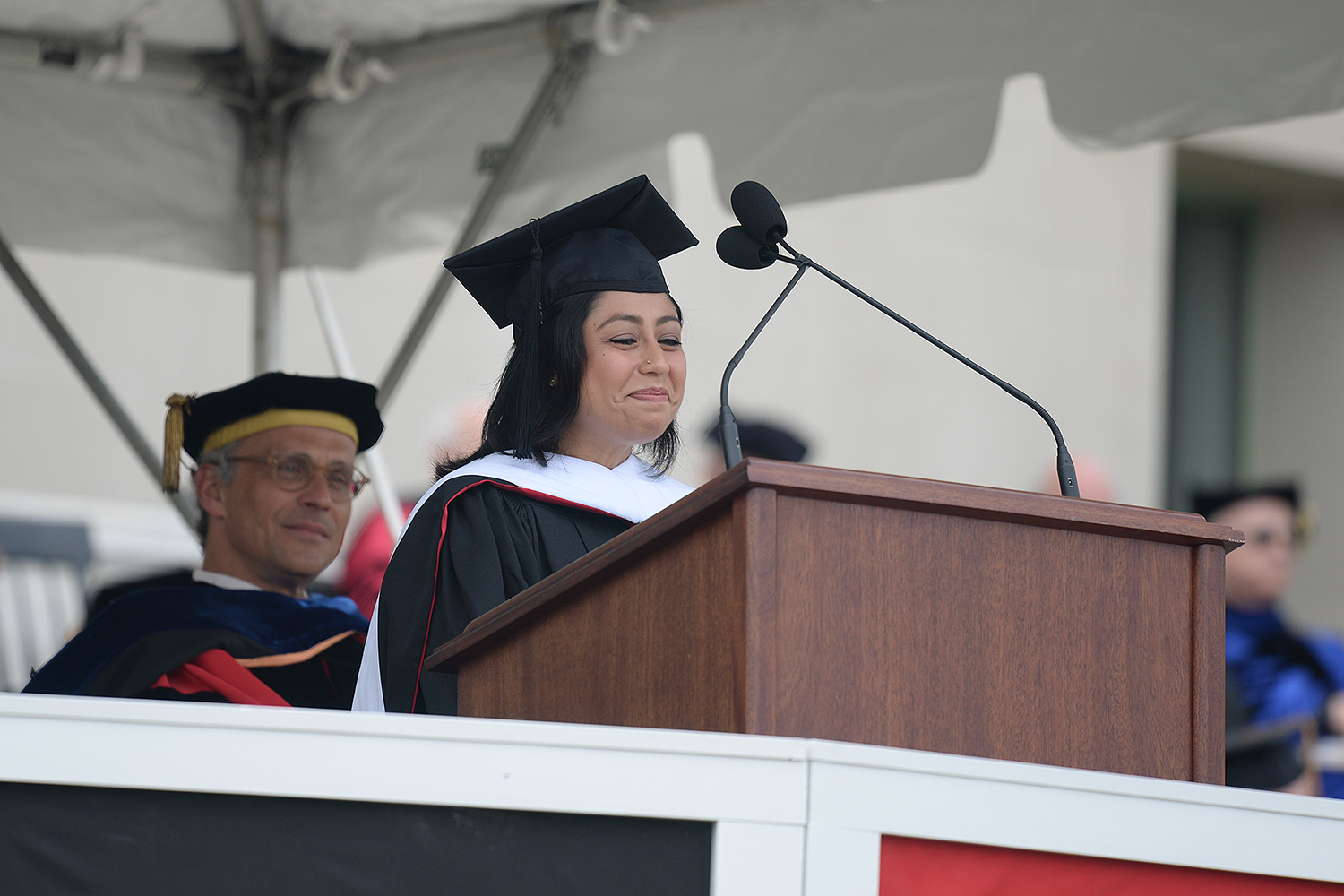 Cristina Jiménez Moreta, executive director and co-founder of United We Dream (UWD), the largest immigrant youth-led organization in the country, received an honorary doctorate during Wesleyan's 2017 commencement ceremony on May 28. United We Dream played a leadership role in persuading the Obama administration to protect more than one million young immigrants from deportation through the Deferred Action for Childhood Arrivals (DACA) program.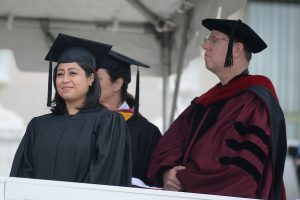 Originally from Ecuador, Jiménez Moreta came to the United States with her family at the age of 13. She is one of Forbes's 2014 "30 under 30 in Law and Policy;" was named one of "40 under 40 Young Leaders Who are Solving Problems of Today and Tomorrow" by the Chronicle of Philanthropy; one of "50 Fearless Women" by Cosmopolitan; and named one of 25 disruptive leaders who are working to close the racial opportunity gap by Living Cities.
Her speech is below:
Thank you to President Roth, faculty, and students for this recognition.

I'm humbled by such distinguished honor and consider this to be a recognition for all immigrant youth and families that are part United We Dream and for one of our co-founders, Jose Luis Marantes, who is an alumnus of Wesleyan, class of 2006.

To the graduates and to your the parents and loved ones- congratulations!

As the daughter of immigrant parents who supported me didn't let me quit despite the odds – I know that today is your day too!

And honestly this is a big day for me too. As the daughter of a father who grew up homeless, a mother who was told that girls don't belong in school, and as someone who grew up undocumented, I could have never imagined to be with all of you today receiving an honorary degree from Wesleyan.

To my parents: I'm thankful for your courage, your sacrifice, and your love. Para todos los padres aquí, gracias por sus sacrificios y por su amor. 

As a kid growing up in Ecuador I remember getting letters from my school saying that I wouldn't be allowed into school unless we pay our tuition. My parents did everything they could to support our family, but they just couldn't find jobs. They could no longer afford to pay for school and some weeks we even struggled to have food at home.

They dreamed of a better life and for my brother and I to be the first ones in our family to go to college. So seeking those dreams, they risked everything and left Ecuador and our community and our families behind to come here to this country.

I was 13 and my brother was six when we settled in Queens, NY. A big shout out to all the New Yorkers here.

I attended high school with a constant fear that my parents could be deported or that I could be deported. Very early on, I learned that I was vulnerable not only for my lack of immigration status but because of the color of my skin. At 11 years old, I had to deal with the experience of my brother being a stop and frisk by New York City police in our neighborhood.

When I was ready to apply for college my college advisor told me that I couldn't go to college because I didn't have immigration status.
I was devastated.

But that same year I graduated, undocumented youth in New York pushed and pressured the State of New York to pass a law that allowed undocumented students like me to go to college. And Connecticut has done the same, and young people in Connecticut have done the same here, so big shout out to all the undocumented people and allies that have fought for students here.

I completed my bachelor's and my master's degrees with the support of my parents but also the support of institutions like the City University of New York, faculty and students that encouraged me, regardless of being undocumented. And Wesleyan is that kind of place.

Thank you President Roth and Wesleyan community for being an example of bold leadership in higher education by welcoming students regardless of immigration status in an era where racism and hate against immigrants and people of color has been normalized. Thank you.

And thank you for the great partnership that you have with the United We Dream affiliate here, Connecticut Students for a Dream, and we look forward to continuing that partnership.

As a person who lived too many years desperately afraid to reveal myself, and I go across the country and I see many immigrants and people of color that live in fear, I know how critical is for institutions and the people that work in them to create safe spaces for everyone and to treat everyone with dignity.

So graduates, it is a great privilege to be in an institution like Wesleyan and for you all to have had that experience. And with this great privilege also comes responsibility.

So today as you're graduating, I invite you to own this responsibility with graciousness and ensure that wherever you go after today you create safe spaces for everyone. Spaces where people can be their true authentic selves without fears, without prejudice, and without any institution or any person holding them back.

Because as we speak there are some powerful leaders telling people like me and my family that we are criminals and that we don't belong here. They are doing everything to target immigrants, refugees, women, Muslims, and LGBTQ and black people. And thousands are being detained, incarcerated, and separated from their families because of deportation.

So to be honest, immigrants like my family and other communities are going to need fellow humans who are committed to standing in the way of injustice and racism.

And you know what, looking at all of you here out here today and knowing you came from this place, I am very hopeful.

I am hopeful that you will lead with boldness and idealism, just like the mission of Wesleyan, and stand for inclusion and dignity for all people.

So thank you for this honor. Thank you for affirming to me and undocumented families that we belong here. That this is our country too. I am grateful, and I look forward to building the next chapter of this country together. Congratulations.