Rankine Delivers 2017 Commencement Address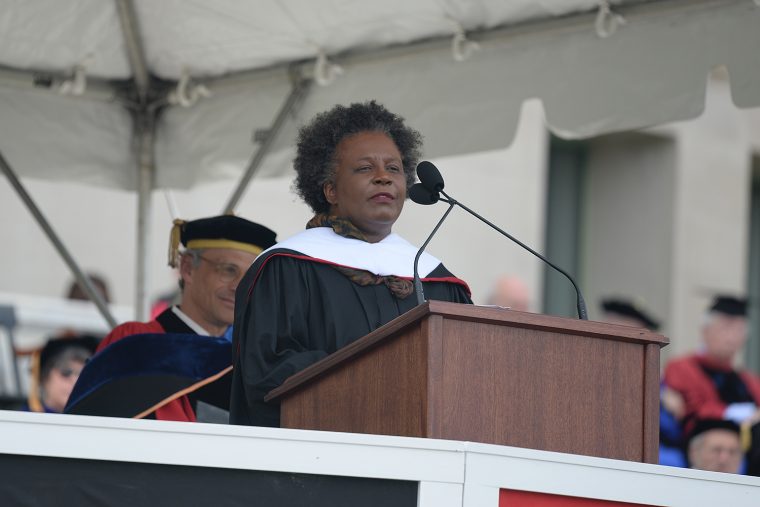 Poet, essayist and playwright, Claudia Rankine delivered the 2017 Commencement address on May 28. Rankine is the recipient of numerous awards for work described as fearless in its pursuit of new directions in American poetry. She is the author of five collections of poetry, including Citizen: An American Lyric and Don't Let Me Be Lonely; two plays, including Provenance of Beauty: A South Bronx Travelogue; numerous video collaborations; and is the editor of several anthologies, including The Racial Imaginary: Writers on Race in the Life of the Mind. For Citizen, Rankine won the Forward Prize for Poetry, the National Book Critics Circle Award for Poetry, The Los Angeles Times Book Award, the PEN Open Book Award, and the NAACP Image Award. She lives in New York City and teaches at Yale University as the Frederick Iseman Professor of Poetry.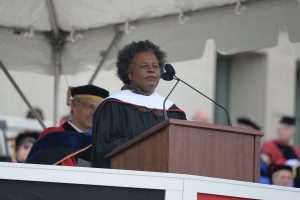 Her speech is below:
Good morning, Class of 2017. Thank you to President Roth, the Board of Trustees, the esteemed faculty and the staff of Wesleyan for allowing me to become part of the amazing class of 2017. I think every member of "my class" should turn to the person next to them and congratulate them.

All your lives you have worked hard, mighty hard. Today, this day, celebrates your success. In fact, the single reason I am here is to congratulate you. In case you were wondering, I was asked to come "say something", but really I am here to be part of the congratulations.

Your parents should be congratulated too for their commitment to your success—"cha ching!" The rest of your family and friends remained alongside you these past years. Also, the coffee industry; Pi Cafe; Foss Hill; the Tomb; the cigarettes you don't smoke; Instagram's new live video feature; and the twitter account that keeps you informed and in direct contact with the White House during those all-nighters.

Your professors as well, I suspect, played an important role in your success. The staff committed themselves in ways known and unknown to your success. But all those long nights it was you in Olin Library, you in the lab, you at the computer, you on Facebook, you texting, you playing video games and then back studying, then back on Facebook, then discussing the FBI somebody who was fired, then back writing the thesis, then back on twitter, whatever. In any case, you did it. You worked harder and you let your best be better, and sometimes great. It's not cool to admit it but you know how hard you worked.

Wesleyan, this incredible institution, which grew with you over the years, held you, challenged you, sometimes disappointed you, and always was only as great as you collectively are. It will forever remain as a symbol of your collective success.

Congratulations to all of you! There's a good chance you just joined the 52 percent of college-educated voters who voted against the immigration ban, who voted against the defunding of planned parenthood, who voted against the dismantling of the affordable care act, against the building of a wall, against the denial of climate change, and against the push to popularize "Putin" as the most popular baby name in our Nation—in order to create the Putin x-generation. I wanted to add that I put forward the Putin baby name thing as an alternative fact, despite its disservice to babies. But really, seriously, congratulations again.

Because you don't know me, I can understand if my congratulations sound like part of the rhetoric of what gets said to you today. But sometimes protocol lines up with sincerity, sometimes not; but in this case, yes. Congratulations.
It matters to me that you know all you have achieved, because unless you understand that, you won't be willing to attempt the impossible, you won't be willing to work towards a goal knowing you might fail.

That's right, in addition to being part of the congratulations today, I have come to make a plug for failure. There are many ways to fail after all your successes. You can be a poet like me and research stuff that has already happened only to retell it using anaphora, rhyme, and alliteration. Poets, according to Lewis Hyde's "The Gift," are the failure of a market economy.

I recently read about the South African artist William Kentridge's Centre for the Less Good Idea. Kentridge is a personal hero of mine. His deeply collaborative and engaged work on life in South Africa, from apartheid to the AIDS crisis to present states of poverty and violence, has been moving, informative and transformative. The Centre for the Less Good Idea, according to Kentridge, is a "safe space for uncertainty, doubt, stupidity and, at times, failure." He believes we humans have too much investment in certainty and he personally feels "rescued by failure." Consequently, he is more interested in provisional positions and in the "desperation present in all uncertainty."

What I personally love about this kind of uncertainty is that it allows for the creation of a habit of being that is willing to risk the self in service of the formation of some unknown. This instability means failure is imminent but not inevitable. And the exciting part is that alongside failure lives possibility.

What I wish for you is that you will pursue your unknown and unrealized imagined possibilities, even though the imagined/unimagined resides with such close proximity to failure. To pursue something because it matters to you, to your moral expectations for the world; to pursue something because the way it occurs now is, to be blunt, unjust, to pursue and invest in change despite not having the power to implement it directly, is to be willing to fail. Then success is beside the point. That something matters to you, truly, madly, deeply, becomes the point. That someone matters is the point.

In the last years, while you were students at this eminent institution, we have had amazing examples of people willing to fail in the face of established power.

When activists Alicia Garza, Patrisse Cullors, and Opal Tometi began with the premise that systemic racism creates a playing field of incommensurable experiences, and asked you to gather in the name of Black Lives Matter, many of you came. Okay, some of you came. You entered your classrooms and your streets and various venues and places of business and stormed the stage of events and requested more diverse representation, more just discourse and spaces for everyone. You made your requests even as the world around you continued to fail you. The white imagination, its weaponized fears and nurtured hatreds, continued to be triggered by black skin, people of color, and its own need to dominate and own spaces.

And when Black Lives Matter said we are "an ideological and political intervention in a world where Black lives are systematically and intentionally targeted for demise," you intervened on behalf of human lives because you remembered, without needing the exact language, that Dr. Martin Luther King Jr., in a commencement speech in 1961, said, "all life is interrelated. We are caught in an inescapable network of mutuality; tied in a single garment of destiny. Whatever affects one directly, affects all indirectly."

And when Black Lives Matter affirmed "Black folks' contribution to this society, our humanity, and our resilience in the face of deadly oppression," you walked in solidarity in order to assert yourself or yourself in alliance with others.

Because of you we have returned to an everyday practice of participatory culture, and as the phenomenal feminist and social activist Cathy Cohen has pointed out, we expect sharing. A sharing that has made possible "a participatory politics that is peer based and more interactive with more dialogue." And we are beginning to respect the insights of our own unacknowledged and too often disregarded experiences and understandings. Those understandings won't always line up with economic or mainstream ideas of success, but they will be in line with what we need to form meaningful lives.

I don't know about you all, but I came from a working-class immigrant family. Success did not present to them as the study of poetry. But at some point, while working in law firms, I came across the feminist poet Adrienne Rich's answer to the question, "Does poetry play a role in social change?". Yes, she said:

"…where poetry is liberative language, connecting the fragments within us, connecting us to others like and unlike ourselves, replenishing our desire. … In a time of frontal assaults both on language and on human solidarity, poetry can remind us of all we are in danger of losing—disturb us, embolden us out of resignation."

Some of you have family members or friends who won't agree with the justice you will fail towards. And your choices won't always make for a comfortable and economically abundant life. But in your imagined world, carrying Skittles while being black won't mean, won't justify, being accosted or murdered by security, by police, by the weaponized white imagination. Having choice over your body won't be something that needs legislation. Being undocumented will enter you into a process not a deportation center.Sexual violence against anyone will be recognized as such.

Life, friends, is not boring. (That's a misquote of John Berryman's "Dream Song 14.") Injustice should never bore you.

What I really want to say is that there are all kinds of deplorable practices that should compel you to want to fail forward; all kinds of everyday realities that should require you to move this entire room in new directions. These pathways of resistance won't look like success, but they will exist in the direction of justice and truth. For example, Bryan Stevenson, the executive director and founder of the Equal Justice Initiative in Montgomery, Alabama, has recently won an historic ruling that mandatory life-without-parole sentences for all children 17 or younger are unconstitutional.

You might not have known about the ruling. You might not have known children were being sent to prison for life. But Stevenson knew and the children who were sentenced knew. Stevenson failed for a long time before he gave the justice system back its humanity. Failing was just part of the process.

Cornel West says that justice is what love looks like in public; therefore, no matter how much pessimism you might feel, no matter how much discomfort you might feel, no matter how much resistance you might feel or you might get, failure of Stevenson's sort will just be you and your "justice-love" arm-in-arm in public.

For some of you, failure will mean stepping away from positions of white dominance. For others, it will mean non-conformity in the role of people of color "exceptionalism." For all of us failing can be a kind of freedom. It can be a new understanding of our limits. In her book Ethical Loneliness the philosopher Jill Stauffer writes, "It's important for those who listen to reflect on the limits of what they already know and how that affects what they are able to hear. Perhaps then people and the institutions they design will be able to listen for their own failures –and thus begin to live up to what justice after complex conflict or long-standing injustice demands." This form of failure can mean understanding yourself as part of the human community before taking up the certainty of economic comfort, of dis-associative amnesia, of cynical collusion.

And justice, for me, feels like the love of "making common cause with the brokenness of being," to quote the theorist Jack Halberstam. "The love of "making common cause with the brokenness of being." It's the work of failing toward an imagined fellowship with each other.

Halberstam's phrase comes from the introduction to the Undercommons: Fugitive Planning & Black Study coauthored by Stefano Harney and Fred Moten. This book is my graduation present to all of you. It's available free of charge as a PDF on line. Again, cheating the market economy. Another failure in our market driven economy! The Undercommons is waiting for you and for anyone else you would like to congratulate with a gift. You can thank me later.

I won't spoil the gift by telling you what it says but I will read to you Stefano and Fred's last sentences where they define what it is to feel and alert us to its radical possibilities.

They say, "This feel is the hold that lets go (let's go) again and again to dispossess us of ability, fill us with need, give us ability to fill need, this feel. We hear the godfather and the old mole calling us to become, in whatever years we have, philosophers of the feel. Love, Stephano /Fred"

And love also from me, love from me for all the feelings honored, love from me for all the ways you have failed so far in the name of fellowship, and also love from me for all the ways you will bring discomfort to yourself and the world, and also love from me for all the challenges you will put in the way of dominance and violence and injustice. Love to our entire Wesleyan community for all our antidotes. Love to each of you and love to your bad behavior in the boardroom, on juries, in the office, on the street, at your dinner tables in all and every space that believes it can hold racism, sexism, homophobia, anti-muslim rhetoric and on and on. Love to you and your wild and unruly hearts imagining our world again. Again, congratulations.