Speakers, Poster Sessions at Annual Molecular Biophysics Program Retreat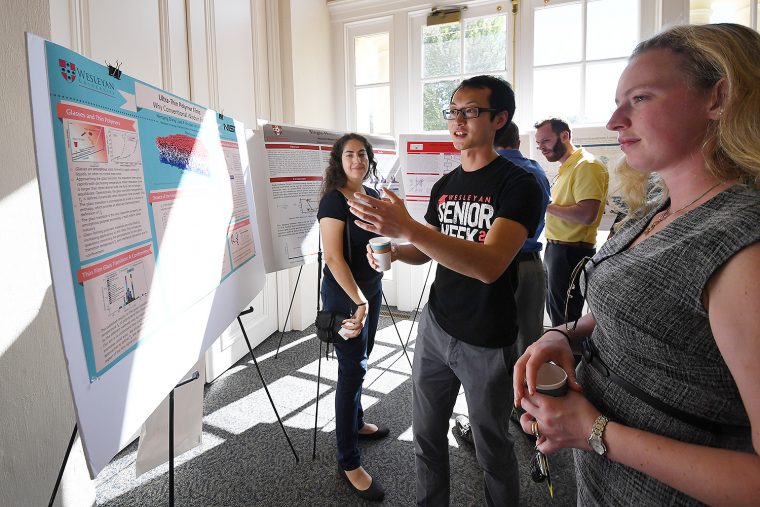 Wesleyan's Molecular Biophysics Program hosted its 18th annual retreat Sept. 28 at Wadsworth Mansion in Middletown. Wesleyan affiliated speakers included: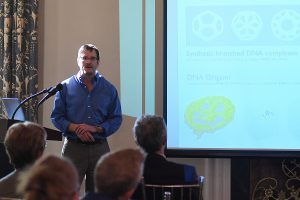 Colin Smith, assistant professor of chemistry, on "An Atomistic View of Protein Dynamics and Allostery;"
Meng-Ju Renee Sher, assistant professor of physics, on "Tracking Electron Motions Using Terahertz Spectroscopy;"
Kelly Knee, PhD '07, principle scientist for Pfizer's Rare Disease Research Unit, on "Protein Folding Chaperones: Molecular Machines for Tricky Problems;"
and Francis Starr, professor of physics, director of the College of Integrative Sciences, on "DNA Four-Way Junction Dynamics and Thermodynamics: Lessons from Combining Simulations and Experiments."
Arthur Palmer, the Robert Wood Johnson, Jr. Professor of Biochemistry and Molecular Biophysics at Columbia University Medical Center, delivered the keynote address on "Conformational dynamics in molecular recognition and catalysis: Lessons from ribonuclease H, AlkB, and GCN4."
The day-long retreat also included two poster sessions, where undergraduates, graduate students and faculty shared their research with their peers and colleagues. The event concluded with a reception.
The Molecular Biophysics Training Program, Chemistry Department, and Molecular Biology and Biochemistry Department sponsored the event.
Photos of the retreat are below: (Photos by Olivia Drake)