Yohe Attends Nobel Week in Stockholm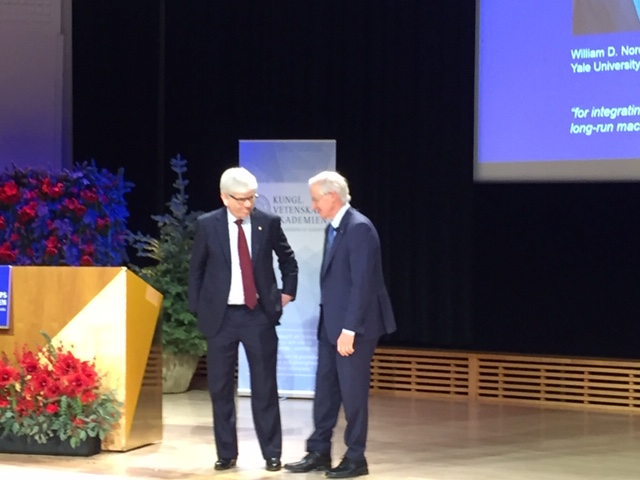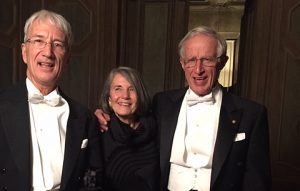 Gary Yohe, the Huffington Foundation Professor of Economics and Environmental Studies, attended the 2018 Nobel Week in Stockholm, Sweden, Dec. 7–11, as a guest of William Nordhaus, the Yale University professor of economics who received this year's Sveriges Riksbank Prize in Economic Sciences in Memory of Alfred Nobel. Nordhaus was recognized for his work "integrating climate change into long-run macroeconomic analysis." Nordhaus was Yohe's dissertation advisor at Yale and inspired Yohe's own decades-long career studying the economics of climate change. Yohe himself received a share of the 2007 Nobel Peace Prize for his work with the Intergovernmental Panel on Climate Change.
Yohe joined Nordhaus's family and other invited colleagues at Nobel Week. The group, which called themselves the "Stockholm 2018 Climate Club," enjoyed the Nobel Lectures, the Nobel Concert, the Nobel Prize Ceremony, and the Nobel Banquet.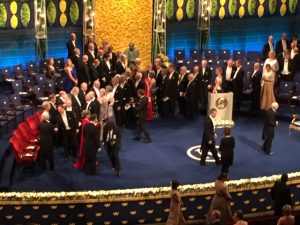 "That the Nobel Committee chose to recognize Bill for the Economics Prize 'for integrating climate change into long-run macroeconomic analysis' is a big deal," said Yohe. "It means that young scholars who want to apply their growing knowledge of economics to improve the abilities of communities, cities, states, nations, civil society, and even global institutions to respond to the existential threat of climate risk should be met by a welcoming audience. These responses and the need to explore fully long-term issues across enormous and challenging plains of uncertainty clearly lie within purview of legitimate economic science."
Put another way, said Yohe, "It means that the economics profession has a new branch of applied and theoretical inquiry. Nearly the entire gathering in Stockholm seemed to say 'It's about time.'"