Race and Justice in America Today Topic of Hugo Black Lecture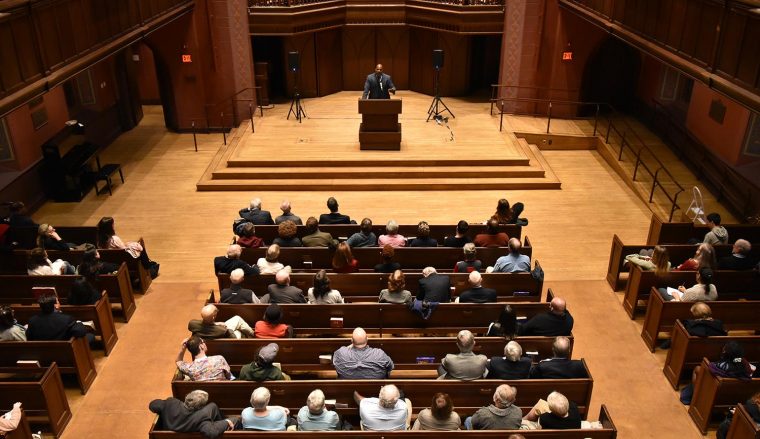 On April 4, the campus community gathered in Memorial Chapel for the 28th Annual Hugo L. Black Lecture on Freedom of Expression. This year's speaker was Jelani Cobb, the Ira A. Lipman Professor of Journalism at Columbia University, winner of the 2015 Sidney Hillman Prize for Opinion and Analysis Journalism, and a staff writer for The New Yorker.
Cobb spoke on "The Half-Life of Freedom: Race and Justice in America Today."
Born and raised in Queens, New York, Cobb is a graduate of Howard University and Rutgers University, where he received his doctorate in American history. Cobb frequently writes about race, politics, history, culture. He is the author of The Substance of Hope: Barack Obama and the Paradox of Progress as well as To the Break of Dawn: A Freestyle on the Hip Hop Aesthetic.
This annual lecture is designed to bring to the Wesleyan Campus, public figures and scholars with experience and expertise in matters related to the First Amendment and freedom of expression. This lecture is endowed by Leonard S. Halpert '44 (1922–2017), who believed that the First Amendment to the US Constitution is the basis upon which we enjoy all other civil rights. This lecture is named in honor of US Supreme Court Justice Hugo L. Black.
Photos of the event are below: (Photos by Tom Dzimian)