Consul General of India Donates "India Corner" Collection to Wesleyan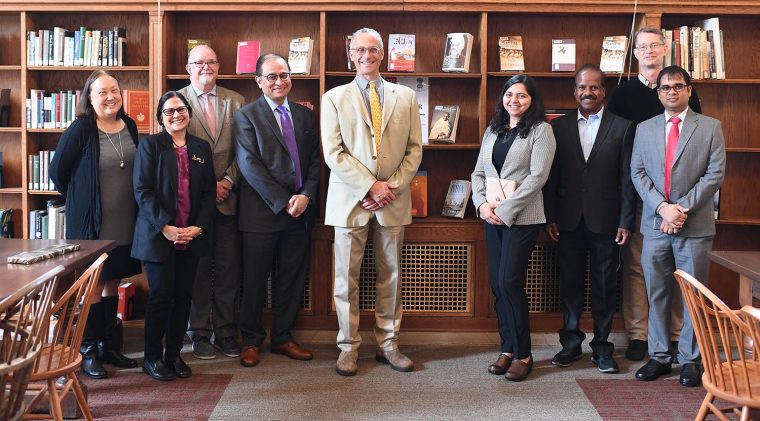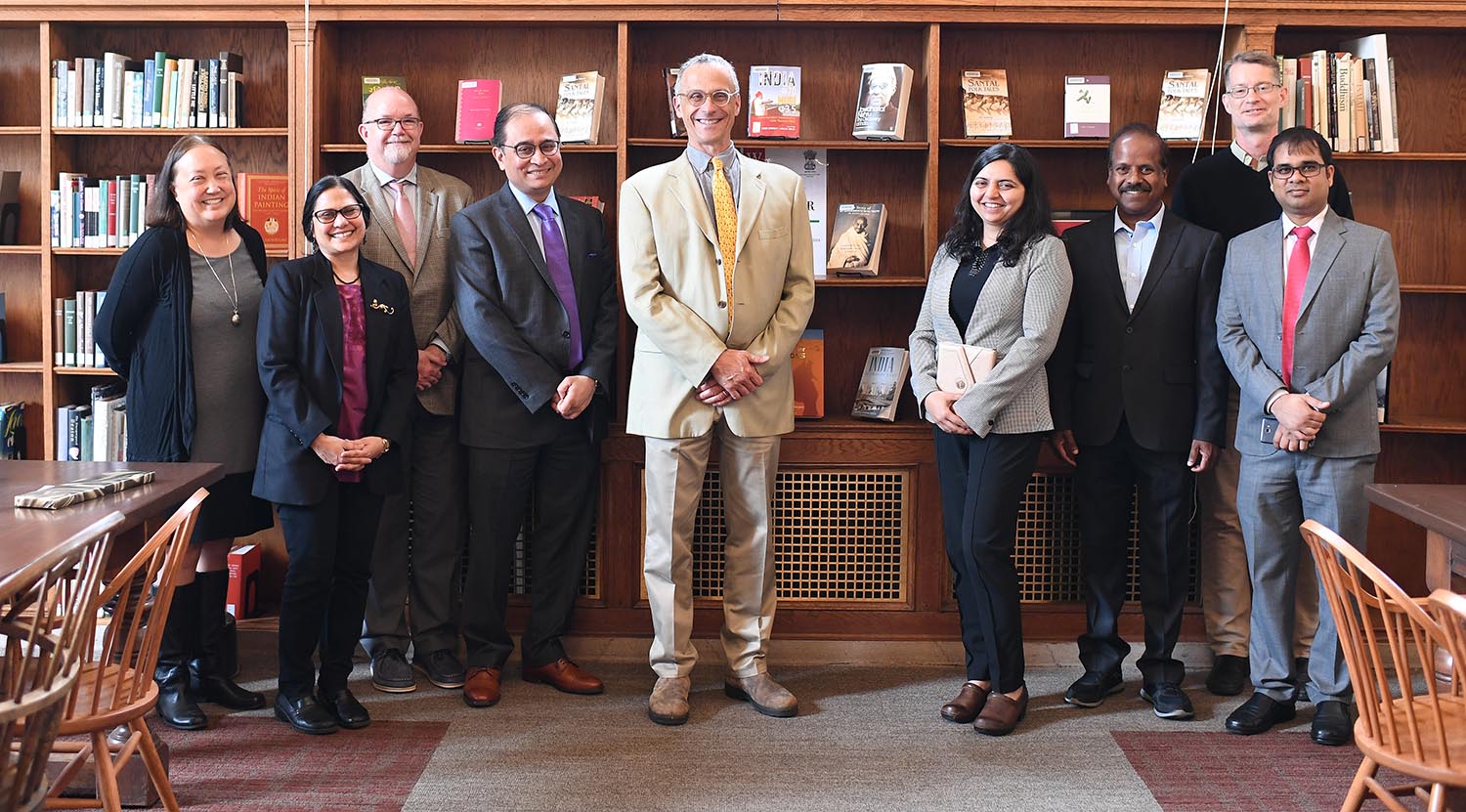 Wesleyan's Olin Library is now home to a collection of 33 titles donated by the Consulate General of India, New York.
On May 1, Consul Sandeep Chakravorty visited campus and participated in a formal dedication of the "India Corner."
Housed in the Smith Reading Room, these volumes, representing India's rich history and culture, and covering the country's linguistic and geographical diversity, join the library's other robust holdings in Indian history, culture, and politics as well as Wesleyan's rich heritage in Indian music, dance, and theater.
Among the donations are Introduction to the Constitution of India by Durga Das Basu; Sufi Lyrics by Bulleh Shah, India: The Emerging Giant by Arvind Panagariya, Contemporary Dogri Short Stories by Ved Rahi, and Gitanjali by Rabindranath Tagore. All are cataloged and available for checking out at Olin.
Wesleyan is the fifth U.S. university to be gifted such a book collection; the University of Buffalo, the University of Pittsburgh, Syracuse, and Rutgers each have their own "India Corner" at their libraries.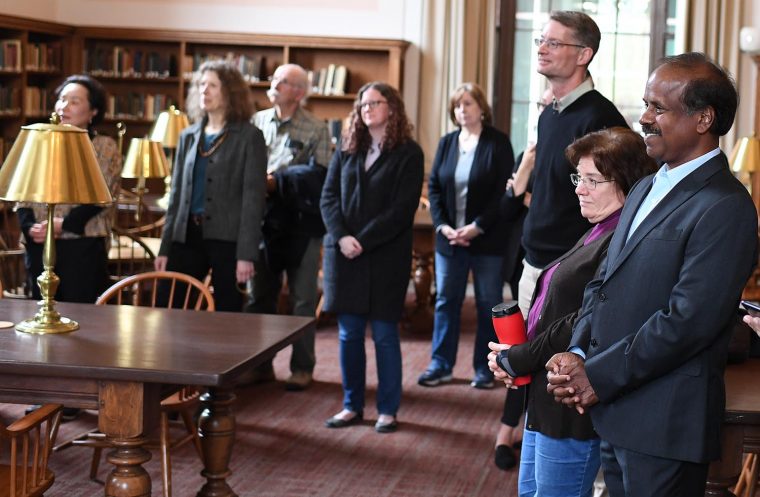 "We're looking at colleges and universities like [Wesleyan] that are blossoming in their connection to India," Consul Chakravorty said. "The collection is interesting and represented the diversity of India, from the north, south, east, and west, and some are in Hindi, and other languages."
The "India Corner" donation serves as "just the beginning" of a cultural connection between the Consulate and Wesleyan, Chakravorty explained. "We can sustain this [relationship]…. We can send you more books, have an exchange of delegations, or have organized visits of artists, or send Indian film actors [to Wesleyan] to talk to students. We can help with student internship programs. What we can do is connect…. This relationship will grow. Change is coming and it's good to be part of this change."
Wesleyan President Michael Roth noted that next year, Wesleyan will offer more than 20 courses in South Asian studies, ranging from language to history to music, religion, and dance. In addition, 11 faculty are affiliated with South Asian studies, including a brand-new position in Hindi-Urdu language instruction.
More than 40 current Wesleyan students are enrolled from India, with applications from India almost doubling in the past five years.
"We've always had a deep interest in India and Indian culture at Wesleyan, and in the last five to eight years, that interest has resulted in recruiting more and more students from India to come to Wesleyan," Roth said during the dedication ceremony. "We hope students across India learn more about the liberal education that we offer."
Consul Chakravorty was accompanied by Vipulkumar Mesariya, consul of political, press, information and culture. The consuls met with 10 Wesleyan faculty with ties to or interests in India including President Roth; Swapnil Rai, visiting assistant professor of film studies; Ishita Mukerji, professor of molecular biology and biochemistry and the Fisk Professor of Natural Science; Peter Gottschalk, professor of religion; Indira Karamcheti, associate professor of American studies; Anu Sharma, associate professor of anthropology; B. "Balu" Balasubrahmaniyan, adjunct associate professor of music; and William "Vijay" Pinch, professor of history; Joyce Jacobsen, provost and senior vice president for academic affairs, Andrews Professor of Economics; and Steve Angle, director of the Fries Center for Global Studies, professor of philosophy.
Andrew White, the Caleb T. Winchester University Librarian, hosted the dedication ceremony.
While on campus, Consul Chakravorty also met several Wesleyan students, including Thanmye Lagudu '20, Azher Jaweed '19, Claire Glickman '21, and Tashfia Jilu '22.
"I look forward to the deepening of our connection with India and this collection [of books] will help us," Roth said. "I'm grateful to the Consul General for making this possible."
The "India Corner" book collection will be a valuable resource to Wesleyan faculty and students who are interested in learning more about the history, literature, and philosophical traditions of India.
More photos are below: (Photos by Olivia Drake)