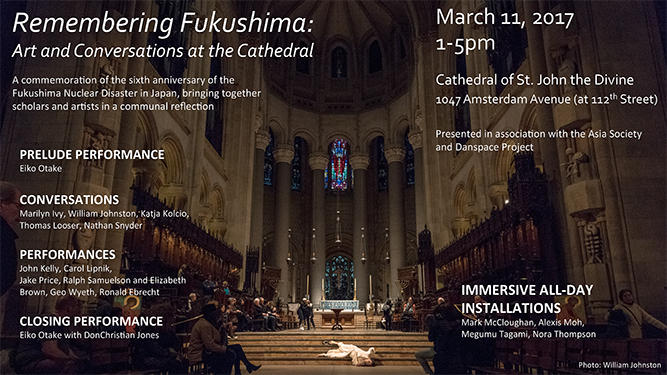 Eiko Otake stands on the top of a breakwater in a dark gray kimono. To her right, the ocean crashes into piles of concrete cubes–their shapes, stacked together, seem almost too clean, like abstractions of stone. She clutches a large but frayed scarlet cloth that catches the wind and encircles her, hovering just inches from her skin. Following the breakwater into the distance, a large cubic structure is visible along the water's edge. It is the Fukushima Daini Nuclear Plant, 12 miles from the Fukushima Daiichi Nuclear Plant. She is standing at the midpoint between the infamous two, in the area where the tsunami wave reached 68 feet and the level of radiation remains very high.
Tableaux like this constitute A Body in Fukushima (2016), a series of photographs by Otake, visiting artist in dance and the College of East Asian Studies, and her collaborator William Johnston, professor of history, East Asian studies, science in society and environmental studies. The series shows her, a lone body in the landscape of Fukushima, Japan, in the aftermath of the 2011 Tōhoku earthquake and tsunami. This collaborative photo exhibition had been on Wesleyan's campus from February through May 2015.
Currently in New York City as part of The Christa Project: Manifesting Diving Bodies, at the Cathedral Church of St. John the Divine, the exhibit will culminate in Remembering Fukushima: Art and Conversations at the Cathedral on March 11, the sixth anniversary of the earthquake, tsunami and nuclear meltdowns that followed.