Geoff Hammerson: Teaching Students to Love the Outdoors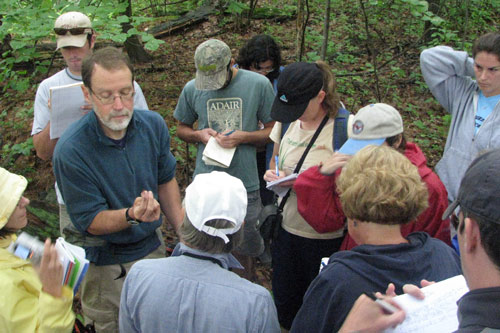 Geoff Hammerson hopes that the students who take his Graduate Liberal Studies Program week-long immersion course Life Among Snow and Ice this March get "an appreciation for the diverse and abundant life of parts of Earth that relatively few people experience" and learn how life copes with challenging conditions.
Hammerson has been teaching GLSP classes since 1985. His classes on the environment and nature are usually widely popular. In fact, as this article comes out the March 2009 course is fully enrolled. Most recently he has taught a course on the biology of reptiles and amphibians and a course about the Connecticut River (which will be repeated next summer.)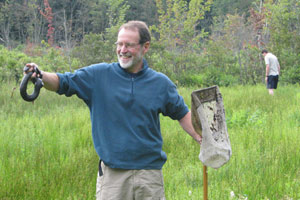 Hammerson holds a B.S. from the University of California, Berkeley and a Ph.D. University of Colorado, Boulder. He is a research zoologist at NatureServe and the author of more than 60 publications, most recently, Connecticut Wildlife: Biodiversity, Natural History, and Conservation, published by University Press of New England in 2004.
According to Hammerson, his work at NatureServe involves "assessing the conservation status of North American fishes, amphibians, reptiles, birds, and mammals."
"Students tell me, even ones who have lived in Connecticut their entire lives, that they learn to see nature and the local parks here in completely new ways after his courses," says Karen Anderson, associate dean of Continuing Studies and director of Graduate Liberal Studies Program. "One student once told me that she had been visiting Hammonasset State Park all her life, but when she did field work there as part of Geoff's course, she saw places in the park and features of the park that she had never noticed in all the time she'd spent there."
Kyle St. George, a GLSP student who teaches English at Xavier High School in Middletown, Conn., agrees.
"Geoff approaches teaching in a way that most educators can only aspire," says St. George. "He is personable, knowledgeable, enthusiastic, and genuine. His love for the great outdoors is evident and contagious. As an educator myself, I was not only captured by the fascinating subject matter, but I was also impressed by Geoff's gentle educational approach. He has inspired in me a desire to improve my efforts as a teacher."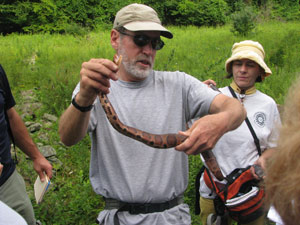 "I've studied nature and led trips in the Arctic, Antarctic, high mountains, and close to home in winter for more than 30 years, so students can expect a good depth of first-hand knowledge of these places," Hammerson says.
The class will focus on seeing the evidence in the form of tracks of mammals that are active in a snow-covered environment, such as deer, rabbits, squirrels, white-footed mice, shrews, opossums, red fox and others. Special attention is given to the effects of snow and ice on plants and animals.
"Snow provides a blanket of insulation that ameliorates conditions for organisms that live near the ground," Hammerson says. "Deep snow can interfere with the locomotion of deer. It also can make it harder for squirrels to retrieve the acorns they buried in autumn."
"The primary emphasis of the course is on how organisms cope with cold, snow, and ice, which reach their most extreme conditions in polar and alpine environments. Those environments are changing as a result of climate change, so the organisms are facing new challenges" Hammerson says.
In winter, Connecticut residents might not only consider looking down at the snow-covered ground for evidence of animals, they can also look toward the sky and in trees for the year-round bird population.
"The birds that remain [during winter] include chickadees, titmice, nuthatches, woodpeckers, great horned owls, and many others," Hammerson says. "Species that are here in winter include those that can eat foods that are readily available then, such as small mammals or birds, carrion, seeds, or small fruits that stay attached to plants through winter."
Since the elements are not only taxing to wildlife, Hammerson suggests that enrolled students carefully consider their warmth and comfort level before they embark on their March exploration. He recommends non-cotton layered clothing with an outer weatherproof shell and high, waterproof boots for walking in the snow.
Another important suggestion he offers is for students to start exploring winter on their own before the class begins. Of course, the students will only have a week with Hammerson but it just may change the way that they view trees glistening with ice and snow covered hills.
The GLSP program started in 1953 as the Graduate Summer School for Teachers. The program has expanded to include enrollees who are not teachers. The program awards the Master of Arts in Liberal Studies (MALS) degree, as well as the Certificate of Advanced Study. Wesleyan invented the MALS and it invented the concept of offering graduate study of the liberal arts, broadly. Wesleyan has awarded 3,592 Master of Arts in Liberal Studies degrees and 369 Certificates of Advanced Study.
Those interested in taking a Spring 2009 course, can view the GLSP course listings.