John Frazer: Professor of Art, Emeritus Taught Drawing, Film for 42 Years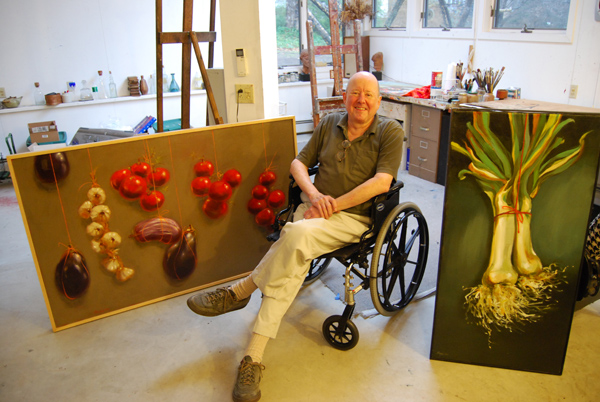 After 42 years of teaching, and a lifetime of painting and drawing, John Frazer isn't ready to rinse his brushes clean just yet.
Although the professor of art, emeritus, is wheelchair-bound after six knee surgeries, his art studio remains intact. Set-up easels, brushes and oil paints, a painter's palate and untouched cotton canvases await his return.
"I haven't been able to paint in over a year, but I will return to painting. I am sure of that, but I prefer to work standing up," Frazer says. "It's the only way I've ever worked."
Frazer, a Texas native, came to Wesleyan in 1959 for a one-year appointment teaching painting and drawing to undergraduates.
"I got off the bus on Main Street in Middletown, walked up to campus and looked at the Davison Art Center, and said, 'I'm going to stay here,'" he recalls.
Frazer, now 76, was 27 years old at the time. He had recently completed a Fulbright grant in France studying the technical considerations in early northern European drawing. Before that, he had received his bachelor's of fine arts degree from the University of Texas and served in the U.S. Army.
Frazer received his MFA from Yale University in 1960, and in 1961, he began teaching Wesleyan's first film-making course with John Martin, a professor of art who retired in 1990. For the next 30 years, Frazer taught an array of film classes including film production, film history, and a French film and society class with Nathanael Greene, professor of history.
"Wesleyan had never had a full semester film class before, and it was very rewarding to work with students who were making their first film with 16mm cameras," Frazer says
Although Frazer taught an occasional "Drawing 101" courses for both undergraduates and the Graduate Liberal Studies Program, he focused his energy on teaching film. He served as chairman of the Department of Art several times, and a program director of two GLSP programs in France.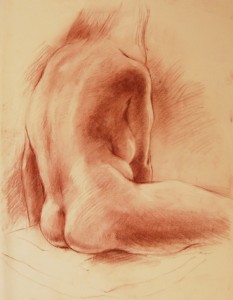 In 1992, Frazer returned to his origins – teaching drawing. He taught for nine years until his retirement in 2001.
"I missed doing sketches and figure drawing with the students," Frazer says. "I always liked, that if time allowed during class, I could make a study and the students would lean over me and say 'oooh!'"
As a painter, Frazer documented every piece of artwork in an art journal. He has sold many pieces. A few others remain in his art studio.
"I don't have a good memory, so I have to write them all down," he says, flipping through the pencil-jotted record-keeper. "In 1961 I painted that scene of Middletown that's in my studio, and a 'bundle of asparagus,' it says here. And then I painted a 48 by 48 brown and white picture of masses of food. I gave that to the Culinary Institute of America, and in return, I got a really good lunch."
Since 1984, he's tallied 391 paintings in his journal, most oil on cotton or linen canvas. Some are individuals, but most are part of a series.
In the 80s and 90s, he dabbled with a "Green Men & Beasties" series – painting 4-foot-tall images of naked, young men with dense, ornamental leaves sprouting from their heads. Each character wears a different type of leaf – such as grape or oak – to signify a new cycle, or rebirth, of seasons, starting with spring, Frazer explains.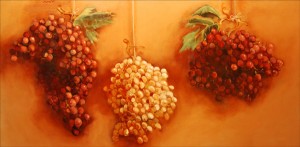 Vegetables, specifically hanging grapes, eggplants and tomatoes, are a major theme Frazer has worked with throughout his painting career.
"I like the idea of fruits being tied up and hung. The monks in the middle ages did this before the days of refrigeration, and it's an idea I wanted to extend," Frazer says, glancing over a 3 x 5 foot vegetable painting in his studio.
"I'm terribly conservative and I never made it big time as an artist," Frazer says. "I didn't need to. I knew that I always wanted to be a teacher."
Nevertheless, Frazer became a successful and award-winning artist. He had commissions from the Sheraton Plaza in Boston, Mass. and the General Electric Corporation in Croton-on-Hudson, N.Y. He has work in the permanent collection of City Hall in Middletown, Conn. and most recently, the Slater Memorial Museum in Norwich, Conn. He's authored more than a dozen articles and seven films including Wesleyan 150, a 33-minute film for the Wesleyan Sesquicentennial in 1981.
He has served as a film juror at the Connecticut Film Festival and the American Film Festival in New York, N.Y., and a painting juror for the Art Guild in Farmington, Conn. and the Essex Art Association in 1999. Frazer remains a member of the Middletown Commission for Design and Preservation.
In 1960, Frazer married Susan Frazer, who taught French in the Romance Languages Department for 20 years. She died in 1992 of cancer, and John now lives with a caretaker-companion inside his contemporary home, designed by his late colleague, John Martin.
Without the ability to paint, Frazer splurged on a 52-inch flat screen TV, nestled in front of a built-in bookshelf. "Until I am able to paint again, I still have film," he says, smiling. "I try to watch a movie a day."