Summer Experience Grants Support Student Internships at Museums, Newspapers, Organizations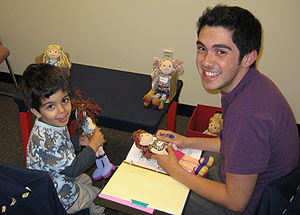 For 10 weeks, Eve Mayberger '10 removed harmful matting of two Everett Shinn illustrations, conserved a William de Leftwich Dodge oil painting from 1916, X-rayed a basket made entirely of burrs and cleaned and documented an outdoor statue made of earthenware.
As a recipient of a Wesleyan University Summer Experience Grant, Mayberger had the opportunity to get hands-on experience at the Smithsonian American Art Museum-Lunder Conservation Center where she worked 40 hours a week, unpaid, as an art conservation intern.
The Summer Experience Grants are available to undergraduates who have completed their sophomore year. Awards are made up to $4,000 per experience to interns who work full-time for a minimum of eight weeks and are receiving need-based financial aid.
As a frosh, Mayberger, an art history major with an Asian art concentration, worked for Olin Library's Book Conservation Lab, repairing books and manuscripts. Through Wesleyan's Career Resource Center, she sought an internship that would introduce her to art preservation.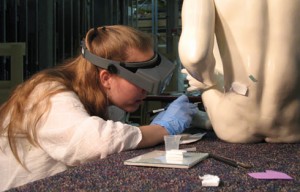 "Overall, this internship has been a great experience and has only strengthened my desire to pursue a career as an art conservator," Mayberger explains. "I have been asked to stay on for an additional two weeks to finish up some projects which I take as a sign that the conservators are happy with my work."
The grants help offset the cost of living, explains Caitlin Cincotta, assistant director of the Career Resource Center.
"Through this program, motivated students are provided with a valuable opportunity to spend a summer participating in a career focused experience ranging from the corporate world to non-profit; in the U.S. and abroad. This sort of experiential education is tremendously important for students to expand their interests, develop skills and get a glimpse of what is to come after Wesleyan," Cincotta says. "For years the Wesleyan Summer Experience Grant has been successful in helping our students supplement their classroom education with exciting and educational summer work experiences."
Summer Experience Grant recipient Nathan Whelan-Morin '10 spent eight weeks working as a reporter at his hometown newspaper, The Bristol Press, in Bristol, Conn. Whelan-Morin is majoring in the College of Letters and French and is considering journalism as a future career.
"I expected a lot of shadowing and grunt work, but they gave me a desk on my first day and told me to write stories," he says. "Journalism is such a 'done when it's done' job. Sometimes I'd be busy all day, going out on three assignments and bashing out articles for the night's deadline, and sometimes when there was no news I'd just bum around the office for a few hours, make a few phone calls, and write up bulletins."
Whelan-Morin wrote articles on an  author of a self-published book,  a training session for emergency responders on how to assist people with disabilities, a Holocaust and Genocide awareness program, a local grocery store closing, a shea butter shop, a graduation and completed an in-depth profile piece on the Pequabuck River. He also moonlighted as a photographer.
"There have been a couple moments that have made me realize the internship was worth my while," he says. "Lately, the passive voice stands out like a sore thumb on everything I read, because I've internalized a lot of journalistic style. … It's really important to have the skill and the confidence to get everything down and trust yourself to do it accurately."
Christian Hoyos '11 used his Summer Experience Grant to study the development of morality, intellectual property, racial attitudes, and other social aspects of development in children at the Social Cognitive Development Lab at Yale University. Through experiments designed as games, Hoyos and psychologists asked the children questions and showed them short video clips, as well as used pictures, dolls and other toys to gain insights into behaviors and perceptions.
Hoyos, a psychology and French Studies double major with an intended concentration in cognitive science, is a research assistant in Wesleyan's Cognitive Development Lab, where his interest in cognitive/developmental research began.
This summer, Hoyos coordinated an inter-lab meeting with Yale and Wesleyan faculty to discuss ongoing research in both labs and exchange ideas.
"I have learned how to be an efficient experimenter and I now feel that I can truly enter the mindset of a researcher and develop ideas for new experiments which will be useful when I start thinking about a senior thesis," Hoyos says, regarding his internship. "After this phenomenal experience, I have decided to pursue a Ph.D program in psychology upon graduation. What more could I want than playing with kids all day while getting a degree and making valuable contributions to science in the process?"
Other Summer Experience Grant recipients worked as interns for the Hip Hop Theater Festival in Brooklyn, N.Y.; the Women's HIV Collaborative in New York, N.Y.; the State of Connecticut Office of the Child Advocate in Hartford, Conn.; SisterSong Women of Color Reproductive Health Collective in Atlanta, Ga.; NARAL Pro-Choice in Austin, Texas; the Herbert Irving Comprehensive Cancer Center at Columbia Medical Center in New York, N.Y.; among others.