Grabel Receives New Human Stem Cell Research Grant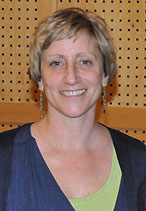 Professor Laura Grabel has received a $750,000 grant from The State of Connecticut Stem Cell Research Advisory Committee for her study titled "Angiogenesis of Embryonic Stem Cell Derived Hippocampus Transplants." It is her third grant from the Committee since Connecticut began its state-funded human stem cell research program in 2006, and second where she is the principal investigator (P.I); she was co-P.I. on the other.
Grabel, professor of biology and Lauren B. Dachs Professor of Science in Society, is also a co-director of Connecticut's Human Embryonic Core Facility, a research center in Farmington, Conn. that houses some human stem cell research performed by scientists from Wesleyan, The University of Connecticut, and The University of Connecticut Health Center.
The new grant will fund a study that builds on previous research Grabel conducted both on her own and in collaboration with Janice Naegele, professor of biology, professor of neuroscience and behavior, and Gloster Aaron, assistant professor of biology, assistant professor of neuroscience and behavior.
"In our previous work, in collaboration with Jan Naegele and Gloster Aaron, we observed that transplants of embryonic stem cell-derived neural progenitors can successfully integrate into the hippocampus of host mice and become functioning neurons," Grabel says. "We also noticed that these transplants become vascularized by the host blood vessels. We are studying how this process occurs since it may be essential for the survival of robust transplants in the brain and elsewhere. This work is important because it may reveal how to provide transplants with food and oxygen, increasing their likelihood of successful integration."
The work also benefits Wesleyan students, both in Grabel's classroom teaching and through their direct participation in active research. Currently, the staff of the Grabel lab includes three undergraduate students and three graduate students, as well as two technicians.
Grabel says the funding from the State of Connecticut has been invaluable in light of budget cuts threatening grants from the National Institutes of Health (NIH), the National Science Foundation (NSF) and other federal granting institutions.

"Funding from the Connecticut initiative has allowed us expand our transplant studies, moving in a more applied direction," Grabel says. "It has also allowed the collaboration between the Grabel, Naegele, and Aaron labs to flourish. All this work relies upon graduate and undergraduate students and the funding allows them to work closely together, with our techs, doing cutting edge stem cell research. It has kept us competitive with other larger universities."
A full list of the 2011 grants by Connecticut Stem Cell Research Advisory Committee can be found here.