Millett Visiting Writer Edwidge Danticat to Speak Feb. 8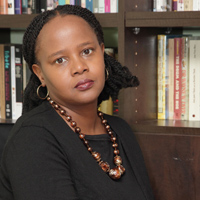 MacArthur Fellow and award-winning author Edwidge Danticat will deliver a reading at 8 p.m. Feb. 8 in Memorial Chapel. Danticat, a Haitian-American writer, is the 2012 Fred B. Millett Visiting Writer.
Danticat, a 2011 recipient of the Langston Hughes medal, is the author of Breath, Eyes, Memory (an Oprah Book Club selection), the story collection Krik? Krak! (a National Book Award finalist), The Farming of Bones (an American Book Award winner), and the novel-in-stories, The Dew Breaker. Her memoir, Brother, I'm Dying, was a 2007 finalist for the National Book Award and a 2008 winner of the National Book Critics Circle Award for autobiography. Create Dangerously, her most recent book, is a collection of essays.
She also is the editor of The Butterfly's Way: Voices from the Haitian Dyaspora in the United States and Haiti Noir.
Danticat received a B.A. from Barnard College and an M.F.A. from Brown University. She worked as a visiting professor of creative writing at New York University and the University of Miami.
"I am absolutely thrilled that we are finally able to bring Edwidge to Wesleyan especially in this particular manner as the Fred B. Millet visiting writer— given Millet's defense of free speech," says Gina Athena Ulysse, associate professor of anthropology, associate professor of African-American Studies, director of Center for African-American Studies. "Besides her numerous accomplishments and personal lost, she continues to work tirelessly exercising such graceful restraint in her work as she gives voice to experiences that are often erased. Since the 2010 earthquake, she remains a devoted soldier in Haiti's non-ending battle for humanity."
The Millett Visiting Writer event is held annually in honor of the late Fred Millett, professor of English, emeritus. Cynthia and George Willauer '57 are two of the initial donors.
The English Department, African American Studies, Feminist, Gender and Sexuality Studies, the Office of Diversity, the Mellon Mays Undergraduate Fellowship and Academic Affairs are co-sponsoring the event.
Danticat's visit is part of the Spring 2012 Writing at Wesleyan Russell House Series on Prose and Poetry.  To view the upcoming speakers, see: http://www.wesleyan.edu/writing/community/writing-events.html