Wesleyan Celebrates the Grand Opening of 41 Wyllys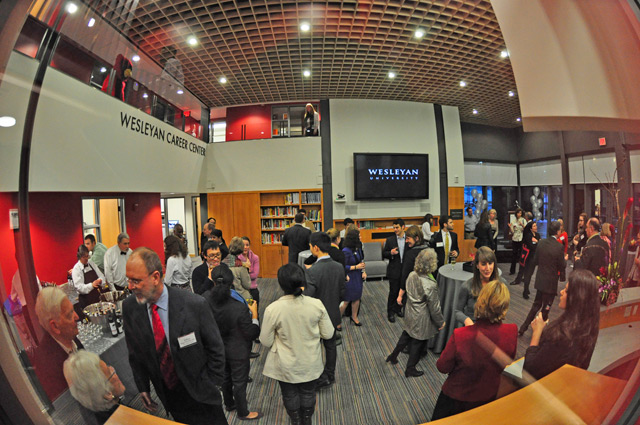 The Wesleyan community celebrated the grand opening of 41 Wyllys Avenue during a reception and ribbon-cutting ceremony on Feb. 24. The building is the new home of the College of Letters, Art History Program and the Wesleyan Career Center.
This historic building boasts beautiful new spaces enhanced with light, color and technology. The Career Center now possesses state of the art equipment to aid students in their employment pursuits by providing unparalleled face to face access to alumni, parents, and employer partners from around the world.
The renovation has provided greatly improved spaces for two distinguished departments, the College of Letters and Art History, and has added attractive and high-tech classroom, seminar and meeting spaces to campus.
The Art History Wing is named in honor of John Paoletti, the William R. Kenan Professor Emeritus of the Humanities and Art History. In addition, an office is named in honor of Paul Schwaber, professor of letters, and the COL library is named to honor all COL faculty — past, present and those who will teach in the future. For details about the gifts that supported this project, see this Feb. 13 Wesleyan Connection story.
The new Career Center is an inviting space that is equipped with the latest teleconferencing technology.  The venue provides students, alumni, parent volunteers and employers opportunities to connect with one another.
"When we first sat down with the Newman Architects representatives, we describe our vision of creating a space that was inviting, vibrant, and multifunctional – a place that would physically and virtually connect students with opportunities to discover their passions, plan their path, and launch their careers," says Michael Sciola, director of the Career Center. "What we've built far exceeds our wildest dreams."
The full photo gallery, featuring high-resolution, downloadable images, is on Wesleyan's Flickr site.