Stemler's Book Offers Review of American Schools' Mission Statements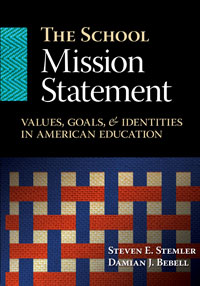 Steven Stemler, assistant professor of psychology, is the co-author of a new book, The School Mission Statement: Values, Goals & Identities in American Education," published by Eye on Education in March.
Co-authored with Damian J. Bebell of Boston College, the book contains an extensive review of mission statements from a diverse range of schools, including public schools, charter schools, magnet schools, vocational schools, parochial schools and Native American schools. Stemler and Bebell developed a coding rubric to classify the mission statements according to eleven broad themes (eg. Foster cognitive development; foster social development; foster emotional development; integrate into global community).
Based on their review of mission statements, Stemler and Bebell conclude that the purpose of American schools extends well beyond the cognitive domain. However, testing is limited almost exclusively to the cognitive, meaning schools are not being held accountable in the same way for these other, equally important, goals. If schools truly value developing these other competencies in students, then they should do so in a measurable way, they argue.