Student Organizations Represented at Sustainability Day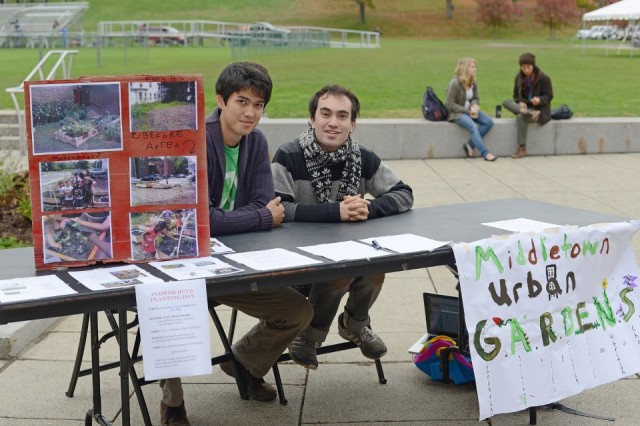 Wesleyan hosted its first Campus Sustainability Day on Oct. 24. CSD is a national event that began in 2002 to bring awareness to campus sustainability projects and encourage students to take action.
This year, in conjunction with the Farmers' Market, many Wesleyan student groups and the Sustainability Office set up tables outside Usdan University Center to share their recent projects with the campus community. Groups that attended included Wes Bikes, Middletown Urban Gardens, Butterfields Green Hall residents, WILD Wes, Long Lane Farm, WesFRESH, Green Fund, Local Co-op and Energy @ Wes.
"The tabling went very well, with students stopping by to ask questions about different sustainability efforts on campus," said Jennifer Kleindienst, sustainability coordinator.
In addition, a presentation on The Thirst Project aimed to bring attention to the global water crisis. The day ended with a Second Nature-sponsored interactive sustainability conversation. Through this conversation, higher education sustainability experts talked about their experiences empowering students to create change and answered student questions from across the country.
"Those who attended engaged in a sustainability discussion afterwards about what we can do on Wesleyan's campus to make sustainability part of everyday life," Kleindienst said.
Among the suggestions were to have additional classes that address real-world problems; having contests to heighten awareness and solve sustainability challenges, such as a zero-waste challenge; engaging students in hands-on education; sustainability tracks within multiple departments; and doing more to bridge gaps university-wide.
#THISISWHY