Biology Major Dominguez '15 Planning Dominican Student Conference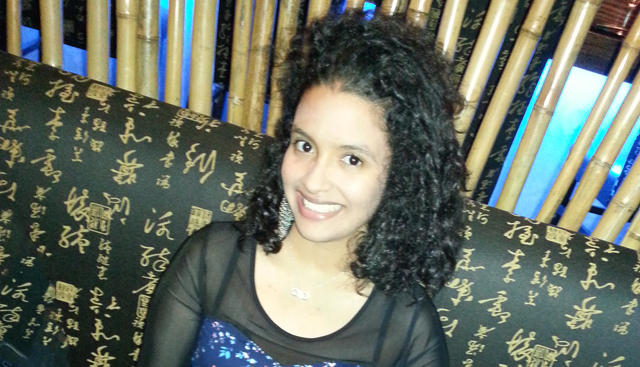 Q&As with outstanding students is an occasional feature of The Wesleyan Connection. This issue we speak with Konnie Dominguez from the Class of 2015.
Q: Konnie, what are you planning on majoring in and why?
A: I'm planning on majoring in biology. With a bachelors in biology, I can continue to pursue a career in biological anthropology, specifically in paleoanthropology, the study of human fossils. I've had at least one class in science ever since the sixth grade and this year, I had three – biology, chemistry and neuroscience!
Q: Are you involved in any extracurricular activities?
A: Most of my free time, when not spent in classes, labs, or my job, goes to the Dominican Students Association or WesQuisqueya. We are a student group for Wesleyan students of Dominican descent or those who just enjoy Dominican culture.
Q: What is your role in planning the upcoming National Dominican Student Conference?
A: The 7th annual conference will be hosted by Wesleyan on March 29 and 30. For this conference, I am a student coordinator. I'm on the publicity team and, along with another group member, I'm in charge of reaching out to past participants of the conference and inviting them to come again. Our team currently expects around 500 students! It is a lot of work. If I'm not running around, trying to get contacts, creating flyers, or learning how to draft e-mails to request keynote speakers, I'm at our weekly Tuesday meetings, discussing and presenting. Tuesdays are my longest days: I almost never go home earlier than 10 p.m.
The WesQuisqueya team is currently trying to work out deals for catering, hotels, and working with Wesleyan to make sure this conference is the best it can be! The website is http://www.dominicanstudentconference.com/ and we also have our own Tumblr blog at http://ndsc2013.tumblr.com/.
Q: You also work at Olin Library as a student employee. What is your role and what do you enjoy most about this experience?
A: I work as a shelver in Olin. I sort the books that have been returned to the library back to their proper shelves. For the most part, I like my job. I like helping my confused fellow students navigate the stacks and find that one pesky book, the holy grail of their projects or assignments. Even though I'm a little creeped out by how quickly the library gets dark in the winter, and I've heard whispers of ghosts, I think it's a fantastic work environment.
Q: You're one of more than a dozen student writers on the VOICES blog. Please describe the VOICES blog and what are topics that inspire you to write?
A: The VOICES blog is where some students of Wesleyan blog their experiences for the Office of Admissions. After I applied, I thought there were certain topics that I had to write about but I was reassured and told I could write about whatever I wanted pertaining to my Wesleyan experience. Most of the time, I write about the things I've done or plan to do, like the day I wrote about seeing the movie Beasts of the Southern Wild in the CFA with my friends. I try to draw inspiration from anything and everything that's going on in my college experience. One of the pieces I wrote for my application to work for the blog had to do with the wildlife on Court Street and my fear of cicadas in my hair!
Q: Where are you from and what made you decide to apply to Wesleyan?
A: I'm from Brooklyn, New York. As strange as this may sound, my decision to apply to Wesleyan was entirely the fault of my high school guidance counselors. She picked a handful of schools of me and since I didn't really have a preference, I went along with her suggestions and I'm truly glad I did.
Q: Do you drink coffee?
A: I love coffee! But somehow I still haven't mastered the art of waiting for it to cool before taking a sip. I've learned how to live with a slightly burned tip of my tongue. Perhaps I should switch to ice coffee?
Q: Do you have time for any hobbies?
A: My hobbies are mostly to help me relax. I enjoy writing and listening to music. When I'm feeling a little lonely, I go bother my roommate and we hang out somewhere, pretending we have free time to spare.
Q: Any idea what you'd like to do after graduation?
A: In an ideal world, I'll be in an excavating pit in Kenya, looking for hominid remains, but I'll probably still pursue more schooling, no doubt racking up more debt and, ah, really I would take bones over debt any day.