Madhu Reddy Fund to Support Indian Music and Dance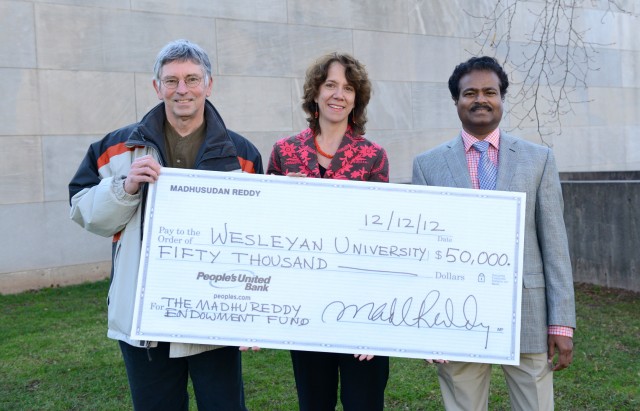 Wesleyan's Center for the Arts announces the creation of the Madhu Reddy Endowed Fund for Indian Music and Dance at Wesleyan University. Reddy, a real estate agent with William Raveis based in Glastonbury, Conn., established the fund with a pledge of $100,000.
During a ceremony on Dec. 14, Reddy presented an initial check for $50,000 to Pamela Tatge, director of the Center for the Arts, and David Nelson, artist in residence.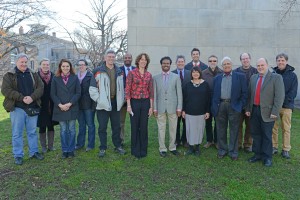 "For more than 50 years, Wesleyan's Music and Dance Departments and the Center for the Arts have been presenting the music and dance of India to the campus and the region. The Reddy Fund will sustain Wesleyan's annual Navaratri Festival of music and dance, as well as provide much needed support for faculty research and performance," Tatge said. "We are all so moved by Madhu's generosity and passion for the arts of India, and look forward to working with him to grow the Fund in the coming years."
Wesleyan's program in Indian music and dance was founded by T. Viswanathan, who earned his Ph.D. at Wesleyan in 1975 and then began teaching South Indian music together with his brother T. Ranganathan. Their sister was the renowned dancer Balasaraswati, who also taught at Wesleyan. Today, Wesleyan's Indian music and dance faculty includes Adjunct Assistant Professor of Music B. Balasubrahmaniyan, Assistant Professor Dance Hari Krishnan, and Music Artist in Residence David Nelson.
Navaratri, one of India's major festival celebrations, is a time to see family and friends, enjoy music and dance and seek blessings for new endeavors. The annual Navaratri Festival at Wesleyan celebrates traditional Indian music and dance. The 36th annual Navaratri Festival, which took place in October and November 2012, included a concert by Balasubrahmaniyan and Nelson, along with performances by singer T.V. Sankaranarayanan and dancer Rama Vaidyanathan in Crowell Concert Hall. The 37th annual Navaratri Festival is scheduled for October 2013.