Emmy Award Winner Margolis '93 Is Show Runner for Adult Swim's Newsreaders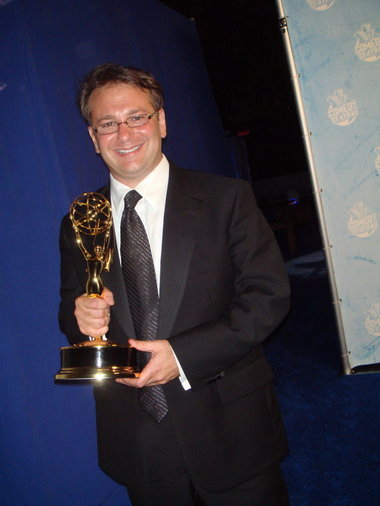 Jim Margolis '93, a six-time Emmy Award winner, left his job last year as an executive producer for The Daily Show with Jon Stewart to become the show runner for a new series, Newsreaders, which airs at midnight Thursday on Adult Swim, part of the Cartoon Network.
Co-created by Rob Corddry, Jonathan Stern and David Wain, Newsreaders is a sketch comedy show in the form of a fake TV news magazine and a spinoff of a successful Adult Swim series, Children's Hospital, a parody of the hospital drama genre. The new series features both established and up-and-coming comic talents.
In a recent review in The New York Times, Mike Hale wrote: "The two shows [Newsreaders and Children's Hospital] share a writing and performing style that is simultaneously over the top and dryly understated, as well as a funny quirk of showing us enticing excerpts of scenes or segments that don't exist."
Michael Heaton at the Cleveland Plain Dealer recently spoke to Margolis about his new position.
Margolis said:  "I still work with incredibly funny and talented people, but creating a new show and producing a single season of a scripted comedy show is wildly different from producing a daily late-night comedy show. …
"I was amazed at all of the great people we got. People really wanted to do the show. It was kind of a who's who of comedy, along with an actual bond girl (Jane Seymour) and a New Kid on the Block (Joey McIntyre)."
About leaving The Daily Show, Margolis said: "It was a very difficult decision, but it was a great opportunity to create something completely new and collaborate with people I really like and respect. It was also a great opportunity to have no job security. I think what you're really asking is what was I thinking? A lot of people have asked that question."