5 Questions With . . . Urip Maeny on 40 Years Teaching Javanese Dance at Wesleyan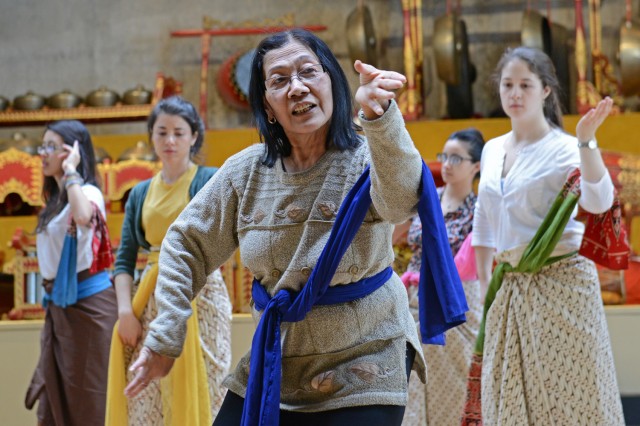 In this issue of The Wesleyan Connection, we ask "5 Questions" of Urip Maeny, artist in residence in dance. She she has taught at Wesleyan since 1972, and will retire this year.
Q: Please tell us when and how you first began studying Javanese dance.
A: I began studying Javanese dance informally when I was still in elementary school in my hometown of Pekalongan in Central Java, Indonesia in the early 1960s. In 1961, I studied at the gamelan conservatory (high school level) in Surakarta. The school allowed me to focus my study on dance—especially Javanese dance, but also Balinese and Sudanese dance. After graduating, I taught dance at the conservatory for a couple of years. As both a student and faculty member at the conservatory, I danced in many cities in Java and Bali. Once, I performed the most sacred Javanese dance in the court of Surakarta.
Then, in 1968, I moved to Jakarta, and worked at the Cultural Office there. My assignment included teaching at the Presidential Palace, especially to the children of the President. I was also a member of a performing arts group, which performed abroad in Hong Kong, Australia and the Middle East.
Q: How did you end up coming to the U.S., and teaching at Wesleyan?
A: In 1971, I joined my husband, Sumarsam, who at that time was working and teaching gamelan at the Indonesian Embassy in Canberra, Australia. In 1972, Wesleyan invited Sumarsam to teach gamelan, so we both departed Australia for Wesleyan. Soon after arriving at Wesleyan, the Wesleyan Music Department assigned me to assist my husband, teaching Javanese dance. I taught Javanese dance as part of the World Music Program until I was transferred to the Dance Department in the mid-1980s. I continue to teach a course in Javanese dance, and closely collaborate with the gamelan group in the Music Department. I direct Javanese dance and dance drama on and off campus, including a Javanese dance drama and gamelan performance at Lincoln Center in New York. While in residence at Wesleyan, I have performed in many cities in the U.S. and abroad. I have also briefly taught Javanese dance at Cornell and at Smith College.
Q: What has kept you at Wesleyan for 40 years?
A: Teaching Javanese dance to American students is a challenge, especially when you teach it by yourself. Javanese dance requires highly controlled movements of different parts of your body to be synchronized with musical rhythms. (See more photos of Maeny 's class online here. Watch a video of Maeny teaching Javanese Dance at Wesleyan online here.) I have to make sure that each student does what she or he must do. Javanese dance is so foreign to them, so I have to be very patient to teach them.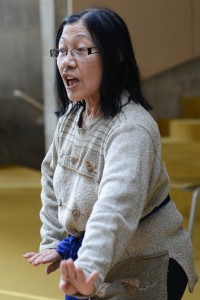 I have continued teaching dance for 40 years at Wesleyan because I think it is a worthwhile activity to share Javanese dance with non-Indonesian students. It is also a well-established tradition for gamelan performance to always accompany dance or puppet shows, so teaching dance as part of the gamelan program is a natural thing to do. But having reached an advanced age, I think it is time for me to retire. I hope the university will retain my position and employee a younger dance teacher, so that the 50 years of tradition at Wesleyan performing Javanese gamelan and dance will continue.
Q: Please tell us about the students you've taught over the years.
A: Many students in my classes are non-dance majors, although sometimes I have a number of dance majors who study with me. Not all students are willing to continue beyond one semester, although several have studied Javanese dance with me for two semesters or more. When I have students committed to study longer than one semester, then I can produce a large production of dance drama, like what we're doing on May 2* (my last production at Wesleyan). This is the most rewarding experience I have had. Sometimes I also have members of the Wesleyan staff and children from the community study dance with me.
Q: What do you plan to do after retirement?
A: I'll spend more time with my family—my daughter, her husband, and especially my grandchildren, who live in Middletown, and visit my son and his family, who live Colorado. I also plan to visit my home country. In addition, I'll continue doing volunteer work in the pregnancy birth center at Middlesex Hospital.
* The Dance Department is hosting two events in May to honor Maeny's 40 years at Wesleyan:
"Celebrating Four Decades of Javanese Dance: A Retirement Celebration Honoring Artist in Residence Urip Sri Maeny" will be held at 7 p.m. May 2 in World Music Hall. The performance will feature Javanese dance students and special guests.
"Decades of Javanese Dance at Wesleyan," will be held at 2 p.m., May 3 as part of the Dr. Cynthia Novak Lecture and Symposium. Diyah Larasati, dance scholar, choreographer, cultural theorist and author of The Dance That Makes You Vanish: Cultural Reconstruction in Post Genocide Indonesia (University of Minnesota Press, 2013), will deliver the keynote address with special guests honoring Maeny and the legacy of Indonesian dance at Wesleyan. The lecture will be followed by a reception at 4:30 p.m. in the Alsop House at the Davison Art Center.
#THISISWHY