Admitted Students, Families Celebrate All Things Wesleyan at WesFest 2013 (with Photo Gallery, Video)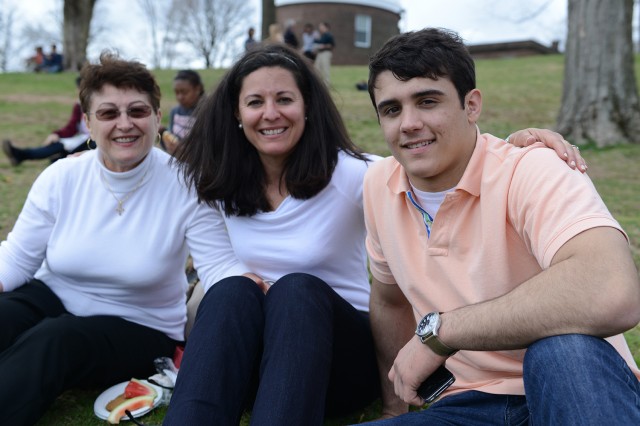 More than 500 admitted students and their families descended on Wesleyan's campus for WesFest, the annual celebration of all things Wesleyan. Between Wednesday, April 17 and Friday, April 19, they were treated to dozens of tours, panels, lectures and demonstrations to acquaint them with Wesleyan's academics, student organizations, athletics and facilities.
On Friday around noon, the sun came out and visitors took a break to enjoy a barbecue lunch on Foss Hill while a student band played.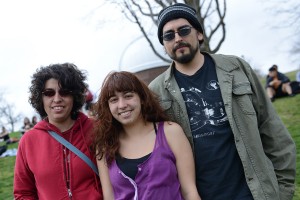 Cloie Logan and her parents came all the way from Albuquerque, N.M. Cloie fell in love with Wesleyan after visiting as a high school junior, and was accepted early decision I.
"Basically since December, I've been aching to be here," she said. At WesFest, she said, "I ate a lot of really delicious food, went to a comedy show, saw Prometheus, went to a few department office hours, and visited the Argus," where she hopes to work as a student.
James Kellner of Verona, N.J. also was admitted early decision. He visited Wesleyan with his mother and grandmother, and met with the coach of the wrestling team, which he plans to join. He plans to study economics.
"I like it a lot. I like the people, the diversity," he said. "Just the vibe here—it's relaxed and easygoing."
Accompanied by her parents and younger sister, Anne Chen of New York City had heard President Michael Roth speak earlier in the day, and took a tour. Her initial impressions of Wesleyan: "It's really friendly and open. It's a really supportive community. People seem really creative."
Malaysia Johnson of Prince Frederick, M.D. visited with her mother and grandmother. After attending a student-to-student panel, she said, "I was impressed with how active the students at Wesleyan are with volunteering and things like that."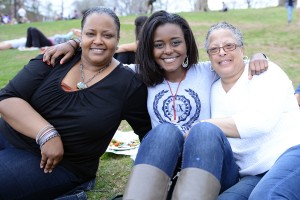 Jackson Dumont of Albany, N.Y. attended a class on astronomy, which he found, "really interesting."
"I like all the different academic opportunities available to me at Wesleyan," he said.
Lucy Salwen of Amherst, Mass. visited with her mother. She sat in on an environmental science class, stayed overnight with a current student host, saw a performance by Prometheus—"That was really cool. A little scary."—and attended a co-ed ultimate Frisbee team practice.
"I've been walking around campus and seeing the same faces again. It seems like a nice size," she said.
VIDEOS and PHOTOS of the event are below. View the complete WesFest photo gallery on the Wesleyan Flickr page. 
[youtube width="640″ height="420″]http://www.youtube.com/watch?v=LnXH0MGoDYM[/youtube]
[youtube width="640″ height="420″]http://www.youtube.com/watch?v=-LzN8sGkRXg[/youtube]