Distinguished Scholars from China Discuss "Comparative Enlightenments" at Wesleyan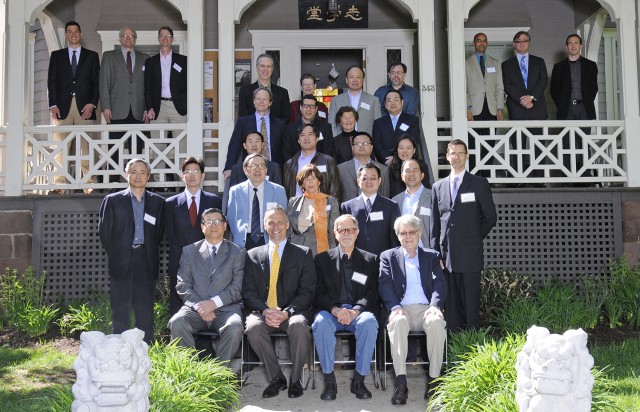 (Story contributed by Charles Salas, director of strategic initiatives)
"A golden example of what exchange should be between academic communities in the United States and China." That's how Gao Xiang, vice secretary of the Chinese Academy of Social Sciences (CASS) and editor-in-chief of the Social Sciences in China Press, described the Chinese-American Scholarly Exchange Forum that took place May 9-11 at Wesleyan's Mansfield Freeman Center for East Asian Studies. The forum brought 15 distinguished scholars from China to Wesleyan to meet with American counterparts to discuss the topic of "Comparative Enlightenments."
The forum was framed by Wang Weiguang, president of CASS, who expressed fervent hopes for this dialogue "between Eastern and Western civilizations as if a lamp is lit by another lamp, as if a dream illuminates another dream, and ultimately illuminates our entire human world." CASS is far and away the most important center in China for studies in philosophy and the social sciences, and this is the second forum in which they've partnered with Wesleyan. The topic of the first forum (held a year and a half ago in Bejing) was "Tradition." Here, in the second forum, participants addressed philosophical and historical movements that had profoundly disruptive effects on tradition in both Europe and China.
"What is Enlightenment?" A classic question in the West posed most famously in 1784 by the philosopher Kant, who also provided a most reasonable answer: Emergence from self-imposed immaturity and using one's understanding without guidance from another – in short, "Dare to know!" It was clear early on that forum participants, however impressed by Kant's formulation, were by no means satisfied with it.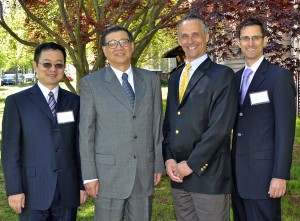 The term "Enlightenment" quickly came under pressure from Hayden White (a professor at Wesleyan in the 1970s) who looked at "light" as metaphor, as concept, and as object of scientific inquiry in Enlightenment thought. White concluded by proposing that Forum participants approach "Comparative Enlightenments" keeping in mind Winckelmann's notion of shadow which, like drapery on an ancient Greek sculpture, conceals parts so as to present the totality of the artwork. What to include, what to leave out, in deciding what we want "Enlightenment" to mean remained of interest throughout. Some historical interpretations of "enlightenment" in China retained the reference to light (one translation was "Brighten your virtue") while others understood enlightenment as "awakening" or "opening your eyes."
Ties of the European Enlightenment to secularism, scientism, liberalism and Marxism were refined by Forum participants and also discussed in the context of Chinese history. The Marxist view of history ties the Enlightenment to the undermining of feudal institutions and the rise of the bourgeoisie, preparing the way for the triumph of socialism, and 20th century Chinese thinkers looked for analogs in China, some rooted in the European Enlightenment, others independent of it. The history of these intellectuals (be they "enlighteners" or antiquarian scholars) and the complexities of their interpretive approaches to China's cultural heritage (especially Confucian moral traditions) were discussed within the larger framework of the tension between the universalism of Enlightenment "Reason" and the very particular, historical situations in which "enlighteners" and "enlightened" found themselves. Of course the Enlightenment (so much about critique) has itself been much critiqued, and Forum participants took note of its false universalism, its over-emphasis upon transparency, and the crimes committed in the name of its instrumental reason.
The Forum's format, in which papers were read in advance and comments delivered by respondents, emphasized scholarly dialogue rather than performance. Steve Angle, professor of East Asian studies, professor of philosophy and tutor in the College of Social Studies at Wesleyan, is a veteran of many East-West conferences. He judged the direct interaction among participants – with Chinese scholars asking questions of their American counterparts and vice versa – to be "truly extraordinary."  That the discussions were direct, open and not infrequently punctuated by laughter speaks to the level of comfort felt by all the participants, even those valiantly combatting jetlag.
Ethan Kleinberg, director of the Center for the Humanities, professor of history, professor of letters, and executive editor of History and Theory, hosted the forum.
"It was the reputation of Wesleyan's History and Theory as the premier journal in the field together with the high regard for the work of my Wesleyan colleagues Steve Angle and Vera Schwarcz that sparked the interest of CASS and these very distinguished scholars from China in partnering with Wesleyan," he said.
President Roth, who attended both forums, said he "looks forward to the next meeting in 2015 when we'll be discussing Modernization, an especially hot topic in China which follows naturally on the themes of the first two forums." Roth concluded: "The spontaneous dialogues in our sessions advanced the thinking of all those who attended, and stimulated our ideas for modes of future cooperation between the Chinese Academy of Social Sciences and Wesleyan University."