Freeman Remembered for Supporting Asian Scholars Program at Wesleyan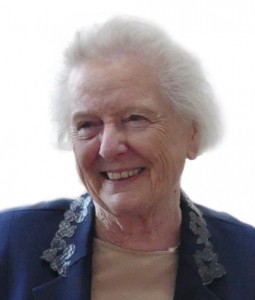 Doreen Brown Freeman, who together with her husband, the late Houghton "Buck" Freeman '43, generously supported Wesleyan and especially the Freeman Asian Scholars Program, died July 12 in Honolulu.
The Freeman family, including Buck, Doreen and their son Graeme Freeman '77, established the Freeman Foundation in 1993 after the death of Buck's father, Mansfield Freeman, Wesleyan class of 1916, who had contributed greatly to Wesleyan's East Asian Studies Program.
Buck Freeman was chairman of the Freeman Foundation, and Doreen was a co-trustee. They demonstrated a hands-on style of giving that ensured a personal connection with all those receiving foundation support. She was especially attentive to the Freeman Asian Scholars Program – the foundation's landmark contribution to Wesleyan. Established in 1995 to promote cross-cultural understanding between the United States and Asia, the program provides scholarships for exceptional students from 11 East Asian countries to earn bachelor's degrees at Wesleyan. The program has supported more than 340 students.
Doreen was instrumental in interviewing Freeman Asian Scholar candidates each year until 2010, and was an especially staunch supporter of candidates who came from challenging backgrounds with limited opportunities to study abroad. She also was particularly interested in hearing from the program's students and alumni about the details of their lives.
"For decades the Freeman family has helped Wesleyan fulfill its mission of providing the best in liberal arts education," said Wesleyan President Michael Roth. "We are deeply grateful for all that the foundation has done and continues to do, and we mourn the passing of Doreen, who with her husband Buck, were wonderful friends. Our hearts go out to her daughter Linda, son Graeme and their families."
Doreen was born in England in 1923. During World War II, she proudly served in one of Britain's women's service corps. At American International Group (AIG) – which was co-founded by Mansfield Freeman, and where her husband later rose to the top levels of company leadership – she took the initiative to "show the ropes" to younger AIG spouses. She was an avid reader and loved novels and memoirs about Asia.
Buck and Doreen's generosity has made an enormous impact on Wesleyan. A gift at the end of the Campaign for Liberal Learning in the 1980s jump-started construction of Bacon Field House and the new pool in the Freeman Athletic Center. They also supported the Center for East Asian Studies, the Wesleyan Fund and other special projects. Their giving made them Wesleyan's largest donors ever.
Wesleyan awarded Doreen an honorary degree in 2003, citing her as "a philanthropist whose strong compassion springs from commitment, grit, and a backbone of steel."
Arrangements for remembrance will be private. Letters and notes are welcome at The Freeman Foundation, 1601 East West Road, Honolulu, HI 96848.