Wesleyan Launches New International Website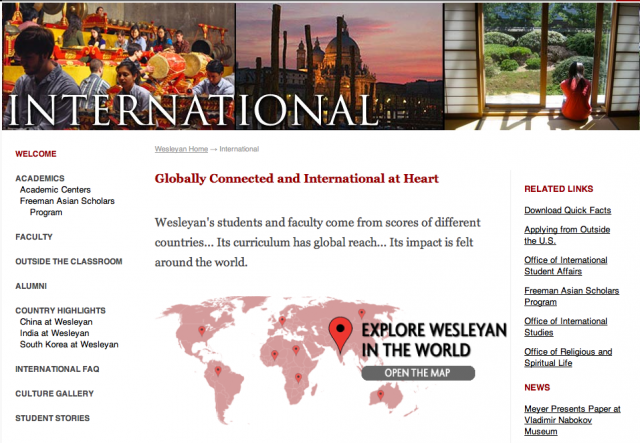 No matter what field of study they pursue, Wesleyan students almost inevitably find that their education provides an introduction to cultures other than their own. Whether it's the German film, West African dance, or Latin American politics class they take; a study abroad adventure; or a new friend or classmate from another part of the world, the Wesleyan experience reaches far outside central Connecticut.
To celebrate and share the global nature of a Wesleyan education—as well as the impact of Wesleyan students, faculty and alumni in countries around the world—a new International website has just been launched. The site serves as a resource for prospective students and families who are applying to Wesleyan from outside the U.S., or domestic prospective or current students who are seeking a global education. Alumni, parents and others will also find the site of interest.
The site features stories and videos of students who come to Wesleyan from abroad; profiles of faculty members whose research interests span the globe; and information on alumni making an impact in countries around the world. There is also information on internationally-focused student organizations, classes and academic centers and programs; helpful links and FAQs for prospective international students; and a photo and video gallery of cultural events held on campus. An interactive Google map feature allows visitors to the site to actively explore Wesleyan's impact around the world.
"This site is a very important—and impressive—introduction to all the ways Wesleyan is international! In our global economy and with the wide range of international interests, this is sure to be a resource for all prospective students, wherever they live and go to school," said Nancy Hargrave Meislahn, dean of admission and financial aid.