Wesleyan to Host Public Health Emergency Training March 20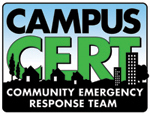 In the event of a public health emergency, Wesleyan's Campus Community Emergency Response Team (C-CERT) may be deployed to help distribute medicine and medical supplies to the Wesleyan and Middletown community.
On March 20, the C-CERT team, made up of Wesleyan faculty and staff, will undergo a day-long training program to prepare for such emergencies. The training, coordinated by the Connecticut Department of Health's Division of Public Health Preparedness and Response Strategic National Stockpile Program, will teach C-CERT members how to organize a Mass Dispensing Area and effectively receive, process, ship and recover stockpile medical assets.
"If there's ever a bioterrorism or anthrax attack, mass flu outbreak or a natural disaster such as an earthquake or tornado, our C-CERT team will be trained to quickly disperse medicines, such as antibiotics, to hundreds or thousands of people," said Bill Nelligan, director of environmental services and Wesleyan C-CERT coordinator.
Wesleyan C-CERT members will join other participants from the Middletown Department of Health, Cromwell Department of Health, Middletown Emergency Management, Middletown Fire Department and Middletown Police Department.
The training will take place in the Freeman Athletic Center's Bacon Field House. In the event of a real disaster, the Bacon Field House would serve as a regional distribution site. The area in and around Freeman Athletic Center's "Q Lot" may be temporary blocked off during the training drill, and the Middletown Police SWAT team will be present in full gear.
The Strategic National Stockpile (SNS) offers large quantities of medicine and medical supplies to protect the American public if there is a public health emergency severe enough to cause local supplies to run out. Medicines will be delivered to any state in the U.S. in time for them to be effective. Each state has plans to receive and distribute medical assets to local communities as quickly as possible.
During the training, the Middletown Police will escort the Strategic National Stockpile vehicle to Wesleyan. C-CERT members will unload multiple pallets of boxed pill bottles, take inventory and assume custody of the assets. They'll learn how to generate pick tickets, label and shrink wrap assets, distribute pills and load extra or unused assets back onto the delivery truck. For training purposes, jelly beans will be used to  represent antibiotics such as doxycycline, ciprofloxacin and amoxicillin.
Read more about Wesleyan's C-CERT team in the past Wesleyan Connection articles: