Sociology's Long, Coven '13 Present Teacher Evaluation Research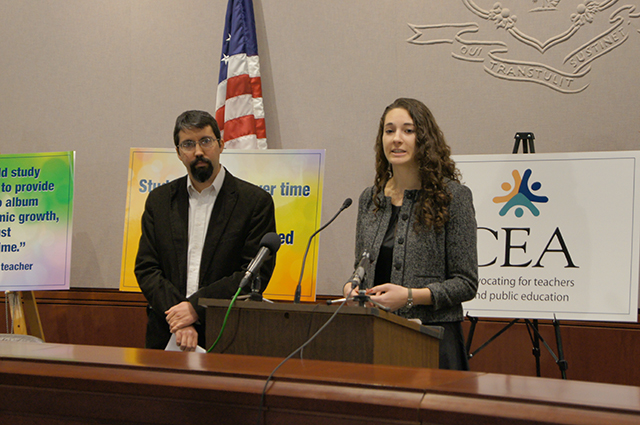 When Rebecca Coven '13 decided to dedicate herself to the arduous task of completing a senior honors thesis, she was concerned that no one would ever read her work beyond the few professors grading it. So she was excited to have the opportunity to conduct relevant, timely research on teacher evaluations in the state of Connecticut, and share her findings at a press conference held in Hartford March 6 by the state's largest teachers union.
Together with her advisor, Assistant Professor of Sociology Daniel Long, Coven spent her senior year conducting a review of a teacher evaluation pilot program run by the Connecticut Education Association in the Hamden, Conn. public schools. The CEA, which was looking to promote an alternative model of teacher evaluation to the one embraced by the state Board of Education in guidelines passed in June 2012, asked Long to conduct the external review of the pilot. Long invited Coven to help conduct the review as part of her senior honors thesis. Coven's interest in education reform was sparked when she took Long's Sociology of Education course during her sophomore year. She served as Long's research assistant, collaborating with him on a study about the impact of increased instruction time on the achievement gap, including an apprenticeship in the Quantitative Analysis Center the summer after her junior year.
Coven's thesis, titled, "No Teacher Left Behind: A Look at Alternative Systems of Educator Evaluation," can be read on WesScholar here.
"It was exciting to know that my senior thesis would be read by other people, and was relevant to an important education debate going on in Connecticut," said Coven. "Participating in this study was also a great professional opportunity because I knew I wanted to go into education research after Wesleyan. It was a chance to work with teachers and the teachers union, to conduct observations in schools, and see how research works in the real world."
According to Coven, the System for Educator Evaluation and Development (SEED) that was adopted in Connecticut in 2012 drew concern from many teacher and school administrator organizations, including the CEA, which pushed for changes to the model. "A lot of teachers disagree with the model, mainly because they feel it was too strongly reliant on standardized indicators, such as test scores, to evaluate teacher practice," Coven explained.
Recently, state law was revised to permit school districts more flexibility in conducting teacher evaluations for the 2013-14 school year (possibly continuing through 2014-15, pending federal approval). Districts may now choose to base teacher evaluations not on standardized test scores, but rather on multiple qualitative indicators of student work over time. The CEA's model of teacher evaluation is one of many alternative approaches now being explored in Connecticut.
"We were looking for ways that teacher evaluations can help support teachers to improve as educators, not simply assign them a rating," said Coven.
At the press conference March 6, Long explained that their study tracked 11 teachers in four Hamden schools, who were being evaluated using the CEA model. They considered whether the CEA teacher evaluation model promoted educator collaboration and morale; its effect on educator pedagogy and practice; and whether the qualitative indicators it used were accurate measures of educator effectiveness. Long and Coven interviewed teachers, observed classroom activity, and studied multiple indicators of student work over time. They concluded that the CEA model was superior to the model adopted by the state, in that it gave teachers more time to focus on their students—rather than spending endless hours on paperwork and compliance associated with the state method—and more autonomy to set their own goals and participate in the evaluation process, which in turn improved their motivation and morale. It also encouraged collaboration among educators, and between educators and those evaluating them.
"Students learn best when teachers are treated like professionals, not robots with canned lesson plans. Given the new flexibility options, school districts should pursue qualitative teacher evaluations that assure that educators are well trained; base evaluation and growth on multiple indicators over time; and be clear on what the goals of the evaluation are," Long said at the press conference.
CEA president Sheila Cohen remarked, "We think that [Professor] Long's study will be a call of strength to local school districts because it informs best practice and offers insights into what truly works in the complicated work of effective teacher evaluation."
Coven did note some drawbacks to the CEA's model of teacher evaluations, and provided suggestions for improvement in her report. Specifically, she noted that the model is applicable only to classroom teachers (as opposed to librarians or data facilitators, who are not directly responsible for groups of students). Moreover, because each teacher in the pilot program set only one student learning objective, their goals were often very narrow and failed to measure everything a teacher did. Coven suggested that they might consider using broader, or multiple, student learning objectives. Finally, she said, this model would make it difficult to compare teacher quality across schools or across districts because each teacher is evaluated on different, individually set learning objectives.
Coven continues to study education policy as a research assistant at MDRC, a nonprofit social policy research organization based in New York. She is currently evaluating college access programs and New York City's "Small Schools of Choice" movement, through which the city's Department of Education closed many large, comprehensive high schools with a history of low performance and created hundreds of new small secondary schools.
Read coverage of Long and Coven's presentation at the CEA press conference in CT News Junkie and Hamden Patch, and watch video of the news conference on CT-N.