Goodstein '14 to Deliver WESeminar on Mental Illness and Stigma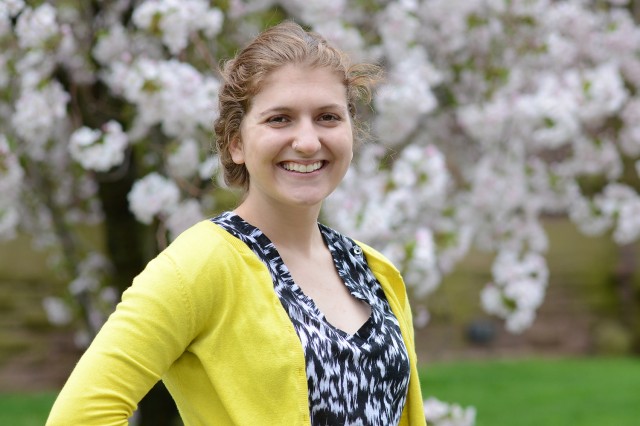 In this issue of The Wesleyan Connection, we speak with Taylor Goodstein from the Class of 2014. She is delivering a WESeminar at Reunion & Commencement on the topic of her capstone project: "Looking Inward: Examining the Broken Brain and Reducing Stigma."
Q: Taylor, what is your major, and how did you settle on this topic for your thesis?
A: I am a neuroscience and behavior and biology double major, and I am also obtaining a certificate in creative writing. I was never planning on writing a thesis because I don't conduct research in a neuroscience or biology laboratory, but then one day the idea just sort of came to me. I realized how neuroscience classes at Wesleyan focus so much on the hard science, and it becomes easy to forget that the illnesses and disorders that are discussed at a physiological level have real-world social and personal implications. I wanted to explore the human side of neuroscience, and I was inspired by writers who have done the same thing, such as Oliver Sacks. Combining narrative and current neuroscience research is an excellent tool for increasing understanding and reducing the stigma of mental illness, and I wanted to try it out.
Q: Please tell us about the people you interviewed for your project.
A: I interviewed six people, including one Wesleyan student with multiple sclerosis—whose story illustrates how living with an invisible, inconsistent disability can be hard to explain and thus causes lots of misunderstanding—as well as another Wes student who talked about living with an anxiety disorder that perpetuated an eating disorder. Her story was very valuable to me because she has since made a full recovery, and I really went in to detail discussing the aspects of her environment that made it easy for her to seek help and get treatment. Hopefully, such environments can be replicated more and more so people don't remain silent about mental illness. I also interviewed a friend of mine from back home who has suffered from 11 concussions, and another individual who has bipolar disorder.
The final chapter was definitely the most painstaking. I discuss "The Dying Brain," notably Alzheimer's and metastatic brain cancer. I interned at the Cancer Registry at Middlesex Hospital last year, and during a tumor board meeting, I met a hospice physician who allowed me to spend time on the hospice ward and then interview him about his clinical experience with dementia and cancer. It was very cathartic to closely examine a brain in the final stages of life, and it provided a fitting end for a thesis about the great wounds that can plague the brain during its younger years.
Q: Did you find that people were generally willing to speak with you for the project?
A: Oh yes, everyone was so open. A couple of my interviews came from people who heard about and wanted to be a part of my thesis, which really surprised me. I thought that talking about something so personal was going to make it really hard for me to find willing participants. People wanted to tell me what it was like to have their brains. I was finally asking the questions that others in their lives were too afraid, nervous or hesitant to ask.  Some questions were hard; other questions were easy. And over the course of these interviews, not one of my questions went unanswered.
Q: What surprised you about the stories you heard about living with neural wounds?
A: I knew that stigma was a problem with mental illness, but I didn't really know how extensive the problem was. I expected illnesses like eating and anxiety disorders to suffer from stigmatization. But Alzheimer's and multiple sclerosis? I expected them to be relatively stigma-free. I was very wrong. Everything about the broken brain seems to garner misunderstanding.
Q: Do you feel that the stigma associated with mental illness is improving?
A: I hope so. I think slowly, by improving mental health education, people who would have otherwise hidden their disorder will seek help. But stigma is a huge hurdle to jump over. First, there is self-stigma, which makes people ignore their symptoms and avoid reaching out. Then there is structural stigma perpetuated by government and private policies that limit opportunities for the mentally ill. Finally, and perhaps the most overwhelming, is social stigma, which propagates stereotypes and prejudice. Words like "crazy," "retard," and "psycho" are cross cultural, parents are shamed for having mentally ill children, and the media portrayal of mental illness tends to emphasize violent/bizarre behavior and social ineptitude instead of truths.
It's definitely better than it was 50 years ago, but there is still a long way to go. For example, a Wesleyan professor whom I adore, who also suffers from a neurological disease, told me, "When you tell your employer what's wrong, but ask them not to treat you differently, they will say okay, but good luck getting assigned that next project."
Q: What do you think needs to be done to reduce the stigma of mental illness, and improve the lives of people suffering from neural wounds?
A: I think one of the easiest things to do is to be open to anyone who suffers from a mental illness. Walking on eggshells around someone who just told you they suffer from depression or bipolar disorder, for example, contributes to the discomfort they may already feel about their diagnosis. The best thing to do, as I learned, is listen, and to not be afraid to ask questions.
Imagine someone says, "I have been so unhappy with school lately. I don't even want to get out of bed in the morning. Everything feels so hopeless." The typical, easy answer is, "I'm sure you are just stressed. Don't worry, it will pass." But what people should be saying is, "Oh that sounds serious. How long have you been feeling this way?" ***cue listening**** "Do you feel like you are suicidal?" ***cue listening*** "You know there are really great resources provided by _____ and I am also here anytime you need anything."
Really, what I'm trying to say is that people shouldn't be afraid of the hard questions. I asked my multiple sclerosis interviewee if she was afraid of being in a wheelchair. It was a hard question, but she didn't shy away from answering. So many people just need to feel comfortable talking to someone, and being that person for someone can do so much to end stigma.
Q: What are your plans for after graduation? Do you intend to do any further work in this area?
A: I am planning on staying at Wesleyan for the BA/MA program to complete my master's degree in biology. During that time, I am going to be applying to medical schools. I don't know what type of doctor I want to be, but through my thesis I have discovered the usefulness of narration, which I would like to implement as a physician to help me connect with patients.
Also, I recently have gotten involved with a startup company called "Project Uplift," started by Zach Valenti '12, which is working to motivate college students to think more about their own mental health. The program focuses on tangible practices and tools for stress-reduction through on- and offline training programs. I'm really excited to get involved with a company that is actively working to reduce stigma and bridge the gap between illness and successful treatment. In fact, it was because of my thesis work that I asked Zach if I could jump onboard the project, and he's thrilled that my neuroscience background will help bring new ideas and scientific rigor to the great work he has already done.
Q: Are you involved in any extracurricular activities at Wesleyan?
A: Yes! I am in long-form improv group Gag Reflex, I am the Treasurer of the Alpha Delta Phi Society, I work in Erika Taylor's Biochemistry laboratory, I work a shift at the Star and Crescent Eating Club, and I write for wesleying.org when I have free time.
Goodstein will discuss her thesis project on May 24 at 10:30 a.m. at a WeSeminar held as part of Reunion & Commencement Weekend. She will speak in the Public Affairs Center PAC 002, along with other senior thesis writers.
#THISISWHY