Eusebio '17 to Study Washington's Natural Environment as Doris Duke Conservation Scholar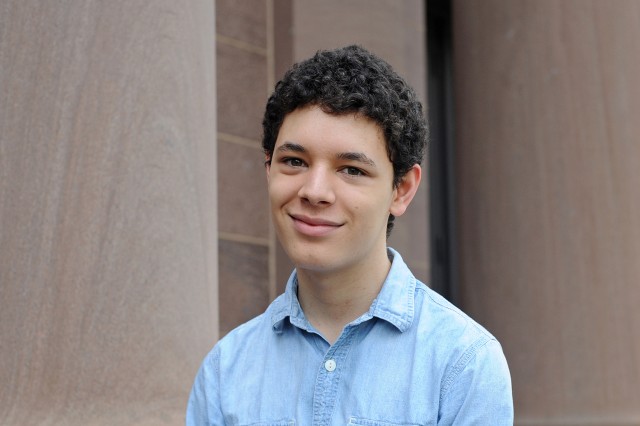 Joseph Eusebio '17 was selected to take part in the brand new Doris Duke Conservation Scholars Program at the University of Washington this summer. According to the program website, this eight-week, all-expenses-paid program will take students on a journey from the "urban jungle" to the old growth forest and back, allowing them to explore how conservation can make a difference, and how they can make a difference in conservation.
Eusebio is one of only 26 students on the team, chosen from a pool of nearly 400 applicants. He said he came across the scholarship by chance while thinking about opportunities for the summer over winter break.
"I began just looking at internships, but then I started to consider other things such as taking language courses at the University of Washington. While browsing the UW website for its summer opportunities, I happened to come across the Doris Duke Conservation Scholars link and the description just really stuck with me," he said. "It surprised me that, as far as I can tell, I'm the only student from Washington who is a part of the program."
However, Eusebio considered it a long shot that he would be accepted into the program, given that he has not specialized in environmental science in his coursework.
"I have, however, always had a strong attachment to nature and the outdoors," he said. "Growing up in the Pacific Northwest surrounded by the stunning natural scenery and strong conservation culture and being involved in scouting all the way up to Eagle Scout led me to take a great interest in the environment. Before, I'd always felt that I had little agency in positively affecting the environment, but this program seemed like something that could change that mindset."
The program Eusebio will attend at the University of Washington is one of three newly funded by the Doris Duke Charitable Foundation to support conservation research opportunities for undergraduates. Northern Arizona University and the University of Florida will also host programs this summer. Each program is run separately, and students must apply to each individually.
According to the website, the Washington program begins in greater Seattle, where students will study four fundamental themes of biodiversity, food, water and climate that will echo throughout the summer experience. From there, they will head to Olympic National Park, where they'll explore the role of water in a pristine, old-growth watershed, and to Elwa River, where they'll learn about issues of water management and river restoration, the iconic and threatened Pacific salmon, and the people who have long depended on and stewarded these waters and lands. The journey goes on from there to the Greater North Cascades Ecosystem, where students will spend a week exposed to the reality of climate change in the wild, and then on to the Moses Coulee Field Station, where they will explore issues of habitat fragmentation, fire dynamics and water withdrawals. The final leg of the trip will take the group to Mt. Rainier National Park to learn about old-growth and working forest ecosystems, and to Mt. St. Helens National Park to explore disturbance, succession and resilience at an active volcano site.
"All of the sites that we will be visiting are so appealing," said Eusebio. "It will feel incredible to so extensively explore the Pacific Northwest environment after being on the East coast for the academic year. I'm especially excited to revisit the Hoh Rainforest in Olympic National Park and to spend a week at the North Cascades Institute and at the Pack Forest Experimental Station."
The program is designed to be a multi-year experience, with the second year involving building Conservation Solutions teams focused on the intersection of individuals, communities and the environment, and the third year embedding participants in conservation organizations or resource management agencies to work on the front lines of conservation. Eusebio said he would very much like to be a part of the program during future summers if he's invited to participate.
At Wesleyan, Eusebio currently plans to double major in Film Studies and History.
"I came to Wesleyan intending to find a career writing television dramas, but already after this first year I've felt opened up to numerous other opportunities, and this program will only increase that feeling," he said. "Ideally I'd be able to convey an environmental message through a medium like film or television."
Eusebio also works for New Media Lab shooting and editing school videos; as an editor for the Historical Narratives history journal; as a research assistant at the Cinema Archives, and as a member of the Film Board. He is also involved in an effort to bring a Second Stage-like presence to the film community next year.
#THISISWHY