Shaw '76 Delivers 182nd Commencement Address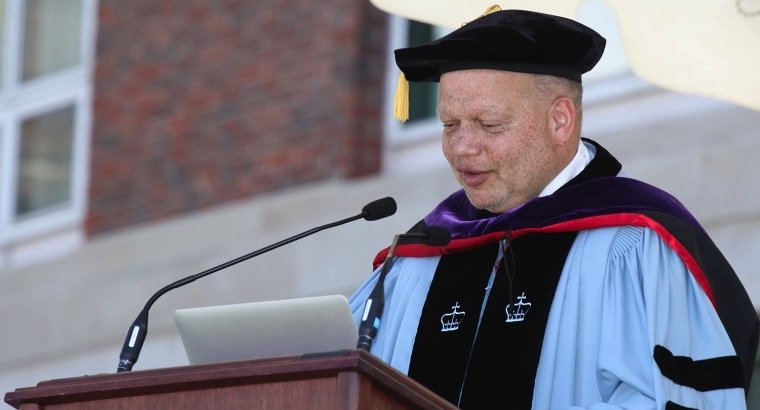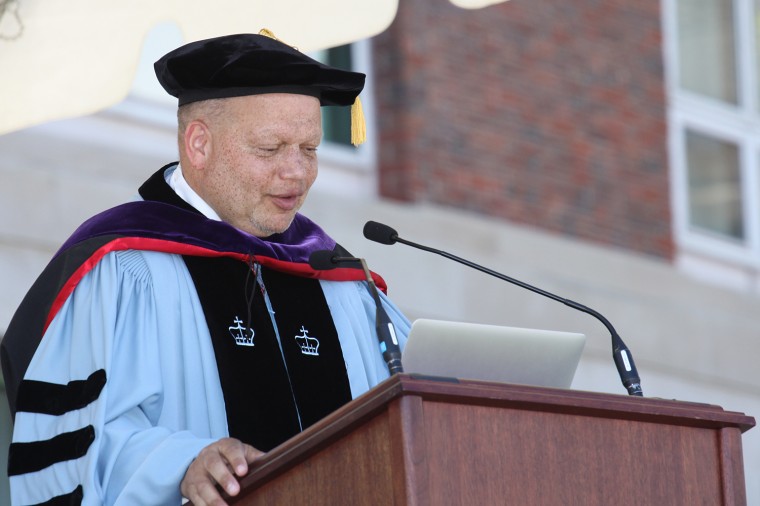 Theodore Shaw '76, one of the nation's leading proponents for civil rights, delivered Wesleyan's 182nd Commencement Address on May 25. Watch the video, or read the full text below:
[youtube]https://www.youtube.com/watch?v=IO4Ac-lehhA[/youtube]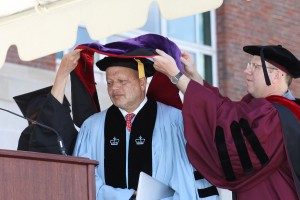 "President Roth, Fellow Honorary Degree Recipients, Dr. Helena Chmura Kraemer and Hayden White, Members of the Board of Trustees, Faculty, Administrators, Staff, Members of the Wesleyan Community, Family, Friends and all who are gathered here, but above all else, to you, the Class of 2014. And if you give me a moment of forbearance, I have to go home and shout out to the Patrick-Shaw clan.
Fifty years ago, in this place, Dr. Martin Luther King, Jr. received an honorary degree and delivered the baccalaureate sermon to the Wesleyan University class of 1964. At thirty-five years old, he was more than half way through his meteoric journey towards immortality. Less than a year earlier, he had delivered his now famous speech on the steps of the Lincoln Memorial. A few months later he would receive the Nobel Peace Prize. And yet, during this time Dr. King passed through some of the most difficult days of his life. In September of 1963, a few weeks after the March on Washington, four little girls were murdered in the bombing of The Sixteenth Street Baptist Church in Birmingham, Alabama. Two weeks after he spoke here on Denison Terrace, in Philadelphia, Mississippi, civil rights workers Michael Schwerner, James Chaney and Andrew Goodman were abducted and murdered by local law enforcement officials and the KKK; a few weeks after that their bodies were found in an earthen dam. Only four years remained to his life. Unlike the image contemporary Americans have of Martin Luther King as the pied piper of nonviolent resistance, most people- even most African Americans- did not march with him. Nor was Martin Luther King, Jr. THE leader of the Civil Rights Movement. The Movement was roiling and divided; King had many detractors within as well as outside of the civil rights movement.
In his few remaining years Dr. King would turn to the issue of racial segregation in the North, to systemic issues of poverty and economic injustice, and to his opposition to the Vietnam War. He became persona non grata at the White House. When he spoke out against the War and against militarism he was abandoned by many within the Civil Rights Movement for not staying in his own lane. He did not live to complete his last crusade, against poverty and economic inequality, seemingly intractable problems, which continue to confront America today. At times, he struggled against depression. Yet, on that day, in this place, Martin Luther King, Jr. spoke about faith, justice, and the hope for a better America.
King was not a stranger to Wesleyan. On several occasions he sought a brief refuge from the chaos and pressures of the Civil Rights Movement, visiting his good friend Professor John Maguire, and connecting with David Swift, also of the Religion Department. They, and other members of the Wesleyan community, traveled south to march against segregation and racial injustice and for voting rights. But on that day, Martin Luther King promised that he would treasure his formal induction into the Wesleyan community. I like to think that Wesleyan can claim Dr. King. But even more important than that moment was what happened at Wesleyan after Dr. King's assassination. Although its 'Vanguard Class' of African American students had arrived on campus in the fall of 1965, in the aftermath of  post-assassination violence that set American cities afire, Wesleyan and other universities moved affirmatively and consciously to admit African American and other students of color. Wesleyan was on the front end of a wave of affirmative action that swept over colleges and universities across America.
In the days following Dr. King's assassination, Cardinal Terence Cooke, then Archbishop of New York, sought a way to address the legacy of racial inequality. Unable to find a black priest to run it, he nonetheless sought to create a pool from which to draw African American candidates for the priesthood, and created a program called the Archbishop's Leadership Project. He found an Irish-American priest in Harlem, Father John T. Meehan. To their credit, even after it became apparent that young black men from the tenements and housing projects of Harlem and the Bronx were interested in the civil rights, Black Power movement, and not the priesthood, Cardinal Cooke and Father Meehan continued the program with a re-directed focus. On a splendid day, much like this, in the spring of 1972, Father Meehan brought me to Wesleyan. Neither one of us had ever been here before. I had applied late and blindly and had been wait listed. After a brief stop at the Admissions Office, I wandered around the campus while Father Meehan visited with admissions officer Randy Miller, a name I doubt many people here would even know today. You cannot imagine how I fell in love with Wesleyan on that day, or the excitement I felt in the following days and weeks when I received my admission and financial aid notices. In the ensuing years, Father Meehan quietly stewarded scores of black students to Wesleyan and countless others to the best colleges and universities around the country. Celebrating his 50th anniversary in the priesthood this weekend, he is unable to be here in person, but Monsignor Meehan and I are always joined in spirit and in love, and it is he who deserves this honorary degree. I salute him today and every day. To be clear, what Cardinal Cooke and Monsignor  Meehan practiced was affirmative action and it transformed countless lives in ways that will continue to echo across generations. Almost 40 years later, many people, including some on the Supreme Court of the United States, have abandoned affirmative action and the term has become freighted with baggage. I am unapologetically, unashamedly and unabashedly a beneficiary of affirmative action. If affirmative action meant shining the light of opportunity into places where it had not been shown before, in an effort to find capable and qualified students, I am a product of affirmative action.
In 1964, when Dr. King spoke here at Wesleyan, it was a monochromatic, single sex institution, in which anyone other than straight, white males was either absent or an aberration. Change did not come accidentally, or even serendipitously. It came about as the consequence of deliberate, conscious decisions that were manifested in affirmative deeds.
Today we stand five years shy of the four hundredth anniversary of the  involuntary arrival in Jamestown, Virginia, of the first of the people who would become African Americans. For three hundred and fifty of the three hundred and ninety-five years since then, until the end of the 1960's, black people in what is now the United States, were subordinated by law, first in slavery, then in 'Jim Crow' segregation. Stated differently, as we gather here today, nine out of every ten of the days of African Americans in colonial and post-independence America have been spent in slavery or legally imposed segregation and discrimination. I make this point not to belabor the tragedy and the long shadow of America's original sin, but to contextualize contemporary social, political, and legal discourse, which implausibly holds that the continuing and massive segregation and inequality that characterizes the lives of far too many Americans, is unrelated to the events of those three hundred and fifty years. There are those who argue that we have graduated into a "post-racial" America, in which voluntary public school integration efforts constitute racial discrimination; in which the protections of the Voting Rights Act are no longer necessary even as some states enact laws with the intention and/or effect of depriving some of the most vulnerable Americans of the sacred right to participate in democracy; in which racially disproportionate, massive over-incarceration of millions of people for nonviolent offenses is acceptable and even appropriate; and in which any and all conscious attempts to ameliorate racial inequality is itself deemed to be racial discrimination. Whether these arguments are proffered in good faith or whether they are intellectual dishonesty and arrogance masquerading as principle, I cannot discern. I simply know that, in spite of the tremendous progress we have made over the past 50 years, including the election of the first African American president, there is work to do if we are to continue the task of becoming 'a more perfect union.'
Blindness is not my paradigm. Our goal must not be blindness, or the pretense that we do not see color, gender, or any other physical characteristic. The question is not whether we see race or color. Of course we do. The question is 'what is its significance?' Having seen race or color or any other characteristic, is it a basis for subordination and discrimination? Or do we respect our differences and our diversity of backgrounds and experiences and work for racial justice? We must see all Americans, and all who live in America – indigenous, black, white, Latino, Asian American, immigrants, women, men, straight, gay, lesbian, transgendered, differentially abled, Christian, Jew, Muslim, Buddhist, Sikh, agnostic, atheist, wealthy, middle class, and poor – as part of Dr. King's 'Beloved Community,' and work to ensure equal treatment and a place for each of us. We need not shrink from difference. Differences need not divide us, if we respect  commonalities, work for fairness and equity, and understand our diversity as strength, not as a weakness.
Even so, we live in a time of great divisions. Blue states and red states, Republicans and Democrats, progressives and conservatives, pro-life and pro-choice, gun control and gun rights advocates, people of faith and nonbelievers, and on and on. These divisions seem to grow greater every day. Increasingly, it seems that many of us demonize those with whom we disagree.
I want to urge something on each and every one of you who graduate today, whatever your politics may be. I have seen and read a number of reports in this graduation season that made me conscious of a newly endangered species, of which I have now become a member – The Commencement Speaker. I have lived my life as an advocate for racial, economic, and social justice. My politics are unapologetically progressive. As a student I demonstrated, and as a Wesleyan Board member I advocated, for divestment from companies that did business in South Africa. I have litigated in courts, advocated in legislatures, and argued in public discourse against cramped views and applications of civil and human rights. I have fought against injustice in every peaceful way I know how. I have debated and wrestled with my adversaries in any and all places where we could join issue.  And it is important to continue to do so. Although sometimes heated, for the most part, they have been healthy, necessary and civil exchanges. I welcome these conversations and debates, for it would be a much less interesting world if we only spoke with or listened to people with whom we agree. Our views would be duller and less developed if they were not sharpened and tested by challenge and disagreement. If we interact only with those with whom we agree, our growth would be intellectually and socially stunted.
I believe that the views articulated by some in what is called the American 'Right,' when they dare to characterize those with whom they disagree as not being 'true Americans,' are arrogant and dangerously misplaced. And I believe just as strongly that liberals and progressives err when we fail to calibrate carefully our opposition to the positions of our adversaries.
Moreover, I believe it is a mistake for any of us to hold those who enter into public service to rigid standards that condemn them to political and social exile when they take positions at odds with ours. Their words and deeds should not be beyond protest and criticism – even harsh criticism. But, for the most part, we must leave room for good faith disagreement, growth and redemption.
Last week we commemorated the sixtieth anniversary of Brown v. Board of Education. A unanimous Court under the leadership of Chief Justice Earl Warren decided Brown, one of the most important and revered decisions in American jurisprudence. In these days of bitter partisan division, nowhere more pronounced than on Supreme Court nominations, I have thought about the fact that Earl Warren, who as Attorney General of California during World War II, argued successfully for the internment of Japanese American citizens who were loyal citizens. The civil rights/civil liberties community of today would have opposed Governor Warren's nomination to the Supreme Court, for good reason. And yet, the Warren Court was the most progressive in history. And Brown would not have been decided when and how it was without the leadership of Chief Justice Earl Warren.
Over the course of a long life none of us gets it all right. We make mistakes. We hold views that evolve and change. We grow. We learn. The essence of liberalism is the open mind, tolerance, and a rejection of absolutism. I urge progressive voices not to mirror the intolerance of many on the Right.
Finally, it is customary to offer advice and wisdom to graduates. I have little to offer. I only observe that your generation, contrary to the "wisdom" of many in mine, is no less committed than was mine, to making its mark on the world it is in the process of inheriting. Don't wait to change the world. Martin Luther King, Jr. was twenty-six when he led the Montgomery bus boycott. In 1963 children, some as young as five years old, filled the jails of Birmingham, Alabama protesting against segregation. School children marched against apartheid in  Soweto in the 1976 uprising. College and university students in the 1960's marched against the Vietnam War and for women's rights. Don't wait for the generation ahead of you to pass the baton to you if they do not willingly do so after they have run their leg of the race. The challenges presented by environmental sustainability, global warming, population growth, income and wealth inequality, racial and gender injustice, misogyny and child abuse, religious intolerance and ethnic hatred, war, totalitarianism and political oppression, and every other problem stemming from the human condition, are waiting for you. Take the baton. You won't solve them all, but make a dent. What better do you have to do with your lives than try? The genius of your generation has yet to be told. You are the first Internet generation. There are cures for diseases and physical disabilities, some of which have plagued humanity from time immemorial, seemingly just around the corner. What will you do with and in your time?
In your personal life you will have triumphs and challenges, joys and sorrows, victories and defeats. When life shows you every reason to despair, don't do it. Humanity's greatest sins are the stepchildren of despair. Hope does not come serendipitously. It is a choice. Choose hope in the face of every reason to give in to cynicism and despair. The things that can sustain you in your life's journey have been taught to us, whatever our traditions are: faith, hope and love. These are the things that illuminate our lives. The world is waiting. Go and get it. Life is shorter than you think. Don't wait. Grab the baton. Run your leg of the race, and pass it on. I have a friend who was imprisoned on Robbin Island with Nelson Mandela. Now the Deputy Chief Justice on South Africa's Constitutional Court, Dikgang Moseneke is one of the most extraordinary people I know. During the days of transition from apartheid to majority rule, I heard him say, 'If you want your dreams to come true, don't sleep.'
Congratulations to you who graduate today. Thank you to the parents, grandparents, and loved ones who have shaped and molded you, and who have housed you, fed you, nurtured you, and supported you along the way. Thank you to the teachers, professors, mentors, coaches, and others, who have taught, trained, advised and encouraged you. If you think  your relationship with Wesleyan is over, think again. It has only just begun. You are bound together, one way or another, for life. Support your alma mater with your time, your effort, and yes, your money. Godspeed!"