733 BA Degrees Conferred at Wesleyan's 182nd Commencement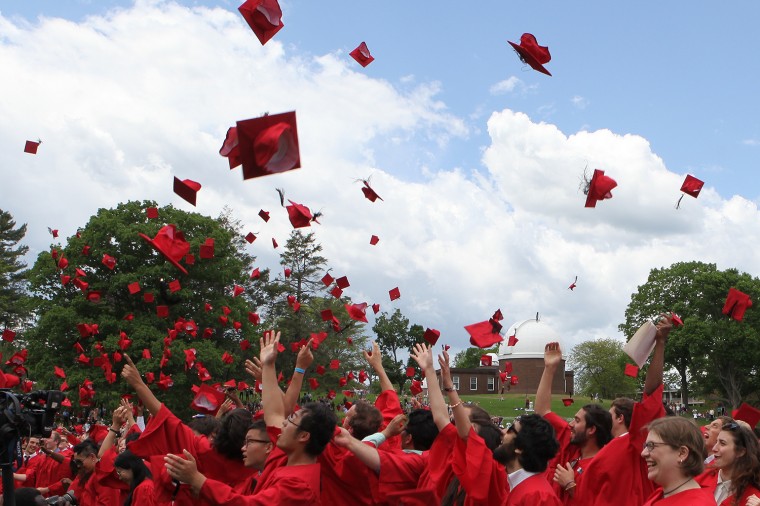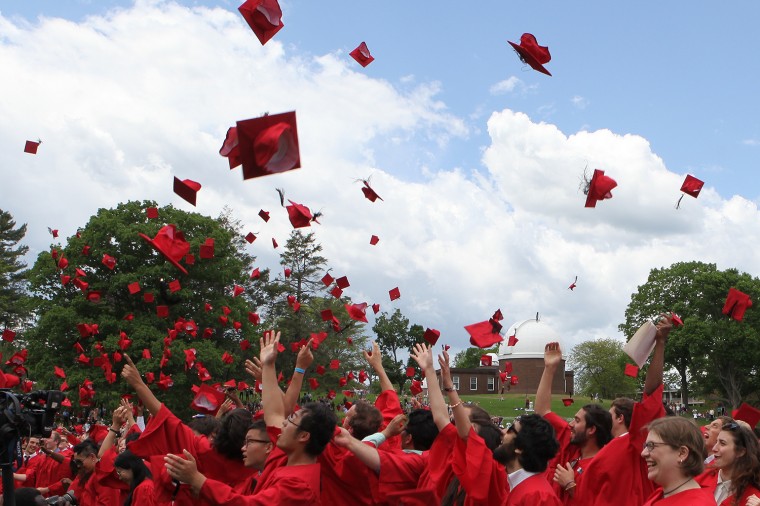 "Don't wait to change the world," Theodore Shaw '76, one of the nation's leading proponents for civil rights, told the Class of 2014 in his Commencement address May 25.
Shaw's speech recalled a Wesleyan commencement 50 years earlier, when Dr. Martin Luther King, Jr. was awarded an honorary degree and delivered the baccalaureate sermon to the Wesleyan Class of 1964.
"Martin Luther King, Jr. was twenty-six when he led the Montgomery bus boycott. In 1963, children, some as young as five years old, filled the jails of Birmingham, Alabama protesting against segregation. School children marched against apartheid in Soweto in the 1976 uprising. College and university students in the 1960s marched against the Vietnam War and for women's rights," Shaw reminded graduates and their families, rejecting the popular view that today's younger generation is any less committed to change than those that came before. "Don't wait for the generations ahead of you to pass the baton if they do not willingly do so after they have run their leg of the race."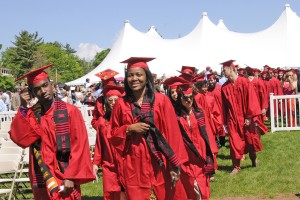 Citing challenges as diverse as global warming, income and wealth inequality, misogyny and child abuse, religious intolerance and ethnic hatred, Shaw urged the graduates to take action. "Take the baton. You won't solve them all, but make a dent. What better do you have to do with your lives than try? The genius of your generation has yet to be told," he said.
Shaw has argued cases in courts across the nation, including the Supreme Court, involving voting rights, education, housing discrimination, capital punishment, and civil rights. He played an integral role in a landmark Supreme Court case on affirmative action. Shaw has been named the Julius L. Chambers Distinguished Professor of Law and the director of the University of North Carolina Center for Civil Rights, after having served as professor of professional practice at Columbia University School of Law, and he is "Of Counsel" to Fulbright Norton Rose. For nearly a quarter century, he served as an attorney with the NAACP Legal Defense Fund, concluding as director-counsel and president from 2004-08.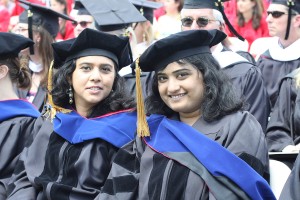 Wesleyan conferred an honorary doctor of laws upon Shaw at the Commencement ceremony, which was held under perfectly clear blue skies with temperatures in the low 70s . Also honored were Helena Chmura Kraemer, a preeminent authority in evidence-based medicine and the use of statistical analysis for answering pressing questions in public health, and Hayden White, who is widely regarded as one of the most important theorists of history of the last half century and is a former director of Wesleyan's Center for the Humanities. They were awarded an honorary doctor of science and an honorary doctor of humane letters, respectively.
This year, Wesleyan conferred 733 bachelor of arts degrees; 26 master of arts degrees; 44 master of arts in liberal studies degrees; 3 master of philosophy in liberal arts degrees; and 14 doctor of philosophy degrees.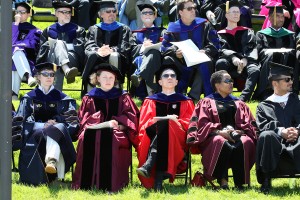 In addition, the Binswanger Prize for Excellence in Teaching was awarded to Robert Steele, professor of psychology; Petra Bonfert-Taylor, professor of mathematics; and Zhu Xiaomiao, adjunct associate professor of East Asian studies and Asian languages and literatures.
In his address, President Michael S. Roth spoke about the ideals of diversity, equality and education shared by generations of Wesleyan alumni, and stressed the importance of education in "overcoming blindness."
"Overcoming blindness allows you to detect value, which is fundamental for innovation as well as for empathy. The work of expanding your intellectual and cultural horizons is never done, and we trust that the Wesleyan education you take with you today will help you continue to animate a diverse and expansive world for decades to come," he said.
Roth warned the graduates to be skeptical of those who "disparage creating greater access to a college education" under the guise of practicality. A "safe, equitable and inclusive education" is a fundamental human right for all, regardless of race, class or gender, he said.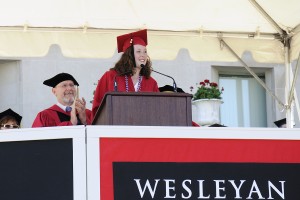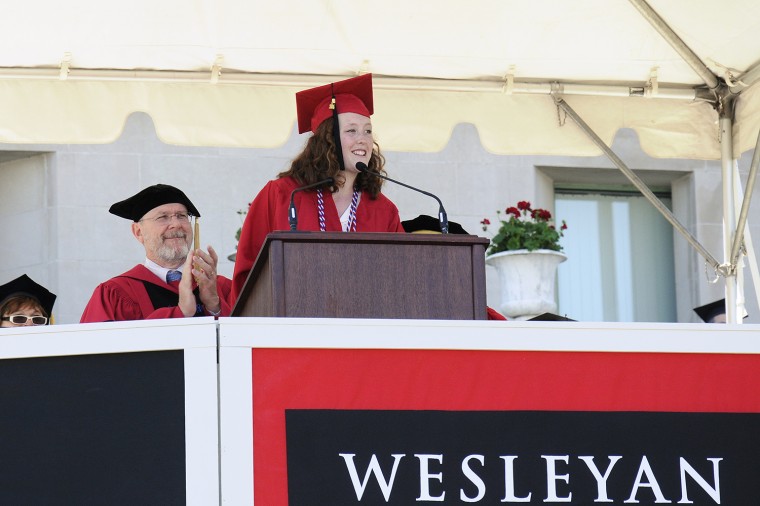 In her senior class welcome, Manon Lefèvre '14 spoke about "what it means to question."
"We are taught here at Wesleyan that we have a responsibility to challenge structures of power, to stand up for what we believe is right, to envision a better world for ourselves and for others," she said. Lefèvre recalled many of the causes that have united students during her four years at Wesleyan, and spoke of work left to be done to make Wesleyan a more just and equitable institution.
"I am so grateful to my Wesleyan community, the people I have met, the teachers I have learned from, the ideas I have encountered, the movements I have seen grow, for showing me that we can only begin to accomplish anything if we first confront the very structures of power of which we are a part," she said. "There is a spirit of resistance in this place, a unique and powerful solidarity, and I hope that it will only grow stronger as the world gets more challenging. It is necessary to see where injustice lives, and to understand our own culpability in it, in order to open new possibilities for change.  There is still work to be done, here and everywhere. Yet, it is just as important to celebrate our potential to re-think the status quo, and our ability to remember that even in the face of adversity and defeat, things can be different if we decide to take action ourselves."
[youtube]https://www.youtube.com/watch?v=Q9UQk7Q112s[/youtube]
The weekend also saw hundreds of alumni flock to campus for reunions. Read more about the weekend's activities here.
The text of President Michael S. Roth's address to the Class of 2014 can be found here.
A video and the text of Theodore Shaw's Commencement Address can be found here.
The text of the senior class welcome by Manon Lefèvre can be found here.
The text of Sarah Mahurin's "Senior Voices" baccalaureate address is here.
The text of "Senior Voices" speeches by Megan Cash '14 and Joshua Krugman '14 is here.
Information on the Binswanger Prize for Excellence in Teaching recipients can be found here.
A story about the 2014 Reunion is online here.
The entire Reunion & Commencement photo gallery is online here.