Wesleyan Welcomes 64 Graduate Students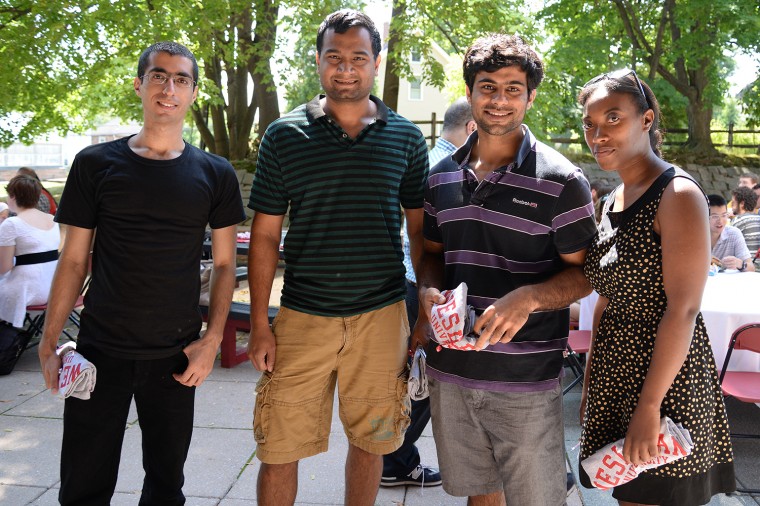 Graduate Student Services welcomed 64 graduate students to Wesleyan on Aug. 26.
Of the students, 19 are part of Wesleyan's BA/MA program; 12 are MA students; 20 are Ph.D. candidates; eight are Foreign Language Teaching Assistants; three are Wesleyan Writing Fellows and one is an exchange student from Germany.
Twelve are studying music and ethnomusicology; 37 are pursing degrees in science and mathematics; three are studying psychology and 12 are non-degree seeking students.
Of the 64 graduate students, 43 are from the United States. The other 21 are from France, Ghana, India, Greece, Spain, Mexico, Sri Lanka, Singapore, United Kingdom, Argentina, Italy, Japan, the Bahamas, Germany, China, Nepal and Morocco.
During Graduate Student Orientation, which began on Aug. 26, students toured Wesleyan's Science Library and Olin Library, where music students were introduced to the Music library. They also attended panels and talks on Life at Wesleyan, Wellness at Wesleyan, lab safety training, graduate pedagogy and honor codes.
Students met with several Wesleyan faculty, staff and students including Mark Hovey, director of graduate studies, professor of mathematics; and Cheryl-Ann Hagner, director of Graduate Student Services; Antonio Farias, vice president for equity and inclusion; Mike Whaley, vice president for student affairs and others.
Pictured below are photos of the graduate student welcome picnic, held Aug. 26 behind Exley Science Center: (Photos by Olivia Drake)